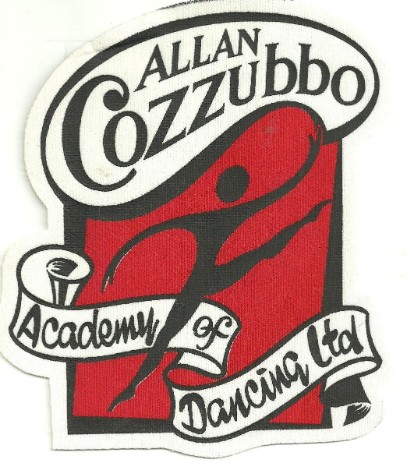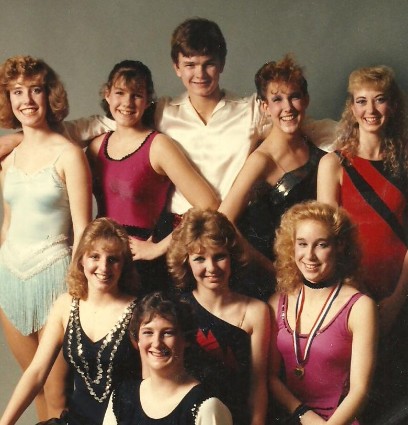 Taken at an ACAD Interschool Competiton.
Kristine Richmond, Stephanie Hopper, Russell Doig, Roxanne Pogson Lisa Martin. 2nd row Cory Drew Kunz, Cindy Dotzler, Kim Hall, Amanda Patrick
1974 ACAD Interschool.-- Lots of Glitz and Flash--Joy Westin 6 -Jill Currie 3-Rachel Hershfield 3-Donna Fish 5-Debbie Fish 5-Judy Milne 3-Brenda Davidson 2-lots of flash went home in 1974.This is a good picture to scan with your eyes, and REMEMBER all of your wonderful and splendid talent. You were all so confident, and an inspiration to each other, to excel in your artistic performances like you did!
Thank you to all the Alumni, for the "Magical and Poised Moments" in Dance, that you so admirably displayed and possessed!
REMEMBER TO DANCE!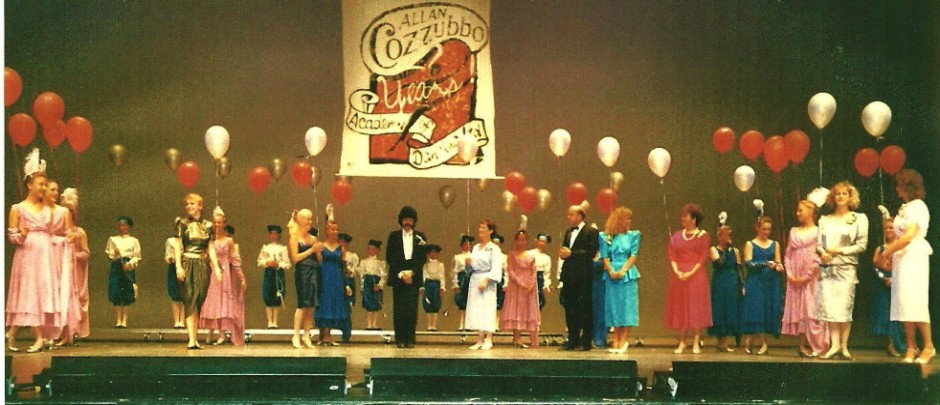 The above picture is from the "ACAD 25th" recital in 1989 at the Southern Alberta Jubilee Auditorium...The last recital was held in June of 1997 at the Epcor Performing Arts Centre.
THANK YOU PARENTS!
Thank you to Mother and Dad----Without your cooperation this Site, and your talented children's memories, in dance, would not be possible!
It was your Moms and Dads, THAT MADE IT POSSIBLE, FOR US TO "DANCE ALWAYS" and
"REMEMBER TO DANCE"!
The first entry on this page should go to your parents, who so willingly gave you so much of their time, in driving to lessons, competitions, interschool, exams, recital and all the rehearsals that made us all look so good. Not only did they give of their time, but they financed the cost of all the expenses that parents endure, when enrolling their children in DANCE!!
If you were in the "Meco" Production of OZ...let me know the colour if you were a Dorothy or Toto!
The Comments in Italics are Mr. C's thoughts about the dancers.
Lisa Martin-Fried...is on facebook...I work full time with the Alberta Blue Cross and have for the last 23 years. My husband, Robert and I, and two sons dance with a Bavarian Schuhplattlers of Edmonton..We tour Canada and the USA and I also have continued to teach through the German Club we belong to. I have a 17 yer old who is graduating and going to the U of A. next year taking medicine. My youngest son age 14 is...and You guessed it a dancer. He is talented if I do say so myself and takes tap, Jazz, Contemporary, Musical Theatre, Ballet but his favourite is Hip Hop. We are going 6 days a week in his studio and I feel like I live there. Reid dances at "Variations Academy of Performing Arts with Jolie Van and Helen Esik. He also attends a performing arts school and takes dance as part of his studies. I will also mention that I am on my 4th year of Hip Hop...and this past month competed in a hip hop festival. ONE THING I HAVE LEARNED IS THAT IF YOU TRULY LOVE TO DANCE YOU ARE NEVER TOO OLD!-- I think of the good times dancing in Calgary Often. (Lisa always had a great smile and by the pictures on her facebook and the Alumni page of this site still does. I'm sure her son will carry on Lisa's tradition of having a Kean "Dance Spirit". She was a great asset to the Calgary Rockette Group we had organized and always gave her performances an irresistible charm--and a cause to Celebrate her secure and supercilious talent)!
Kyla Wilde: is on facebook..My old bones are still kicking. I am a Company Performance Manager with Princess Cruises. I dance in the shows and also do the company manager stuff. There are several pictures on my facebook account from the shows I've done. I have worked with many choreographers that do West End and Broadway Stuff. (Who doesn't remember Kyla and her talent--Kyla was a student before she joined the Academy Staff and was as good at choreography as she was a dancers! Her Ability was very creative and musical--she had a lot of superior and tasteful twists to her unique style)!
Kellie McQuiggin: is on facebook..Kellie has two daughters, Paige 12 years old and Shea 5 years. (Kellie was a Calgary Rockette with a wonderful "Dance Persona". Her execution of her routines, always a credit to the school and her genuine personality was always evident).
Dianne Ranshaw Richards: Dianne and her husband David have now been married for 25 years...After leaving the Dance Academy she went to the U of A. and graduated with a B. Of Sc. in Occupational Therapy and now has her own private practise dealing with Special Needs Children. Her and David have two children...Matthew who is attending Vancouver Film School and Katie who carries on the Dance Tradition and is doing her Advanced RAD at the International School of Ballet. So YES Dianne is now a Busy DANCE MOM!. (Dianne had a great personality that she was able to transcend into her dancing. She too, like so many had a genuine and inspiring "Dance Spirit").Typed December of 2010.
Carol Nielsen: see "In Memory of"..Carol was one of my first students, and always showed a lot of charm in her performances. She started with me at Westgate Community always aiming to please , Ballet was her first love but she was good at many genres of Dance. A good mind for detail and technique. A wonderful addition to the Academy Staff and a loss far too soon!
Shanda Comben Aalbers: is on facebook.."You have no idea how often I think of you and how much you taught me over the years. I really try to pass the loving care on to my students the way you did to to me. Thank you again for everything"! ..Shanda, one of my first students, was an excellent dancer and had a lot of the "Showbiz" qualities....She moved on to teach and had a great eye for building quality numbers. Shanda had the vision to perfect her craft as a dancer and teacher! Now Teaching in Sylvan Lake. but was a real bonus to the Academy Staff and respected by us all.
Debbie Black: Debbie, one of my first students, was very good at adding the "Stimulating Factor" to Dance. She not only could perform but from an early age was able to take control of a class and spot technique flaws in other dancers. Ms. Black has been a special friend to all of us, and someone who in all our minds represents DANCE! Debbie was an excellent Addition to the Academy Staff. Now Teaching at Premiere Dance Academy.
Jane Southwood Lizotte: Jane has viewed the website and thanks for the memories and for bringing those memories back to us on the website. My Many years (21) of dance, although distant in years, are certainly not distant in my memory. I think back on them often with fondness. Do you remember how you threw your DRUM STICKS at feet that were on the wrong foot and sending dancers out into the hall to practice steps? I now teach in a high school and use dance in my musical productions as I teach Drama and English. (I remember Jane and how she was able to bring her personality into dance and her very clean technical approach to her own "Spirit Of Dance". She was a pleasure to teach and have as a receptionist at the South School on Friday Evening and Saturday.
Diana Broderick: is on facebook.. I was a student at the academy from 1975 to 1983. I unfortunately had to move away and missed out on the teen years with the School. I just wanted to let you know those times dancing were some of my best memories of growing up. I still have every ribbon, medal and trophy I ever received. The ADE Festivals in Edmonton were...priceless. Thanks for the memories. (Thank you Diana for the memories you gave us--we are glad you found the Academy had memorable moments for you)!
Sean Cheesman: is on facebook.. OK everybody, this man is my first dance teacher and I owe him so much...I bow down to the legend that is Mr. Cozzubbo. ( I remember Sean as a student and how good he was ....the girls used to scream when he hit the stage at the festivals...Sean was like a sponge absorbing DANCE INFO--He's an excellent representative for Male DANSEURS--We now see Sean as a choreographer and judge on "So You Think You Can DANCE" ---a further bit of trivia was that Sean's dad Winston drove Me to the hospital...from the North Haven Studio...I had terrible pain in my side and I kept sending Calla Comben Shaw for milk...I was trying to get through the day of teaching...and on a Saturday...Anyway it was a Kidney Stone ...and I remember saying to Mr. Cheesman, if you don't get me there soon ...just let me out and I'll pass out on the Grass..Probably a more graphic statement was actually said.!
Lisa Horvath Svecla: is on facebook.. I love you lots, and thanks for always being an inspiration and teaching me all that you did..you have formed my career and I really do love you for that! ( Lisa was sooooo good at her work in dance, ...aren't her students lucky to have her pass on her gift!!.. Lisa was "Picture Perfect"...Her Mom did beautiful costumes like many of the moms...a clever group of parents in the Academy--Lisa is now owner- director of "Premiere Dance Academy"--Thanks for the memories!).
Cheryl Flewelling: is on facebook..I can't believe you are on facebook..what a wonderful surprise...All is well and Dynamic Dance is celebrating it's 20th Anniversary. I am very blessed with great teachers, students and parents. I owe everything to you. You were always so kind and patient with everyone, not just the superstars and I hope I took that with me, when I started out on my own. (Cheryl loved DANCE....she had a lot of..."Lets get it right" in her...A pleasure to work with... also had a good eye for passionate choreography. Now owner/director of Dynamic Dance Academy! as well, was a wonderful addition to the Academy Staff --I can remember one of Dynamics Production..."Grease"..very clever Choreography.)
Laura Bishop: I am Eileen Dodd's niece. (note Eileen Dodd's owned the Sherwood Park Dance Studio in Edmonton)..I have vivid memories of being backstage at the competition and you being there before I went on to do my tap solo. (I too remember her on stage, ...I didn't teach her but she sure could perform.)
Patti Westin (See "In Memory Of")... now Trish DeCoverley: is on facebook.. Patti wrote a lot of wonderful memories and comments and it was very warm feelings reading them..this is her later comments......I could go on and on and on with amazing memories of my life as a dancer with Allan Cozzubbo. He wasn't just my teacher: He was more like an uncle who was also one of my best friends and mentor.. I remember talking and dancing with Carol Koldinsky, Dawn Marie Fox, Sean Cheesman, Shelley Gillette--(And flirting with her brother Troy, once a year at every Inter-School Competition.) Kari Ikeda , the Twins (Johnson..Denise and Diane I think she means these twins) Leanne Smith, Lisa Horvath, Cindy Dotzler, Kelly McQuiggen, Dawn and JP Ewonus, Michele Palmer, Lori Jensen, Brenda, Rachel and Cheryl Flewelling and Lisa Allyson, Sharon Edwards, Jody Aasen, The Smandych's Cindy Greasley and many many etc...I was fascinated with Karen Zimmerman and Brian Craik. I was so proud when he once asked me to teach him some tap step. You would have to ask him, but I think I was about 6 years and him 18 or so. BECAUSE OF You all of our talents were Maximized, You Are WELL loved.....thanks Patti...you wrote a beautiful keepsake for me... (Patti was like a modern day "Shirley Temple"...she could WOW the audience!! As Patti had the ability to challenge herself she was able to dance far beyond her years at a very young age!!)) now owner/director of Divine Dance Academy in Olds and she was a popular teacher on the Academy Staff..
Patti also felt strongly about Debbie Black and Carol Nielsen and how influential they were to her and the studio.
Stephanie Hopper Ketchin: is on facebook..Things are good !!..My daughter just started Ballet and Tap...Can't believe I'm a "Dance Mom"....(I remember Stephanie and how she loved her dancing...a constant smile on her face--Stephanie was very musical and artistic in her approach.)
Kimberly Field: is on facebook.. Kim has moved to Virginia (United States)and has two Dance Studios. I have used so much of what you have taught me in my studios. I even do my own "Inter-School Competition" called "Starz". A few weeks ago I spoke to Darryl Retter about you and Al Gilbert. He remembers you, and coming to the studio with Mr. Gilbert. Too Funny. (Darryl taught Tap and Jazz at one of the Academy's Summer Schools. They were usually held that last two Weeks of August.) Darryl Rhetter was a student of Mr. Gilbert's and used the Gilbert System when Mr. C. knew him. (Kim had a lot of energy and worked hard to get where she did...good attitude! She had a good imagination towards being an accomplished dancer!)
Kara Tremel: is on facebook.. Kara left Calgary for Toronto in 1997 and is working as a dancer/teacher for Broadway Connection. She is with the group Jersyboys Tours, She still loves the ARTS!!!...and has been lucky enough to work in what is her PASSION!...she teaches in all the cities the tour takes her. (I remember Kara dancing in the Moose Jaw festival when I adjudicated there...(a few times!! and how lucky I was to get to work with her at the Academy when she came to Calgary...she had a lot of Talent ....I'm sure in demand for the DANCE CIRCUTS!)
Sharon Edwards-Lozinski: is on facebook.. Sharon thinks it's so nice to revisit memories of such a great time in her life. (Sharon not only could dance, but was an interesting teacher on the ACADEMY STAFF as well...her choreography was very good....(I remember the "Fishing in the Park" number she did.and what an excellent performer she was! Sharon's dancing was very skillful and dramatic...Her Mom was a good jive dancer....I had the pleasure of dancing with her at a Parent Fundraiser.)
Lindsay Fuleki: is on facebook.."I started dancing at Cozzubbo's when I was just 3 years old. Have many great memories there from endless classes. Tap Solo rehearsals for competition and of course interschool. Made many great friends with fellow dancers as well as teachers!! Will never forget the teaching talent from the greats!!...Debbie Black, Kyla Wilde, Carol Nielsen, Patti Westin, Cheryl Flewelling, Mrs. Abra, and of course Mr. C.!! Cozzubbo's was truly a 2nd home to me!!!" ( We remember Lindsay and her positive attitude towards her progress, and she has a special place in "our memory" as well!)
Joy Westin McIIwain: is on facebook..Joy was like the song "Joy Oh Joy" and always st rived for the top. She made it too when she received Honours on her Advanced RAD Exam. Not an easy task. You can see from the pictures posted on this site, that she was a young girl when she started with the Academy. Joy had technique plus, and we can remember her solos, duos with Allan Craik and her sister Patti, and of course her presence in class! Joy was on the Academy Staff for awhile and now is an owner/director of Joy's School of Dance in Innisfail
Kristell Haeberle Court: is on facebook..After many year of training under you and your staff (Including Miss Black, Miss Nielsen, Miss Allison, Miss Flewelling, Mrs Abra, and Mr. Togni. I went on to teach at various studios in the city while going to the U of C. Dancing at your studio gave me the best training and certification that prepared me for being a great teacher. I am a stay at home MOM to 2 beautiful Children and a wonderful husband of 13 years. It has always been amazing to run into old ACAD Alumni. I hear Mr. Togni on his CBC Radio Show. I taught with Tory Doctor. Kara Tremel's mom sold my mom her house. Debbie Black and her children came to my wedding. I remember seeing many of my fellow dancers on campus at the U of C. You created quite a community Mr. C. and for that you should be very proud. Thank you for all you have done for the world of Dance. ( I remember Kristell as a very good dancer and teacher. I examined with Mr. Gilbert at "Dance With France" and enjoyed seeing Miss Haeberle's students Her students were lucky to have her as a TEACHER!.)
Cheryl Knudson Jessamine: is on facebook.. I started dancing with the studio in 1978 taking Ballet, Jazz and Tap. I believe I "retired" sometime around 1985. I am now married (almost 21 years) living in Okotoks with a son age 16 and a daughter age 14. My daughter recently started dancing after a seven year career as a competitive gymnast. It's definitely a trip down memory lane, as I go to the dance competitions as "The MOM"now but still see familiar faces and names. Thanks for all the great memories. (I remember Cheryl and she was quite an enthusiastic dancer and personality plus...She gave us all, at the Academy memories to hang onto.)
Michele Palmer Spring: is on facebook..Where do I start? I owe you so much! The drive for perfection, detail and style was taught to me by YOU! So many of us have opened our own studios-because of you! We are all bonded by amazing friendships, created from your studio! We have a friendly and healthy competitive atmosphere because of the morals you taught us! I admire you ! Look up to you! I respect you! Thank you for everything! You are an amazing Man! And --just to let you know....I even signed my monthly news letters..."DANCE ALWAYS"...You not only inspired me--you created me!!...I always wanted to be the BEST...like you! ( I remember Michele with kind and memorable thoughts, she was a very artistic dancer and st rived for that "IT" that dancers have...and she made "IT"...I also remember that I adjudicated her interschool competition one year...& I was the examiner for her Al Gilbert Exams... She made "IT" as a teacher as well....THANKS MICHELE for the memories!!) Teaches in Calgary.
Lisa Barlage Rootsaert: is on facebook.. Lisa thinks it's so great we are putting a site together!! Those were great years and we talk about them often!! (lisa was a very exuberant dancer and really turned on the performance quality. We too have good memories of Lisa's time with the Academy!) now teaching in Camrose School of Dance and is their .Artistic Director.
Calla Comben Shaw: is on facebook.. Calla spent over an hour looking at the Academy Website....and it brought back some of her most enjoyable memories. She has two sons, one 22 and the other 19...(Joey and Tom). (I know Calla and her sister Shanda enjoyed their time with their Dancing. Calla was a wonderful performer and looked like Miss Show Biz....she had a routine that suited her well..."If They Could See Me Now"..Loren Campbell accompanied her....I also have wonderful memories of my time with her!) I wonder if Calla remembers when she worked as a receptionist me sending her for milk many times...to heal the pain I was having...A Kidney Stone attack...Jean Helms got Mr. Cheeseman to drive me to the Hospital.
Trudy Barlage Lewis: is on facebook.. I've been teaching now for almost 25 years, starting with your studio for the first coupld of years and then at varous studios in Emonton, Sherwood Park and fianlly in Camrose. We currently live in Edmonton, as does Lisa and her famil, and my parents live here as well. My mom, Ellen still makes the majority of our costumes for our groups and has creatd some amazing "Art". (Ellen Barlage did a lot of the studio...she heard me in the Bay on the intercom and found me...! I think she recognised the Voice!)
Lisa and I talk about our Cozzubbo training and share our memories at the time. I was so fortunate to have been so well trained by you, Mrt. C. and all the wonderful teachers that you had. It forever changed my life and I am so grateful that you "Discoved" me as a teen jazz dancer with an absolute passion for the art. which I still have to this day. Hard to believe sometimes that I started tap at age 17 and not only is it my favorite disciplene, but it is one of the disciplines that I am known for as a teacher and choreographer. What luck to have taken that up!!.(Trudy was a pleasure to have as a student and a real bonus to have her on staff. WE all have great memories of her ...and thanks to her Mom, Ellen for the work on costumes!) now teaching in Camrose School of Dance.
Kira Greasley: is on facebook.. My fondest memories were built at Cozzubbo"s. The training I received from you, and your staff, was of the utmost in excellence, and I firmly believe that it aided me in being the teacher I am today: allowing me to still be dancing years later. I was fortunate to form a special bond with Carol Nielsen (see in Memory Of) and have her as my mentor and friend. Even today, Debbie Black and I get together often for coffee and chats. Thank you for all that you did for the Dancing Community and myself. (Kira was a bright and cheery pupil who always found a smile to pass along. She was a very good dancer and we are proud that she now teaches and passes her own "Stage Personality" to her students.)
Michael Tharin: Kira above and Michael Tharin did a tap duet in 1987. Both good dancers at a young age. Michael made a good Male Danseur for the girls to partner with. He had good feet and was a polished dancer. A picture of Kira and Michael is on the Student Alumni page.
Dana O'Neil Birch: is on facebook.. I have so many great memories of my time dancing at Cozzubbo's. Seeing all the pictures has brought it all flooding back. It doesn't seem like so much time has gone by. I remember it like it was yesterday. I feel so blessed to have been able to do what I loved and to have had such amazing teachers! I am now living in St. Albert with my husband Russ of 15 years, and our two children Lauren 13, and Liam 8. For the past 4 years I have been back taking ballet classes...RAD of course....and I love it! I frequetly chat with my ballet teacher about my time at the studio, and what an impact it has had on my life. (I can remember how dedicated Dana was to the dance ...also can remember her at Interschool ..one minute of jazz..own choreography..doing the Russian Splits and flexing her muscles to lift her torso off the floor...NO HANDS,,, Dana's mom, Mrs.O'Neil worked endlessly in the Costume Shop....all for the love of DANCE!!)
Pam Brown McKinnon: is on facebook.. Pam wrote that she was from the early days and remembers Sean Cheeseman from her class.....and how she knows he's on SYTYCDance as a choreographer and judge!!. (Pam was a good dancer...she was very clean and technical...I remember her Mom doing the Waltz Clog at Interschool and she Won the Parents Event.!)
Nandene Henderson : is on facebook-I enjoyed everything about my dance experience at the studio..I think you and your staff did a fantastic job training everyone..especailly evident by how many went out and did so well in the dance world..Sean Cheesman, Tara Young , and all the numersous people that were inspired by you, to open their own dance studios. Although I did not continu my dancing as a career, I still consider dancing a large part of who I am. The ballroom folks had me start teaching beginner students quite quickly after I started (Nadene went to Pitsburgh to do her Master's degree and got involved in Ballroom) because I had all the basic skills of picking up choreography quickly and body awareness of what actually looks coordinated. Nadene was a Yellow Dorothy in the Oz production with Allison Jones as her Toto in Yellow. (I can remember her doing her vocals...good voice..Memories from Cats....Mr. Beau Jangles put a lot into it! ---She got Chicken Pox and didn't get to do her Lyrical Solo....unfortunate ..she was very Good !! ) Nadene also passed on that Lysia Smandych and her sister Deanna Henderson were the Munchikin Mayors...I remember them unrolling the script for the production. We got a 2nd place with Meco and 1st place went to the School of Alberta Ballet. (a lot of good productions that year...and 1st place was beautiful...A Tarantella)
Esther Odagaki: is on facebook--- She is doing well...living in Toronto-Esther has a son Ethan who is 16 years old and is a hockey player...even thugh he was asked many times when he was younger if he watned to dance.. (I remember Esther and teaching her a Ballet Solo...and in her Red Sequing hat on Ob La Di...I think she slipped back stage on that number but got on in time...she had a lot of ShowBiz in her!!--Mom was a good seamstress! and did lots for the school !)
Karen Zimmerman Evans: is on facebook.- Has a daughter Roxanne (finished University from Carletion) and son Scott (heading to university in Sept 2010) and has twin stepdaughters Kellie and Bonnie.who are going to University on the East Coast. (Karen was a wonderful dancer and gave so much to her craft...always fun to teach and interact with--Karen did beautiful duets with Brian Craik!)
Joanne Keegan: is on facebook...She had a quick look at the site in progress and is going to look through her archives...(Joanne had very good tap beats...I think that was her favorite subject...Skillful and precise would be good words for her Dancing.)
Lorena Apuzzo Dohan: is on facebook...(Wow what a talent she was...The Bull in Bolero...The Witch in the Meco version of Oz...and the one and only candidate in the Academy that took her Solo Seal RAD Exam. Mrs Apuzzo was a great seamtress!! Lorena was like a sculptor molding her dancing...very accomplised.)
Lisa Marie Richardson-Senn: is on facebook--(an excellent dancer with lots of style...I believe she went on in Dance....and competed in Ballroom..she'd have been good for Sure!!)
Dawn Odagaki Robertson: is on facebook...(I saw her in Esther's Friend List...I didn't see Adele or their cousin Kari...Dawn had all the moves...and was good at many styles...I think she liked Tap the Best!--she had a good sense of humour-- I think one of the last numbers I taught the Odagaki's was a trio with Esther, Dawn and Adele...Not sure if Kari was in it as well...)
Nicky Hebein-Mapatac:...is on facebook,,(Nicky has a great style in her dance, it's energetic and technical--we all enjoyed watching her ..Nicky liked to laugh and was always in a good mood! ...Dance was a priority to her--She really connected with the music)!
Jodi Aasen Ashmore: is on facebook..(Jodi a dynamic clean performer...she was a great technician..Jodi went on to study elsewhere and soon opened Eurhythimics Dance Studio...Her mom helped a lot with Productions and costumes as did many especially the BOLERO !) Jodi now operates Eurythmics School of Dance in Cochrane
Debra Mudd: is on facebook. (Debra was an excellent technician....she had a good clean style and was very good at the ballet! She did go on an teach, and I remember adjudicating a festival at the Jubilee Auditorium and she did a wonderful GROUP JAZZ number!)
The Comments in Italics are Mr. C's thoughts about the dancers!
Chandre McRae Foisie: is on facebook. (Chandre was a clean technical dancer and developed a unique style!)
Yayoi Ito: is on facebook..(A real powerhouse...seemed to be good at all disciplines.. She was able to charm the audience with her skillfullness and accomplished style).
Andrea Schick Smith: is on facebook..(Andrea was a technical dancer and did a lot to develop her own style!)
Lysia Dawn Smandych: is on facebook..You had a positive influence on so many lives, both dance and "You Can Do Anything".(Lysia had a strong powerhouse set of pipes...I always remember her singing "Sisters' in the Whoopi Production! She now does Ukrainian Dancing --There is a picture of her on the Alumni page in costume..Lysia always did a well thought out peformance with CLASS)!
Roxanne Pogson -Ryz: is on facebook..(Roxanne had great feet for tap...she had style and was technical..)
Stephanie Yeo Vahaaho: is on facebook..(Stephanie had great Red Hair...I remember her giving her best all the time...and developed a good style !! )
Tracy Cumberbatch: is on facebook..Tracy is good and got married this past September...she has a desk job and does Flamenco Dance...(Tracy was a fun pupil and had a million dollar smile! I met Mrs Cumberbatch when I was Specail Events Coordinator for the Hudson's Bay..)
Jodi Cumberbatch: Jodi is doing good and has been married for 3 years. (May 2009) She is teaching yoga in Calgary. (Jody like her sister had a great smile and made teaching her a fun experience.)
Murray MacRae: is on facebook..Murray took acro and tap...he had the MacRae talent...good timing and feet....limber in the back for acro..(His cousin Gay and his sister Sally took dance as well ...Murray was an excellent example of good MALE DANSEUR !)
Bob MacRae. Bob took Acro for one year, and also was limber like his brother Murray above and his sister Sally and cousing Gay. . A good MALE DANSEUR!
Penny Trayhorne: is on facebook ..Penny liked Jazz...she had good timing and had the MOVES!! she was in the Jail Jazz Number! --she had a sister that danced as well ..Tracy
Sally MacRae Rolfes: is on facebook..Talk about a walk down memory Lane. Thanks for your website It's been a lot of fun looking back! (Sally was a very good technician...limber for acro...she went to the Lethbridge Festival and did an acro routine--Brian Foley was the adjudicator...Judy Kugler's niece and nephew won the 1st place in the Acro solos ....worked hard at the dancing. (Judy Kugler brought the Canadian Dance Ring to Alberta & possibly Canada)
Nathalie Burns: is on facebook.. Some of the fondest memories I have of my dance career were with Mr. C.-from the early days of "Good Toes Naughty Toes" to my first performance on stage at 4 years old(Dolly's Wash Day). Interschool competitons, Production, Wild Rose and Edmonton Dance competions. The studio was like an extended family-I will never forget the smiles and greetings we would always receive as we descended the stairs at the Heritage dance studio for a long (but wonderful) day of rehearsals! I cannot thank Mr. C. enough for the training and love I received at ACAD.
Although Nathalie no longer dances on a regular basis (she is a Charered accountant)! She trained at the Royal Winnigpeg Ballet School , apprenticed with the Alberta Ballet and Studied at the University of Utah Dept. of Ballet where she perfomed with the Utah Ballet and Ballet West. (Nathalie had a sparkling personality and a smile that didn't quit...she was good at the ballet and many disciplines....an irresistible charm that she delivered with each performance).
Tracy Rice Trayhorne: is on facebook..Tracy was a bubbly dancer and enjoyed the moves, and she did them well!! Great Blonde Hair!!--worked at the dancing and eager to be good!!
Kristine Richmond: is on facebook..Wow! A Blast from the PAST!!! Kristine is well and living in Vancouver..and still dancing. (Kristine was always a clean technical dancer with a great personality. She had "IT"!)
Torrie Paul Turner: is on facebook..Torrie said-You have no idea how Mr. C. and dance have beautifully, and positively shaped my life. My dancing started in your baby ballet class at the Parkland studio in 1981, and all of those years of dancing and performing at the studio really shaped me into the person I am. I can't express how grateful I am for all of those happy classes and years at the studio. and the discipline and life skills they taught me. Torrie still dances along with Melanie Melarchuk and Valerie Kynaston with Encorps Dance Collective in Calgary. (Torrie was a vibrant personality and strived for the high level she reached in her craft. I always enjoyed watching her perform...Her Mom cleaned the silver tray that the roses were on for "The Rose"...Interschool...that tray was my Dad's gift to my mom on their 25th)
Deanne Schmierer: is on facebook...There are many memories of dancing with Allan Cozzubbo. Dancing definitely taught me grace and coordination along with discipline and time mangement. I encourag many young poeple to have something this wonderful in their life. I am now celebrating (2010) my 12th year of my kidney Transplant!(Complete info on Testimonial Page)..Deanne was an excellent performer and I can remember when she did the Jonathon Livingston Seagull that Miss Skakoon choreographed, how good she really was. She always pulled her weight and was fun to watch. Her Dad, Jim Schmierer liked the Clown Procuction the best! (Showbusiness!)
Michelle Anderson Harcus: is on facebook Michelle was an excellent technician. She was very showy and executed all her steps with such a careful sense of perfection. I liked watching her do "the Rose" at Interschool. (When I was "Special Events Coordinator" for the Hudson's Bay, I worked with her Mom Theresa who was in charge of the linens and such. She too, was exact, in what she did!) Michelle did go on to TEACH!
Roxanne Pogson Ryz: is on facebook ( Roxanne loved her dancing and had spirited performances with very good technique.. She always pulled her weight in her group numbers which evolved into very confident routines).
Jorden Morris: is on facebook Jorden had a wonderful technical ability in his ballet and made to become a dancer with the ROYAL WINNIPEG BALLET. He was an exceptional MALE DANSEUR and always aimed to please. His examiners in the RAD Syllabus saw this has well. His parents brought Jorden and his sister in for the early morning class on Saturday from Banff. Not always an easy task with Calgary Winters!
Suzie Boyle-Collins: is on facebook..Suzie danced at the Studio on Elbow and Heritage Drive and did tap, Jazz, and Ballet...as well she did solos at the Alberta Dance Festival...and received a Gold Medal one year!! Suzie's dad, Fred Boyle, owned the Boyle Pharmacy in the Kingsland Plaza. (I remember Suzie, she was good at her dancing and always looked like she enjoyed the art.
Debbie Boyle: The Student above is Debbie's sister(Suzie Boyle) Debbie also danced at the Heritage Location.
Eileen Schick Shegelman: is on facebook...Eileen still loves to dance..after the Academy she attended the U Of C...graduating with a double major, then started a Masters in Cultural Relations. She lives in Calgary and has a beautiful family---Her husband Alex (married 10 years) and they have a daughter Olivia age 8 and a son Joshua 5 years. We are also adopting a little one from Vietnam whom we hope to have home within the next year. My job at the moment is being a mom and I absolutely love that!!!. I have always treasered my dancing wnd look back on the past with fond memories. The piecces I treadured the moser were the amazing friendships, developing my self confidence. and just being able to express my love of Dance! ( I remember Eileen and her sensitive expression of her dance routines. She was an impressive performer with an excellent showgirl quality). (August 2010)
Bethia Jolly -Steele: is on facebook..Wow, great site. Brings back some great memories. I think I said recently ACAD is like Calgary's version of Kevin Bacon's six degrees of separation. I think all the studio owners here in Calgary are connected to you in some way. I started dancing with you , and I will always remember Miss Nielson, my favorite Ballet Teacher. What wonderful character ballet solos we did together. I also remember The Wixard of Oz production. I was Kim Hall's LIME GREEN TOTO. I may not have finished my training with you, but have always had fond memories of my time with you and the whole ACAD studio. I am just about to wrap up my 6th year of my own studio, so I am still loving dance as much as I did then. ( Bethia was a wonderful talent and had an eye for clean technique. Like Bethia, we all remember the great Character Solos she did with Miss Nielsen!)
Crystal Dawn Thomson-Dick: is on facebook Crystal says it's great seeing all the old pictures, lots of memories. (Crystal is Debbie Black's daughter and is expecting a baby ..typed June 10th 2010...Miss Black will be A GRANDMA!)
Cindy Anderson-Tymko: is on facebook..who knew at age 4 that dance would end up being my career for life. I was just too young for Kindergarden so Mom thought she would send me to ballet for $5.00 per month and then the next year we skipped kindergarden and added Jazz and Tap for another $10.00 a month. It was outrageous back then to spend that on one child with 5 more siblings who didn't get to take anything. Seven yearss later I ended up dancing with the very best studio in Calgary "Allan Cozzubbo Academy of Dancing " Wher we had attended all the year end shows in the years previous and I had envied the girls and one boy in the "Big " productions and wanted so badly to be part of them. My favorite memories of dance from those days are giggling with Shirley Nielsen and the rest of the girlfriends between class breaks and how inspiring and patient Miss Debbie Black was in my private lessons.
I now teach Country, Swing and Ballroom Couples and have my own Dance Company "Thythms of Dance" with my husband Richard. We are certified judges on the UCWDC circuit and travel frequently to the US for dance competitions to both judge and compete with our students. We have a little three year old girl "Izzie" who already loves to dance and I can hardly wait to get her into classes and competitions. She already two-steps with her daddy and is taking her first ballet class this week. (August 2010 )(Cindy was a perfectionist and always put her best foot forward. She had good highs and lows in her performances with a finely tuned Technique. I'm sure she'd be good teaching adults as I remember her as a patient and inspiring dancer).
Tara Young: is on facebook "I have been working on Broadway for over 20 years and not a month will go by without someone asking me where I atarted. Mr Cozzubbo absolutely gave me the foundation, discipline, and tools to set me on my way, to make it on Broadway. I am thankful fo the environment that he created in his studio. It was my home away form home...I will forever be grateful to him!!" !! TaraYoung ( I remember the drive Tara had to be the talent she is, and the personality she has to make it in Showbusiness....Like a breath of Spring Air!! At Interschool we saw her blossum ---We are proud of you Tara !! BROADWAY IS LUCKY TO HAVE YOU1)
Kari Ikeda Grier: Kari has 3 sons Adam, Trevor and Tyler all hockey players and not Dance....(I remember Kari and how good she was...very quick at picking up and wonderful feet...her tap shoes just flew and carried her with them...Great duets with Adele Odagaki ! The DANCE number her class did with the rope....I had Mr. Ikeda go in front of the stage and watch that the momentum did't carry them off the stage...Mr. Ikeda also did the tape recorder ..stop and start.. for the Minstrels. Allan Craik was Mr. Interlocketer for the Minstrel Production.)
Adele Odagaki Hamer: is on facebook..Adele has a daughter Taryn who is in university, a daughter Stephanie and a son Brett...Stephanie is taking dancing...I'm sure she'll have the Odagaki Talent! (Adele did beautiful solos and was an exceptional dancer...dedicated to perfection...I actually did teach her daughter Taryn when she was little...I hope it wasn't me that put her off dance!)
Lisa Allison Kingston: is on facebook. I had a chance to look at the website. What a wonderful tribute and tool to fondly remember what a wonderful and substantial impact you had on so many lives. It is beutiful! Thank you for taking the time to create such a beautiful piece for all of us to visit! (Lisa was an excellent teacher and dancer for the Academy. She had a very strong commitment towards her skillfullness in being an accomplised dancer! She is now a fitness instructon for Heavens in Calgary Lisa is a mother of her Son Griffin age 7 years...(June 2010).
Kori Shamon: is on facebook..She thanks us for the website and the Memory Trip she is able to take.( She has two childrne ages 10 and 13 and they are both dancing. Kori like her sister Sherry, had a lot of charisma and gave a lot to each performance).
Sherry Shamon: see "In Memory Of" Sherry loved to Dance and was truly a talent. She gave so much to her art and indeed gained excellence in her craft! Sherry passed in September 2006 ..Sherry did go on and TAUGHT Dance & worked at the Bay in the Marketing Department.
Alison Majeski: see "in Memory of"...Alison loved to Dance, and was very good at the Musical Theatre. She had a Good Set of Pipes. Her Daughter Josie is planning on making Dance her Career and her son Kevin has a wonderful Baritone Voice and studies Voice in New York City. Allison is not forgotten!
Mardyne Davey: Mardyne, an excellent example of a good MALE DANSEUR, made it to the Royal Winnipeg Ballet. He did wonderful solos with a desire to entertain and he did!!...Mardyne in his prime came and did a guest appearance for one of our Ballet Evenings. We all enjoyed Mardyne's ability to DANCE..He was a good dance friend to all the students he studied with!!
The comments in Italics are Mr. C's thoughts about the dancers!
Alicia Bateman: see "in Memory of"...Alicia was a very good dancer and was able to turn on the charm when she performed. Her talent did not go unnoticed when she competed.
Rob Charles Westin: see "In Memory of"...Rob was very talented and tried very hard to please the teachers at Cozzubbo's. He really has the "Westin Talent" like his sisters Patti and Joy...a good MALE DANSEUR.
Duncan Campbell: see "in Memory Of"..Duncan was a very good MALE DANSEUR, and he enjoyed the national dances of the countries. I can remember him performing at Flare Square at the Calgary Stampede doing a Russian Dance. He had a lot of Rugged Emotion in his performances.
Diana Helms Wood: Jean Helm's daughter, Diana, is the proud Mother of Vanessa and a Grandmother to Olvia and Sophia. She is currently employed as a Senior Property Manager in Calgary. Diana had a lot going for her dance wise, but unfortunately cut her training short..Great Smile and was able to capture the room, as an audience, just like a camera would. She had her Mom's Gift for music, tempo and rhythm! Olivia and Sophia would be Jean Helm's great grandchildren.
Lisa Talbot: is on facebook.. Lisa remembers her time at the Academy as amazing & an incredible experience that took me far ..both with my dancing & friendships & contacts made there! The website is amazing-I could spend hours reading it! At your studio I experienced some many firsts. You choreographed a wonderful tap solo for me that placed well in several competition. I loved your tap and Jazz classes and the way that you taught ! Miss Nielsen convinced me to do my first ballet solo and she shoreographed such a wonderful character pliece that I received a scholarship in Esmonton. She was truly an inspiring teacher and has a special place in my heart. Dance did not come naturally to me and I had to work very hard for every achievement.--I loved how at the Academy every student was valued and I received such fantastic instruction and individual attention. Together Mrs Abra and Miss Nielsen helped me pass my Elementary Ballet exam, and encouraged me to attend Summer School at the Roay Winnigpeg, which led me to the opportunity to participate in the Nucracker with the Alberta Ballet.(I remember Lisa and her personality. Always a smile on her face and ever so willing to get it RIGHT--Her work in the art of Dance certainly was an asset enjoyed by many!)
Christine and Shelley Talbot: danced with the Academy for a number of years. Their sister Lisa (above) helped me teach at Le Roi Daniels Elementary School .. Lisa Says: Those children received an exposure to dance and performing opportunities that were so crucial in building their self-esteem and enriching their lives. (I enjoyed teaching at the schools as it was a rewarding experience for me as well!)
Elise Lecuyer: is on facebook..I just graduated from university, with a B.A. in Humanites and I have been working full time at Retail Media Group as it's Sales and Marketing Coordinator. I've been keeping up with some dance classes when I have the opportunity, and took some classes at univesity as well...other than that..just traveling and enjoying being done school. (Denise was really good at the ballet, and she did model for the Bay when I worked there and Her Mom Denise...was a very good supporter of Denise's abilities to DANCE).
Eunice Kong: is on facebook..Eunice had a lot of visual presence on the stage while she performed, very carefully, her artistic approach to DANCE! She was in a number of "Ballet Performing Group" dances, as displayed by the pictures on this site.
Rachel Hershfield: Rachel has sent us two pictures -one on the "About Us" and the other on "Student Alumni" navigation pages. (Rachel was a very polished dancer with a pleasing and elegant style. She was classy and very tasteful in her performances. Energy & Passion describe her! She was the one that suggested the "One Minute Of Own Choreography" for the Interschool and that was a Big Hit! Mrs. Hershfield had made a "Needle Point" version of the "Academy Crest" and the "Dance Always"...they are above my computer today...wonderful memorabilia!
Nicole Thiessen: Jonathon's sister ..Nicole worked hard at the dancing and always appeared to feel comfortable with her performance on the stage. I think the last time I worked with her she was doing Al Gilbert Jazz. (possibly Grade 4!)
Shirley Doncaster: Shirley had excellent timing and rhythm for her classes. She was a polished performer with meticulous taste. She lives in Calgary, Alberta. Shirley was in some of the Adult Lines for competition! I believe she was in "I Wish I Was Eighteen Again" and for some reason I had to step in to the adult line...perhaps there were some partner parts...there must have been a good reason for me to step in!
Jonathon Thiessen: is on facebook...Jonathon had good feet and was able to perform a superb tap dance with lots of beats. He was intense about his Tap and always put his best foot forward, so to speak. A very good Male Danseur! Jonathon was working on Al Gilbert's Tap 8 when I last worked with him in class. I also remember that he took a wooden sheet of plywood and placed it down and performed his tap on it. ( in the downtown area of Calgary) He's now with the Postal Department in Calgary. Good for him!
Shireen Thompson Prysunka: is on facebook...she's glad we are doing the site...her life is going well. (Shireen worked hard at her dancing, and made a striking picture when she danced. Good Rhythm and Timing like her mom Shirley Doncaster. Very smooth transitions to join the patterns).
Kim Thompson Thiessen: Kim was well motivated in her Dance and worked hard trying to please and she did...She felt comfortable doing her dancing which is a bonus in itself. Her son Jonathon Thiessen took after her and does the intricate footwork that she did.
Carla Potts: Carla remembers the laughs at the Cozzubbo Academy. I was very lucky to be a part of a great group of girls who just loved to dance and have fun. (I do also the crazy long hours of rehearsal and hearing about how we should be prepared to continue performing even if our toes were bleeding so much they turned our pointe shoes RED from the blood). I'd love to hang out with all of those girls again and if they're ever in Vancouver, they should look me up! (I remember Carla and the accomplised way she performed and her graceful and elegant moves that were effortless...I also remember having to pin her hair up in a net ...she had very thick hair...and Mrs Abra wanted a specific style. Carla teaches High School in Vancouver --Social Studies/History).
Kayt Lucas: ia on facebook...Kayt moved to Toronto , choreographed for a number of years. and got into AERIEL DANCE. She became an acrobat, silks, hoop and harness dance and has just retired last year 2009..she had a good career in dance. and is now back at school for a degree in industrial design. I remember Kayt as a real talent and had an accomplised look to her routines. Skillfull and imaginative in her presentation and made some dramatic and memorable moments with us..
Kitrina Morris: Katrina in now married and living on a horse ranch in Wyoming. Katrina was a superior dancer and worked hard to cultivate her craft. Her brother Jorden Morris has passed this information on to us.
Sherry Ekman-Keister: is on facebook.... I am constantly telling my girls about you and Mrs. Abra and all the performance techniques, tips and discipline lessons that came with DANCE! Everything I learned with my time spent with you has been VERY valuable in what I am doing with my girls today. THANK YOU! ( Sherry was a very effective performer with a lot of potent desire to assist her, in doing her uppermost to be outstanding. And she was --and today has inspired her family to perform in a band! I can remember Sherry and her superior performance of "King Of The Road"! )
Cindy Dotzler: we as of yet haven't heard from Cindy...but if you can quide us to her or her to us..it would be appreciated..Tara Kleefeld was Cindy's ORANGE TOTO...and Cindy was an ORANGE Dororthy!
Tara Kleefeld: is on facebook..Fantastic site...she will dig around and find some photos...(Tara had a gift to perform, with a polished and refined manner. Her routines were strong and she danced in a heart felt manner!
Trudy Lyn Sorensen:..See "In Memory Of"( Trudy had a lot of potential with a strong desire to be Picture Perfect. She was elegant and graceful with a pleasing quality about her routines)!
Lisa Coldrick...See "In Memory of" ( Lisa was a super dancer and aimed to please. Her performances were heart felt with tasteful style).
Paul Coldrick: is on facebook.."Paul was a very good dancer and had a very technical approach to his art...He was at the National Ballet for a period in his youth and certainly had a charm with his performances. An excellent Male Danseur)!
Deborah L. Coldrick-Cobb: is on facebook...(Debbie had GREAT lines to her movement and the 3 P's of dance "Picture Perfect Performance" applied to her. She really did evoke the "Spirit Of Dance"...she now has two girls that carry on the tradition...Olivia who is at the National Ballet School and Francesca who is in the professional program of the School of Alberta Ballet)!
Laura Jane Sorensen: Laura was a student at the ACAD for 15 years. During this time she studied ballet, tap and jazz, entered festivals, competitions, and exams. Laura was invited to teach dance at a community school. She married Todd James in February 2002. They have a daughter, Sydney and two sons, Connor and tristan. Sydney Lauren James has been taking dance classes since she was three years old. She has recently completed her third year at Dance Explosions where Miss Cinzia, a former ACAD student is owner/teahcer. In 2009-10 when Sydney was nice years old, she completed her Tap 2 and Ballet 3 exams. She also won a trophy for achievement. ( I remember Laura as a dedicated dancer with a strong ability to grow in her craft. Like Trudy her sister, she connected well musically, and had a tasteful manner during her performances).
Gillian Coote Yuan: is on facebook...I have been looking through this website and have many wonderful memories! Sadly, I am no longer dancing as I had a foot injury about 7 years ago that required surgery, and it's never completely healed. I took an adult ballet class, but it just wan't the same. Now, I am a registered nurse working with new moms and their babies. I am married to Howard and have a Westle dog named Tony, No children at this time (2010). I now enjoy cycling on the highway and bike commuting. I also enjoy travelling and have been to Egypt and will be going to China soon. Thanks for the website!( I remember Gillian and how dedicated she was to her craft. She enjoyed performing and cetainly was able to show her passion for grace in her dancing. Like many of the alumni, she had a very suppofrtive mother).
Trista Smandych Bailey: is on facebook...The website is lookingt great and it brings back so many amazing memories. I love being a mom to my girls. I work partime at the Peter Lougheed Hospital in the NICU taking care of the prems. I have found the a perfect balance between being home with the girls and at a job I love. I am still Ukrainian dancing and teach it just once a week. Both my girls are Ukrainian Dancing as well. (Trista always had a vision of how she liked to present her performances, and had an irresitable charm to compliment her wonderful style. She had and used her style to present a sensitive performance.
Mrs. Malvina Smandych--not a student but always a supportive Dance Parent.- still does a lot of work with Costumes for Marilyn Potts who is in her 10th year at St Mary's College Near Fish Creek in the South & of course for St. Francis High School...Marilyn is Carla Pott's Mom---Trista tells me the "Smandych Family" (Lysia-Trista-Trevor) get together every Sunday night for dinner.
Trevor Smandych: is on facebook....(If I remember correctly Trevor went into boxing as he matured. Judging by his photos on his facebook profile, my memory is correct...I'm sure when he danced he had the Smandych Charm and did his best to support his families reputation).
Melanie Malarchuk: is on facebook (Melanie had a wonderful "Spirit of Dance" and was very diligent in her presentations of her craft. She had confidence and an irresistible charm that commanded ones attention. Always eager to please)!
Russell W. Doig: I have been in touch with Russell and he is now an Optometrist practicing at the Chinook Optometric Clinic and at the Strathmore Vision Clinic. He will send in his thought at a later date. ( I can remember Russell and his strong determination to perfect his craft and the detail he presented when he performed. He had all the splendid and superb qualities that make an artistic Male Danseur)!
Brian Craik: I have been in touch with Brian and he will send in his thoughts at a later date. He is a Grandpa ...see picture on Student Alumni.(Brian started dance as a teenager and made the transition from a novice to an excellent male DANSEUR. He took the music and created a comfortable style for himself with all the different avenues he could pursue. In 1977 he won the ACAD Achievement Award right beside Dianne Ranshaw and Karen Zimmerman.--Karen was his duet partner and they had a good frame and appealing presense about them)!
Gay MacRae now uses her first name Norma (Married Name)Taylor: is on facebook... Gay is a cousin of Sally, Murray and Bob MacRae....(Gay danced with the studio from age 11 to 17 and it was a good experience for her. (Gay was an excellent technician and was very exact in her presentations. She had great lines and was able to sustain her style when performing and never settled for less then being in the top iconic spots).
Allan Craik: I have been in touch with Allan and he will send in his thoughts at a later date. He will also try and connect us with Stephen Findley. (Allan like his brother Brian started dance as a teenager and quickly moved along with a strong attack to accomplish a lot in a relatively short time. He became Joy Westin McIIwain's partner for duets and they presented a strong and supportive appearance, with confidence, when they danced. Allan was a wonderful "Mr Interlocutor" for the Minstrel Production. He also had a fair set of pipes when he sang "Dancin' Man"--enough that the Adjudicator Faye Foley, remembered him and contacted him through me, for a singer in a musical for Brian Foley).
Tara Kleefeld: is on facebook...(Tara had a great look and could really charm her audience. She had a good line of attack and did very credible performances). Tara was an Orange Toto for the Meco Production with Cindy Dotzler as her Orange Dorothy.
Stephanie Yeo Vahaaho: is on facebook...(Stephanie and her music connected well and she always gave very credible performances. She had a good charm about her and had very perceptive ways to connect with the audience).
Tracy Rice-Trayhorn: is on facebook...I loved dancing at the studio...I wish we could bring back "OLD TIMES"!(Tracy had a wonderful smile when she danced and had a good attack towards her routines. Lots of charm and pleasing expressions towards her craft).
Penny Trayhorn: Is on facebook (Penny had a clean and technical approach to her performances, with a very pleasing style. She was spontaneous and had very clean lines that had great benefit towards her Dancing).
Debra Mudd: is on facebook (Debra had an irrestible charm and a very clean technique. She really connected with the music and was able to sustain a routine from beginning to the end.
Lisa Martin Fried: is on facebook ( Lisa had a strong line of attack to her routines with a lot of style. Charisma and great dance ethics could be said about her with a captivating sense to express the music)!
Jenny Repond Peters: is on facebook (Jenny had a sparkling personality and smile and connected very well with the musci. She had a definitive charm and magical way about how she presented the concept of her routines(!
Jordanna C Fraser Marenoske: is on facebook (Jordanna was a very strong dancer with a lot of the "It" factor. Her dancing was well thought out with a definite solid plan to perfect her craft).
Nathalie Burns: is on facebook (Nathalie had the "Spirit of Dance" quality to her benefit and used it well. She had a great smile and was very reliable to perform to a very high standard).
Kristyn Scott: is on facebook The website brings back wonderful memories --what a great reminder of my time at the studio--amazing teachers--lifelong friends and of course my first love DANCING! ( Kristyn had a wonderful quality to her art of dancing. She was able to take the choreography and mold it into her own passion for performing).
Christina Halliday: is on facebook Christina saw the site and contacted me via facebook.(I remember her well and how she had a charm to her routines along with a good technique. She also had a line of attack to accomplish her vision)! Mr. Halliday gave the set of Cats a clear vision to look like the garbage dump...spray paint and the works...thank you to Mr. Halliday.
Tia Halliday: is on facebook. (Tia was a student in her younger years but I'm sure had the Halliday Charm)
Cinzia Torriero Eremita: My time at ACAD was one of learning, great focus and fun! After dancing at "Cozzubbo's for 10 years, I went on to complete a Business Degree at the U. of C. (with many dance options) and then finally went to England for one year to receive my RAD teachng deploma. (Thank you Miss Nielsen and Mrs Abra for passing on your love for Ballet)! I have owned my own studio in Calgary for 10 year and have always strived to run it in the professional manner in which ACAD was run. What will I remember--the teachers and their passion--and of course the Productions! (Cinzia was a very technical dancer with her own strong and rich feeling for her own "Spirit of Dance"....her pupils are lucky to have such a dedicated teacher --Cinzia is now owner/director of "Explosions Dance Inc")! (September 2010)
David Adie: is on facebook David enjoyed looking at the ACAD site and often things of his time at the studio. ( I remember David as having determination and drive. He obviously had talent in his choice to dance as he was successful in the early days at the Canadian Dance Ring competition. See the CDR 1st place winners on the Navigation Page "Services").
Kitrina (Trina) Morris Campbell: is on facebook. Trina thinks of those days a the Academy with Happy Thoughts. ( Trina like her brother Jorden had a flare for the ballet. She worked hard and was able to put some creative touches to her performance).
Erinn King: is on facebook Erinn now lives and works in Boston for an investment management industry. She still keeps a toe in dance as the Co-President of the Board for the Boston Dance Alliance. The website is fantastic! It brings back so many great memories. (Erinn had a powerhouse combination of technique and charm with a very strong delivery--She had an incredible facility to add charisma to her routines)!
Mardyne Davey: I have been in touch with Mardyne (October 2010) and he going to send in some pictures. He is grateful for all that was done for him and felt we had shaped his Dancing Career and his love of dane. (Mardyne had a generous "Dance Spirit" and had all the gifts of performance that a male danseur needed. Certainly a powerhouse on stage and a lot of genuine charm). Mardyne's female dance partner was Lori Jensen.
Tory Doctor: is on facebook: "I started off way behind the 8 ball when I started dance at the age of 12. But thanks to you I was challenged and brought up to speed in no time. I always struggled in dance...it never came natural to me, but you were patient , knd and understanding . I was never the best student, but I really wanted to please. I was often rewarded with your kind words and those of your teachers. Without them and you, I would not have made it as far as I have in the business".
"I have spent the last 18 years as an actor who has specialized in Musical Theatre. I have done over 50 professional productions in close to 40 different countries. I have recently started to focus on a lot of directing and writing. I now have been commissioned to write two new Musicals. "The Draon Knight" and "Rhythm on the Rails". both of which will be produced in 2011. I have also recently produced a concert version of my mega-musical entitled, "The Fallen: A Tale of Jack the Ripper" this past year in Toronto to great critical acclaim". (Tory was all "Showbiz" and could really project a song. His spirit of "I'll make it" was his goal and he gave it with intensity---Great Personality as well and was a lot of fun to work with--I remember his Mom and Dad and how "Showbiz they were).Carol Kolodinsky Larsen Masters: Carol graduated from the U. of A. with a B.Sc in Occupational Therapy..Everything is great in her life. She has her two girls Kristina nd Nicole taking dance from Mrs. Abra and other sources --the girls love to go to class as its is great for their self esteem and posture. They are doing renovations to their home which includes a "Dance Studio" That's fun!... ( Carol has a dance career that is still going as she recently competed in Country Ballroom. She had a gift beyond perfection, and a wonderful creative "Dance Spirit".(October 2010).
Steve Kolodinsky: Steve is still in Calgary and took Tap from us for one term and went on to perform with the Young Canadians.
Kellie McQuiggen: Kellie does the odd catering job for a construction company. (Canda). Carol Kolodinsky above and Kellie often meet at the functions and go to the back and play "Catch Up". Kellie has two girls. (Kellie loved the costumes, makeup and hair styles that went with the performing. She had a lot of Charisma on Stage and always received a generous applause for her craft. Nice Personality)!
Brenda Davidson: Carol Kolodinsky tells me that Brenda is Married and works in the hotel industry. She manages hotels and is very high up in the ranks. She is still a gentle and sweet person. (Brenda had a lot of "Dance Spirit" and took in a very competitive class. She aimed to please and always turned in a topnotch performance)!
Lorilei Hildt Vanleewan: Lorilei is married with one girl. Her Daughter attends the same school as Carol Kolodinsky's Nicole. (Lorilei worked very hard to please and did. She was able to improve her technique and put in good performances).
Melissa Bamsey: is on facebook...(Melissa had a nice clean technique and made her presence known in her routines and performances. She knew her work and certainly made a statement on the stage. Her mom was supportive like all of the mothers and was an excellent seamstress).
Kim Buck and her sister Wendy--had a strong supportive family. More detail to follow.
Susan Nash: I have fond memories os ACAD and all the friends I met. You were an amazing instructor wh certainly "moded" me to who I am today! Dance is still vary much a part of my life! (Susan was a motivated student who took the challenge to become an excellent performer and form her own "Spirit Of Dance").
Tamiko Laagerward: Tamiko and her husband Mike's photo is on the Student Alumni page. She is working as a "Craniosacral Therapist" and is thinking of opening a Gluten Free Bakery. Looking through the site, has brought back many memories for her. (I remember Tamiko and how enthusiastic she was with her time in DANCE--She always gave her routines expression and a very clean presentation-- She was a joy to watch her perform! Her mom did a braid with one hand twisting the length and then into the Ballet Hairdo).
Tasha Lawson: is on facebook. i love what I do as an artist , feel very blessed, and am greatful for my early beginnings with you! Tasha has had a successful career in dance and has travelled all over using her craft. She did a BFA at SFU and moved to New York. She was a principle dancer with tapestry Dance company in Austin Texas and directed the apprentice sompany for 6 years. She recently had a job offer from Cirque du Soliel and is now "Assistant Artistic Director" for a touring show called Kooza. She joined the tour in Miami and and then will be relocating the show to Tokyou Japan. Tasha loves doing her own work and creating. (we are very proud of Tasha's success and remember her creativity towards her performances well. A great stage presence, and irrisitible charm was always strong in her dance).
Matthew Lawson: Tasha tells us that Matthew is now working at a TD Bank. We will try and get an update from him.
Cory Drew Kunz; is on facebook. Cory is the mother of three daughters all of who did dance at some point. Shte thinks it's grea that we are putting together this website--so many wonderful memories! So Much Fun!! I am currently teaching step aerobics--when I can amid running about with the kids --bringing me bck to my dance roots.--and I still sing!...good for her (Cory had a great personality and showed joy when she danced. She gave a lot of energy to her performances and always put her best foot forward--she is going to send in some photos).
Allyson Fox: the website is a blast from the past!. I'm not invovlved with dance at the moment but did continue on for quite a few years, first attending NBS then the Quinte Ballet School and finally ended upin Montreal for a couple of years. My knees didn't hold out though and after surgery when I was 18 i went to the University of Waterloo and taught in their dance deparment and with their school for coummunity Carousel for 7 years. Recently I went back to school here in Nova Scotia and working for an Applied geomatics research group and doing my msters degree in Science and Applied Geomatics. Big Change I know. ( Allyson always performed giving a 100 %. She had an irresistible charm and a very strong "Spirit of Dance").
Lorissa (Chan) Gilmore: I just found the website link off the ACAD facebook page. What a great way to share memories. Although I only took one or two weekly classes at Cozzubbo's (South studio, from age 6 to 16 -I believe). I still have great memories of jazz and tap classes at the studio and have kept in touch with many of the girls I danced with. I continued to dance after high school (Contempoarary Dance at Grant MacEwan College in Edmonton) and went on to complete my Intermediate Cecchetti exam with Mrs. Abra at Ballet Royale. I recently had a baby boy, and teach Pilates and Gyrotonic Part-time her ein Calgary. (December 2010) (Lorissa had a great "Dance Spirit" with a unique style. She was clean and polished giving some wonderful performances).
Leslae Ewonus: (this excerpt is from her parents Merle and Greg--Jan 2010) Leslae and her husband Tony live in Missoula Montana where Les has a very successful Law Practise. They have two children, Merle and Greg's very special grandchildren. Miranda is 22 years and about to graduate from University and she tells that she is going on to Grad School and then law. She has a wonderful boyfriend so this may factor in. (She did dancing as a wee one than progressed to sports. especailly tennis and was State Chamipin in high shcool. Leslae's son John is an excellent student and superb athelete. (Leslae was an excellent dancer and was motivated to excel in her craft. She could take the stage and be very determined to give a sizzling performance with a unique style that she developed---Leslae and Rachel Hershfield did some great duets and they each pulled their weight).
Dawn Ewonus: (this is from her parents Mr. and Mrs. G. Ewonus--January 2011) Dawn and her husband live in Calgary, about a block away from Merle and Greg which they just love. They at this time have no children just some very dear pets. ( Dawn worked very hard at her dancing and was able to turn in top quality demonstrations each time she danced. Dawn and Sean Cheesman were duet partners at the Academy and Dawn certainly held up her end of the choreography. Dawn was a bundle of energy which added a "PLUS" to her routines).
J.P. (Jake)Ewonus: (This data is from his parents Merle and Greg Ewonus January 2011). J.P. and his partner Linda live close to us and we all get together as often as possible as they are very busy in the business world. At this time they have no children but do have special pets. (J.P. certainly was an excellent danseur giving some excellent thought to his routines. He not only had energy but he also had a strong masculine style that only added to the excitement of viewing his dances--I, at this time cannot remember J.P. doing any duets???). Merle Ewonus, like many of the mothers, could always be counted on to make great costumes and had an eye for colour and detail.
Suzana Dimitrijevic-Dawe..is now teaching at Henry Wise Wood School in Caglary, Alberta. Suzana received her Bachelor of Education at the Universtiy of Lethbridge.
Karen Bradfield Humphrey ..(now operates "Dance Inspirations Inc" in Vulcan Alberta. Her, and her sister Cheryl Flewelling, did some memorable duet routines. Karen had a good "Dance Spirit" and had a unique style).
Maureen Hart: is on facebook. (Maureen studied with us when they moved from the west coast to Calgary prior to her mom opening her school, "Hart School of Dancing". She was a bundle of energy and had a unique style. Her and her sister, Susan, did very clean and technical duets. They continued the school when their mother, Gloria passes away in 1975. There brother Michael came up through the ranks of the "Hart School").
Susan Hart: is on facebook. (Susan studied with us when her family moved to Calgary from the West coast, prior to the family opening the "Hart School of Dancing". Her and her sister Maureen took over the studio when their mother, Gloria passed away in March of 1975. Susan was a joy to watch and was a clean technician with her performances--we all enjoyed seeing Michael come up through their ranks and carry on his Mom's and sister's talent).
Tara Rockey Fawcett: is on facebook. Tara's comments are on the "Testimonial" and "Alumni" navigation pages. (Tara was quite a talent and we remember her performances well. She had a generous "Dance Spirit" and a gift to dance with zest and vigor. Her Mom gave her and the school a lot of support).
Audra Cox: Audra has contacted me and brought us up to date on her Academic career (August 2011)" I went to Mount Royal College and took my Law Enforcement Diploma plus a B.A. in Criminology from SFU and finally her Masters from the University of Leicester in Criminal Justice Studies. I then went back and took my Land Administration certifcate from SAIT". (Audra had the smarts as we can see not only in her career she pursuded, but in DANCE. She certainly had a technical approach to her craft and always performed with an awesome ability that placed 2nd to none--She obviously learned "Time Management" from her time in Dance and related Subjects. Audra also was a "Young Canadian" with the Calgary Stampede but came back because she enjoyed dancing at the studio. She had been accepted by the Royal Winnipeg Ballet and also mastered figure skating and track and field.).
Pamela Wood Drummond is on facebook. Pamela went back to school in 2001 and is now a legal assistand. She works in a small litigation boutique firm in downtown Toronton. She married in 1984 to her husband Dave and have now been married for almost 18 years. She has a daughter Nicole who stayed in Calgary to finish a double deghree program at the U Of C. She moved to Ontario after graduating and is now living in Thunder Bay and working to complete yet another degree in nursing. ( Pamela had an excellent style and devloped a very clean technique. She danced with the Calgary Rockettes and certainly deserved the applause for her awesome ability to perform--Pamela had the "IT FACTOR").
Dana (Harvery) Leslie is on facebook. Dana left the Academy in 1986 and went on to dance with an adagio/dance cast for Jean Ann Ryan Productions and loved many years of dancing aboard cruise ships for the Cunard and Norwgian Cruise Lines. From time to time, in between cruise contracts, spent time performing for Stage West both in Calgary and Edmonton. Today, is partially retired from the entertainment world and resides between Kelowna BC and Phoenix Arizona. She works for Sephora Canada and even when she thought her years of dancing were long behind her: Last Fall choreographed the Grand Opening of Sephora in Kelowna. She is a member of the arts council of the Central Okanagan and from time to time, still consults and scouts for talent through Fuze Entertainment Solutions (Calgary) and Niteraiders Entertainment (Las Vegas). (Dana was very technical with her performances and considered to have a very strong "Dance Spirit"...when she performed one did sit up in their seats and admire her awesome ability).
The Following is the start of a list for "Student Alumni" that others have asked about or mentioned--send in your name if you were a student, and be added to the Alumni List below--or Your Name with comments to be posted above or on the "Testimonial Page".
MALE DANSEURS LISTED BELOW
Allan Craik--Stephen Scott Findlay--Jonathon Thiessen--Sean Cheeseman--Collin O'Rourke--JP Ewonus--Paul Coldrick--Kevin Finley--Russell Doig--David Adie--Gillett--Daryl Graff--Duncan Campbell (Passed)--Rob Westin (passed)--Michael Tharin--Brian Craik--Mardyne Davey--Jorden Morris--Mathew Lawson--Trevor Smandych--Andre Wenger--Martin Wenger--Murray MacRae--Bob MacRae--Toni Takahashi--Aerial--David John Amadia--Kyle Jones--Jonathon James Westbrook--Jason Rourke--Tobi Stubbert--Michael Kacsmar--Cameron Dolyle--Toby Bros--Dwayne Smonicky--Kevin Clarke--Tory Doctor--Steve Kolodinsky--Kell Brothers took Acro (first names?)--Corey Taillon--
Female Dancers--Scroll down:
Debbie Black-Shanda Comben Allbers--Sherry Shamon (passed)--Cheryl Flewelling--Dianne Ranshaw Richards--Gay MacRae (Norma Taylor)--Kathy Helms Wood--Dianna Helms Wood--Vanessa Wood--Linda Marie McTighe Pap--Kyla Wilde--Joy Westin Mcllwain--Patti Westin DeCoverley--Leslie Ewonus--Dawn Ewonus--"Denise Johnson & Dianne Johnson(twins)"--Tammy Fairburn--Cheryl Fairburn--Laura Lee Cooper--Roberta Cooper--Karen Bradfield--Jaye Dee Bradshaw--Vicki Bradshaw--Sheelagh Emerson--Theresa Dunnigan--Vicki Fulton--Susan Seaborn--Jodi Carter--Carrie Carter--Debbie Coldrick--Lisa Coldrick--Pam Evans--Sherry Eckman--Cindy Dotzler--Annette Henderson--Angie Huber--Karen Black--Vanessa Wood--Alana Abrahamson--S.Acham--Edwina Borgford--Erin Boss--K. Davies--Shannon Doyle--Lisa Fedirko--Kim Fedosoff--Sherri Gibbons--Christina Holiday..C. Hemmings--Jodi Hoffman--Kelly Hopper--Allison Jones--Tanya Knie--Tamiko Lagerwaard--Michelle Lalonde--Marissa Lee--Melanie Malarchuk--Lisa Martin==Anne Mowat--K. Manchul--K Pollard--Cindy Schuetz--Susan Traxel--Susan Watson Shannon Whyte--Arliss Abrahamson--Lianne Babsey--Carrie Coleman--Andrea Sinclair--Suzanne Smith--Chandra McRae--Sisie Watson--Heather Morrison--Alison Pope--Jennifer Hoffman--Andrea Simon--Tracy Yocham--Joanna Reid--Michaele Mohammed--Tanya Knie--Jill Hilland--Cindy Goodison--Dawna Rose Crooks--Carrie Coleman--Ane Bamsey--Cindy Schuetz--Kristen Pollard--Susan Traxel--Michelle Lalonde-- Jennifer Hoffman--Averil Hunter--Suzanne Boss--Suzie Broadbent--Laurel Terlesky--Christina Halliday--Susan McNaughton--Amber McPeak--Lindsay Morrison--Charise Mullor--Jane Ravvin --Ellen Ravvin--Jeanine Battle--Christine Jullian-Suzanne Boss-Suzie Broadbent-Laurel Terlesky-Arliss Abrahamson-Mona Strudsholm--Sherri Johnson, Gillian Coote Yuan-Lysia Smandych, Trista Smandych, Trevor Smandych-Melanie Malarchuk--Gay MacRae (Norma Taylor)--Tara Kleefeld--Stephanie Yeo Vahaaho--Tracy Rice-Trayhorn-Penny Trayhorn-Debra Mudd-Pam Mudd- Nicole Thiessen-Shirley Doncaster-Jordanna C Fraser-Marenoske-Nathalie Burns-Lisa Martin Fried--Jenny Repond Peters---Edith Bruce--Catherine Maunder--Kristen Scott--Erinn King--Yayoi Ito--Christina Halliday--Tia Halliday--Shelley Quan-Vie--Natasha Quan-Vie--Deanie McPhail--Gail McPhail--Sandra Newstater--Verina Hayes--Nathalie Burns--Chiara Angelozz--Tara Bobyk--Lise Boulanger--Danielle Carothers--Monica Das--Jodi Eslinger--diane Goulet--Lisa Grams--Carla Hoiles--Season Ashley Holbrook--Vita Houliham--Christine Jeffers--Kristina Johnson--Allison Jones--Lisa Keen--Karen Kos--Lisa Marie Leavitt--Christine Lowrance--Renu Mandhane--Andrea Martin--Lana Marie Miller--Erin Morstad--Jennifer McKeand--Lillian Park--Tiffany Pidock--Norene Rowsell--Carly sapinsky--Leanna Wynn Swedish--Lynda taylor--Tracy Thompson--Sabrian Yound--Natalie Choquette--Saleema Adatia--Shazhan Ahmed--Rozanne amrolia--Jaime Arnett--Angie Arneson--Danna Baillie--Jennifer Bajer--Jessica Balsara--Tara Michele Brady--Erin Cameron--Jennifer Curtiss--Krist Derksen--Danielle Ekelund--Ariane Farrell--Andrea Jolyn Feil--Erin Gatha--Kylie gibney--Loreli Gordon--Sarah Anne Greeves--Ame E. Hamm--Kelsey Dawn Hansen--Zahra-Anne Henderson-Peal--Kamal Hutchisson--Haley Kirsch--Sabine Kuiepar--Melissa Konoza--Cheryl Lynne Lawson--Krystall Zylene Lee--Andrea Lemon--Jaime Leung--Rebecca Marchuk--Stephanie Markakis--Mealan Mezzarobba--Sara Mickeleborough--Lisa Moffat--Jennifer Morin--Korrene Morris--Jennifer Murray--Jane McCullough--Erin O'Ferral--Tammy Oliver--Kerri Parsons--Sally Jane Paton--Crystal Pendleburg--Lisa Marie Portigal--Leslie Anne Proces--Kimberly robinson--Jenny rose--Kirstin ruth--Paula saunders--Melissa Schuster--Lori Shachnowish--Angel Michelle Smith--Jennifer Smith--Julie Stinson--Jackie Walker--Genevieve Uniacke--Brandy Watson--shannon rose Williams--Michelle P. Wong--Angie Woodhead--Shae tanner-Worsley--Lara Yakimishyn--Nola Zwarich--Jane Umback--Lisa andrew--Kimberly Barr--Suzanne Boss--Jennifer Boutin--Michelle Bruton--Nadine L. Buckingham--Erin Burler--Julie Coleman--Cara Conrad--Nancy Ann Crawford--Brigotte Dakczer--Cathy Dobson--Brandy elliott--Stephanie Elton--Rene Fan--Kristin Freitag--Hannah Froese--Kelley Gallagher--Michelle Green--Parricin guerra--Nikki Hagel--Heather Lee Haigh--Krisina Hoiles--Trcy Hudson--Nadia Ilnyckyj--Sarah Jarvis--Gwen Keddie--Nancy Kwong--Eden Lackner--Jennifer Lai--Lori Anne Lazurko--Charlene Lipoth--Robin Lowrance--Tiffany Anne Lynn--Alison Mah-Poy--Nia Millenchuk--Kristina Myers--Annie MacKenzie--Pamela Nemeth--Abber Nielsen--Crystal Oliver--Carla Olson--Kirten Pollard--Lori Lynn Portigal--Trian Ramanaden--Natasha Sauer--Katherine Schaeffer--Stepanie Smith--Amber Stankievech--Jennifer Street--Eva Timpany--Susan Traxel--Kim Vander-Linden--Sandy Widder--Melissa Yee--Tina Yee--Paige Aiken--Damian angelozzi--Randalynn Arnett--Michelle Bartley--Jennifer Behie--Samantha Jane Bond--Stacey Boser--Candace Braunberger--Jennifer Casselberry--Aruna Uma chandran--Tana Chmilowdki--Mary jane crawford--Andrea Helen de Jong--Lisa de Regt--Taritha Diczki--Lisa Dyke--tamara encarnacion--Pam Fotheringham--Marni Gay--Carson Gellner--Janet Gartner--Mystaya Gooding--Zoe Claire Hawnt--Sarah Higgins--Sara E. Hoffner--Kathy Hoffor--Tar Hollier-- Jennifer Inkster--Erika Innes--Jane E Jochmann--Jenny Jones--Sonia Kapil--Andrea Lewis--Charlene Kikuski--Marless Litzenberger--Charlent Likuski--Marless Litzenberger--Jolene Llewellyn--Heather Mewes--Jodi Monick--Jean Moore--Tavia Nazarko--Natasha Newberry--Tracy Nicholls--Madelene Noble--Christine Parson--Danijela Petrovich--Pansy Poon--Emily Popp--Lili Ann ratz--Kim robertson--Janine Rossler--Tara Elise Shaw--Jennifer Skelton--Ashley Jacqueline Skiber--Jennifer Smoliga--Shaole Sorenson--Heather Sparkes--Eva Suwek--Michelle Tulissi--Shibanee verma--Shelley Walker--Stephanie Wrinch--Tina Snderson--Kimberly Attwell--Shelley Balla--Lisa Bara--amber Bear Robe--Kim Benusic--Janetter Loise Bewley--Sherilyn Binder--Tara Rain black--Deanna boss--Leanne Bourassa--Dana Braunberger--Alysia dianne Brown--Laurie Anne Brown--Laurel Burnett--Christine Cadman--Christine Call--Colon chakravartty--Carolyn Coleman--Cheryl Creary--Gillian Dawe--Lara dyke--Mellissa Faithfull--Joanne Fan--Kimberly Fedosoff--Kathryn Gilmore--shannon Holland--Vera Ilnyckyj--Tanya Issacs--Danna Jones--Lisa Marie Jones--Alison Nadine Lkapey--Tanya Patricia Knie--Kerry-Lynne Larkin--Sheri Lefebre--Michelle Lemieux--Naalie Jessica Idreman--Louise Martin--Sherazade Mehta--Joy Mendoza--Laren Mills--Pritha Mitra--Branda Kim Moen--Fern Glory Moran--Tar Morice--Tarryn Lisa Mort--Heather McLean--Chadra McRae--Julie Orr--Carmen Pantella--Danielle Louise Portigal--Tara Purdie--Priya Reddy--Lesley Rohl--Heather Roth--Susan Rowell--chelsea Ruth--Lisa Ryan--Tameeza samji--Rada Shapiro--Gillian Swann--Nancy Szalma--Eva Wah--carmen Pammy Woo--Carol Betty Woo--Karen Attwell--Christine Avey--Susan Bardos--shannon Barr--Krista Barrows--Tracy Bealing--Angela Blankert--Stephanie Brassrd--Joelle Brown--Melissa Jane Brown--Christine Campbell--Christine Laurel Gaddel--Sania Chakrabarti--Anita Chakrabarti--Janice Cross--Yvonne Csanyl-Frilz--Cassandra Dauncey--Kristine Deibert--Michelle Devlin--Nola Dickson--Jennifer Anne Duggan--Tamara Fisher--Jacquelyn Gilbert--Jenna Gooding--Tricia Grieef--Shannon Marie Haigh--Cybelle Hemmings--Christine Ingalls--Doreen Hooi-Peng Lim-Shannon Hudson--Janelle Jakubowski--Susanne Kiss--Jacqueline Krahn--Cherelyn Lakusta--Mariss Lee--Kynette LePan--Candace Lilly--Michelle Love--Jessica Maass--Alison Maciejewski--Kimberly Mah-Poy--Jennifer Matthews--Gertie P. Militsala--Lor Minter--Michelle Mohammed--Gabrielle Myers--Joanne McGee--Debbie McGuiness--Krista Nielsen--Christine Oldershaw--Lise Ann Ouellet--Cinzia Torriero Eremita--Melanie Palmquist--Angela Paradis--Barbara Patrick--Natalie Pergar--Aparna Sanyal--Sarah Shim--Sandra Silvestri--Rebecca Singhal--Erin Elizabeth Sloan--Lias Stephens--Aparna Verma--Carla Wake--Karen Walker--Traci Wamsteeker--Susan Watson--Laurel Watt--Heidie Williams--Claudia Ann Woo-- Menlanie Yeats--Audra Lee Zaremba--Amy Anderson--Kelly Anderson--Natalie Anton-- S. Kimberlee Benson--Catherine Bjornadalen--Jana Nicole Blumell--Debra Campbell--Abrigail Leigh Charchum--Kar Jayne Cooper--Claudette Creary--Cathy Anne Daniels--Cardine Delaney--Nadine Deshayes--Tania Donchi--Keely J. Dunn--Ophira Eisenberg--Kathy Fotheringham--Kirsten Garcia--Dayna Hadley--Nicole Hankeo--Michells Haug--Jennifer Hoffman--Agnes Hollenczer--Corinne Keddie--Sarah Kennedy--Michelle LaLond--Leah mason--Farah Mawani--Faina Migdal--Joanne Miller--Karima Mitha--Deanne Mudd==Danielle Mcdougall--Shawna McGovern- Casey Mackenzie--Stacey Nielsen--Andre Pantella--Marianne Parsons--Marcie Peacock--Allison Pope--Danielle-Sue Purkin--Lisa dyan Puzey--Stephanie Rahal--Joanna Reid--Deanna Rind--Carie Roth--Deanna Rind--Carmen Schmidt--Jana Schmidt--Carol Snelders--Joy Southworth--Sheri Stubbert--Suzanne Penelope Sully--Cynthia Valk--Tsisa Wamstecker--Angelie Marie Watson--Stephenie Whte--Julie Woods--Colette Bellefeulille--Jane Leigh allinson--Katherine Archer--Lydia Au--lauralei Badock--Pamela Bonersback--Suzanne doyle--Michelle Bragg--Diana-lynn Broderick--Crystal Burnett--Shaelley Anne Burtler--Tracy dianne Cannon--Lori Chang--Caren Covey--Carolyn Cox--Christina Currie--Heather Deis--Jennifer French--Melinda Galenza--Erin gilbert--Laura Gow--Jennifer Halisky--Jodi Hutchinson--Katie Jones--Debra Kelley--Shelly Lebbe--Natasha Minutoli--Roxanne Morin--Karen MacIver --Kelly Nicholls--Karen Oldershaw--Yvette O'Sullivan--Michelle Pena--Erica Peters--Rachel Peterson--Andrea Pintario--Lisa Poce--Crystal Prytula--Manucla Ratz--Amina Riaz-- Danielle Rind--Linda Suzanne Rowan--Sandra Snelders--Sandra Spyth--Elsie Szalma--Stephanie Thomas--Laura Lynn Toporowski--Allison Trollope--Sherie Wizniak--Carolyn Wong-Ken--Candace Woodhead--Gloria Yang--Tanya Zaborniak--Maria Afonso--Tracy anderson--Morrie Baillie--Trina Barclay--Susana Bejar--Laurie-Anne Bennett--Krista Ann Blumell--Heidi Bray--Barbara Breitenbucher--Amy Michelle Brown--Sonja Burgher--Kerry Cherniak--Millie Choi--Janice Clark--dana Copithorne--Karen de zilva--Martha Franklin--Emerald Carola--Kristine Corola--Kristine Gorski--Laurne Michelle Graham--Barbar Groberman--Donna guttman--Kerry Hollington--Catherine Hope--Rena Huba--Riat Tsu--Diane Jense--Angela Jones--Jennifer kim--Tricia Koury--Mafette Layos--Catherine Lee--Yvette Llewellyn--Kira May Lyttik--Kristy Lee Manchul--Caroly Meili--Janet Mezzarobba--Anne Mowat--Tiffany McFarlane--Shawna Novak--Naoibb O'Connor--Suzanne Oliver--Lynda Parcells--Pamela Pettifer--Rowena Flaton--Lisa Rebitt--Stacey Roderick--Roberta Schediwy--Lynette Segal--Shelley Smith--Nancy Stancer--Lisa Marie Stein--Jennifer sverdrup--Suznne Tharin--Lisa Volk--Kimberly May Watson--Candis Williams--Latrish Williams--shawna Youell--Sandra Ashton--Alison Bailie--Suzanne Bleakney--Joy Marie bowen--Danna Foged--Pam Howard--Kari Janz--Patricia Kacsmar--Kim McCulough--Nancy Petersen--Heather Squires--deanna Still--Jenny Stronge--Rea Tarnava--Chrstina Thomas--Teodora Tot--Krista Tronnes--Sharon Van Grinsven--Sarah Wetsch--Tammy Wong--Tara Le Cibb--Jennifer Kendrick--Jennifer Mewes--Tracy Lynne Stratton--Allison Williams--Laura Babinsky--Lori andres--Nancy andrews--Catherine Barr--Brenda Black--Dbbie Boyle--Jeri Kynn daniels--Corinne Rae Davis--Colleen Doyle--cory Drew--Angela Dunlop--Holly Furneaus--Jody-Lynne Handy--Robby Lee Hilts--Susan Judd--Joanne Wilson Keegan--Cheryl Knudsen--Dana Molyneaux--Kelly MacMillan--Lisa Pintaric--Amanda Paradis--Robin Rosenb erg--Valeris Schuster--Neena Singhal--Theresa sparks--Rena Stinn--Lisa Stordeur--Mandy Stronge--Ramona Van Laar--Karin Coles--Kelly Courage--Gisele Danis--Tracy fraser--Wendy Hale--Rhonda Leavitt--Lynette Lo--Karen Meyer--Karen Mydlarski--Heather ann McCarthy--Suraiya Naidoo--Naomi Northhfield--Rachel O'Hara--Jill Pople--trixie Rasmuson--claudia reid--Janice Scholz--Karen Southwood--Shelley Tenor--Pamela Elaine Wood--Natalie Zacher--Catherine Anderson--Heather Beattie--Lynda Black--Stacy Boyd--Karen burrell--Jody Lynn Burrell--Hooly Burton--Pam Coleman--Cindy Criombie--Pamela Evans--Karen Goetz--Jean gourdinne--Heather Henderson--Cahrlene Hewett--Alexandr Kostick--Brenda Laframboise--Gina Lane--Judy Lee--Lana Mason--Candace Matviw--Karen Minton--Laura Morrison--Shirley Nielsen--Lorali Nissen--Lisa Purkin--Tammy Purkin--Laura Rahal--Michell Sisson--Diane Smolnicky--Liz Spanier--Teresa Ward--Allison Young--Amy Michelle Brown--Kitrina (Trina)Morris Campbell--Erinn King--Kim Buck--Wendy Buck--Susan Nash--Wendy Boggard--Leslie Boggard--Tamiko Lagerwaard--Tasha Lawson--Lorissa Chan Gilmore--Loral Burnett--Suzana Dimitrijevic-Dawe--Karen Bradfield Humphrey--Audra Cox--Pamela Wood Drummond--
MORE TO FOLLOW AS WE GET THE INFORMATION--Please send in Names or comments so we can post them!
More Names will be added as the Info comes in....Please be patient if your name is not posted as I don't have any records or lists ...the above will be from the Alumni's memory & yours. If your name is not posted please advise...Thank you from Mr. C.