Welcome to the Official ACAD Site
Guide yourself through the navigation pages above the video!
email for contact is: allanjcozzubbo@gmail.com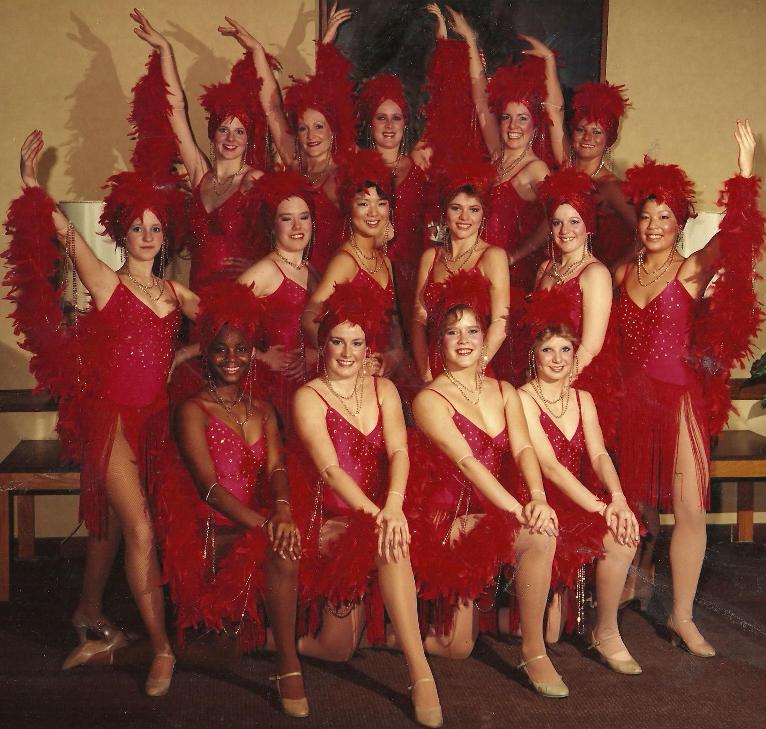 The Calgary Rockettes..
this was a Performing Group that we formed for dance enthusiasts made up of teachers and dancers.
Back row..Pamela Wood Drummond, Carol Nielsen, Shirley Nielsen Wayte, Jane Southwood Lizotte, Sherry Shamon...Middle Row Cindy Greasley, ,Allyson Pope, Adele Odagaki Hammer, Kellie McQuiggin, Corrina Gieda, Kari Ikeda Grier Front Row Allyson Joseph (From Expressions the Dance Gallery) Cheryl Flewelling, Patti Westin DeCoverley, Cindy Dotzler Stanfield. (names left to right in their rows)
Costumes were by Charles Thompson Designs....
Sadly we post that Carol Nielsen, Sherry Shamon, and Patti Westin Decoverly have passed away. see "In Memory Of" navigation page. (as of September 2020)

"Vibes"--Colors entered in the Production Class-1st place at ADEA and WRDAA competition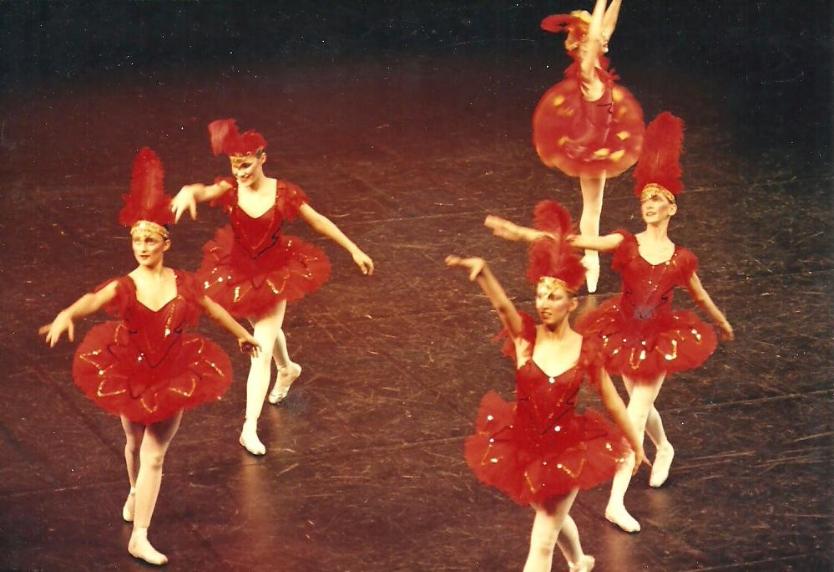 The Firebirds....Performed at the Ballet Evening in the University Theatre. Mrs. Abra's Choreography.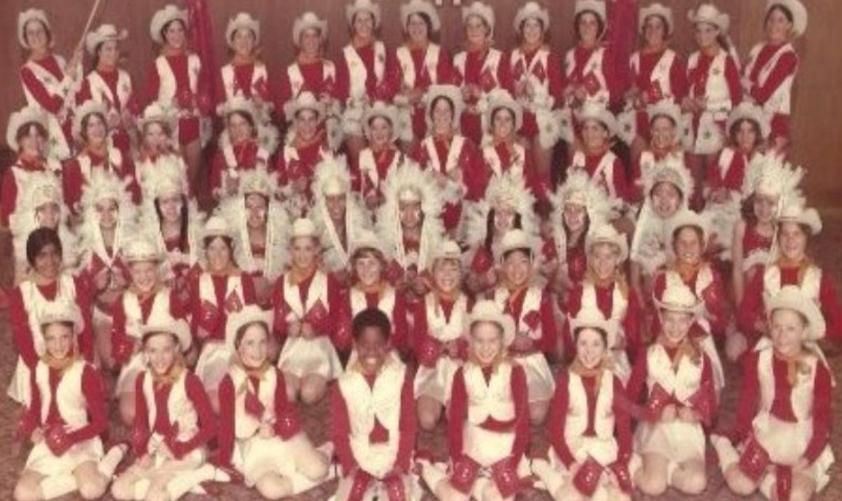 "Happy Birthday Calgary"
Our Production in 1975 celebrating Calgary's 100th birthday...it was entered in the Song and Dance category....the Adjudicator asked if she could give it 100% and the committee agreed...after that large numbers with multi dancers ...a production class was formed for the ADEA festival. The adjudicator Sadie Simpson also an adjudicator for the BATD was called "Sadie the Beautiful Lady". (In 1875 the town of Calgary came alive).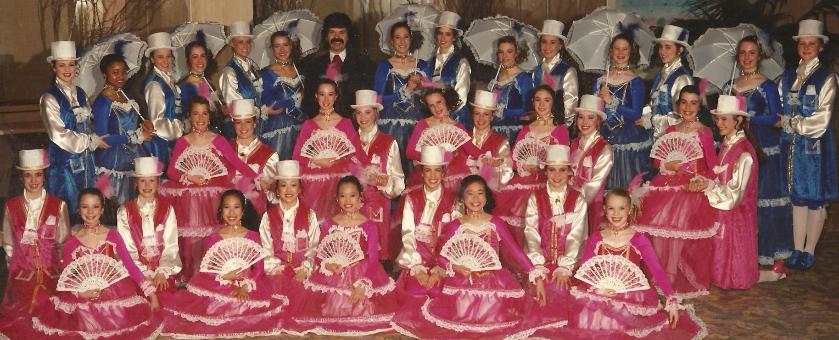 The Vienna Ball...Dancers performed at the annual "Vienna Ball" at the Westin Inn...Mrs. Lynette Fry Abra's beautiful choreography...Allan in the back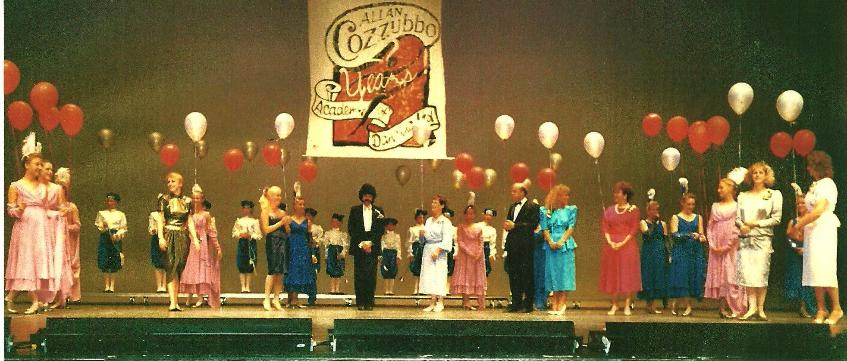 Celebrating 25 years
On Stage in the Southern Alberta Jubilee Auditorium....School Crest flying above...Cheryl Flewelling to picture left of Allan in Centre...Una Flaherty in white..Peter Togni black suit..Patti Westin DeCoverley in turquoise..Lynette Abra in red...Debbie Black in white...Kathy Helms Wood white far picture right.
Dianne Ranshaw Richards designed the crest!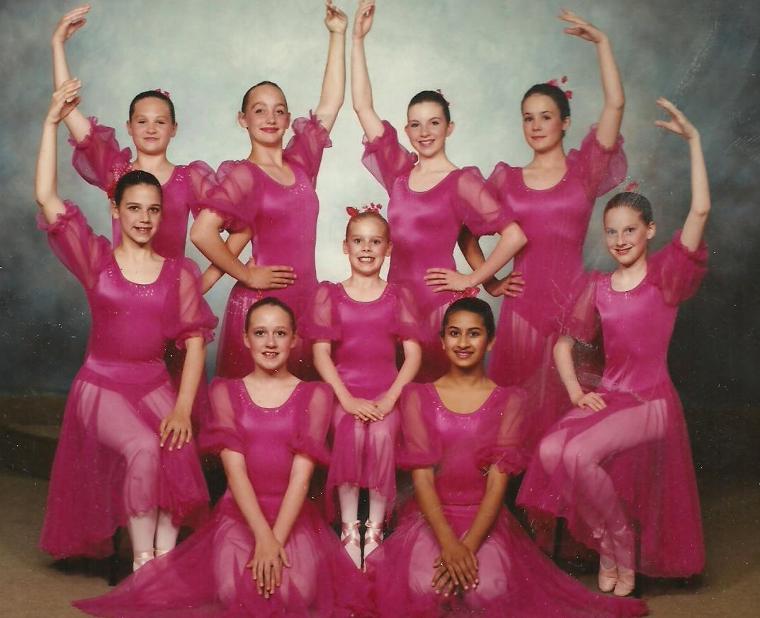 Ballet Group...Junior Company, (choreography Mrs. Lynette Fry Abra)