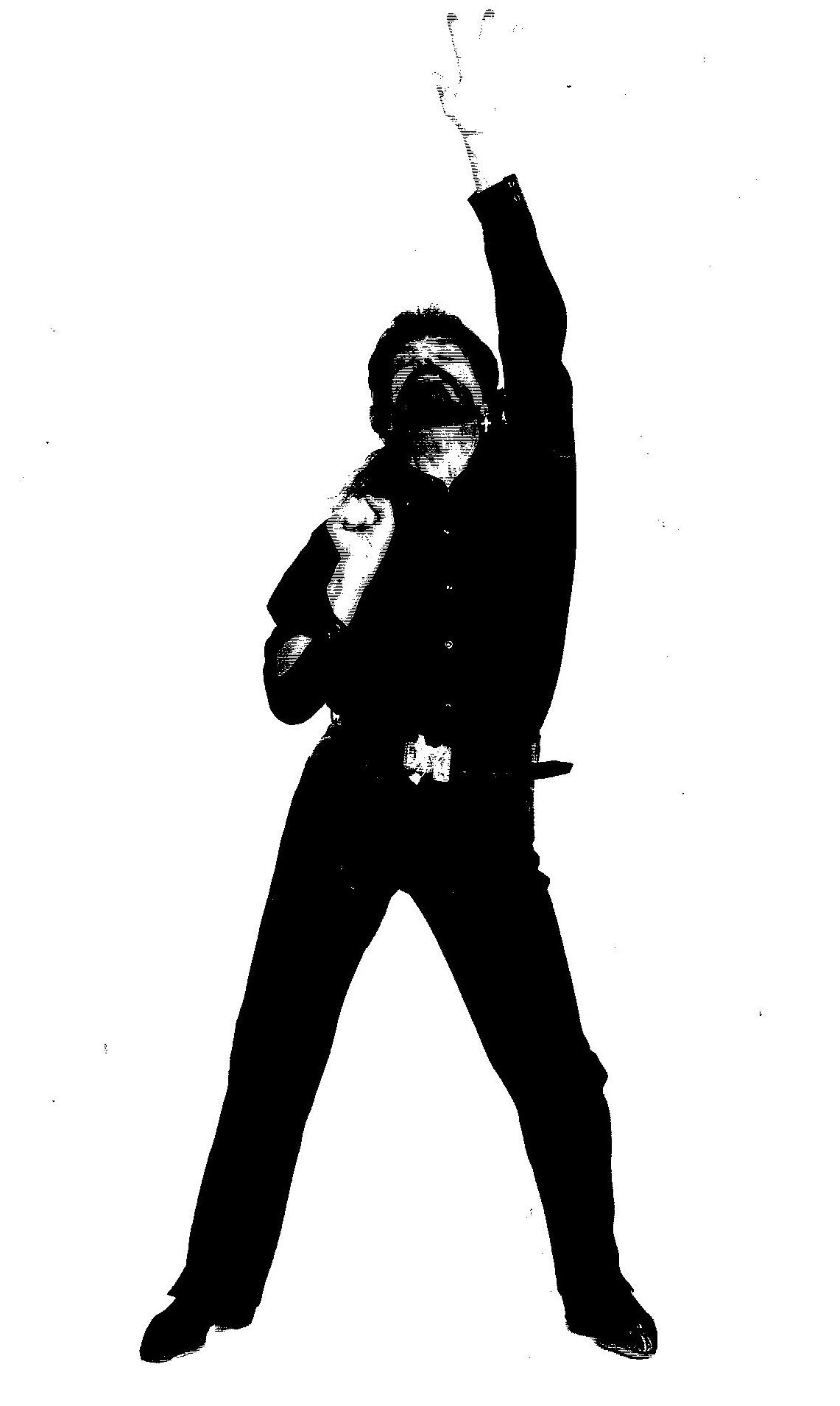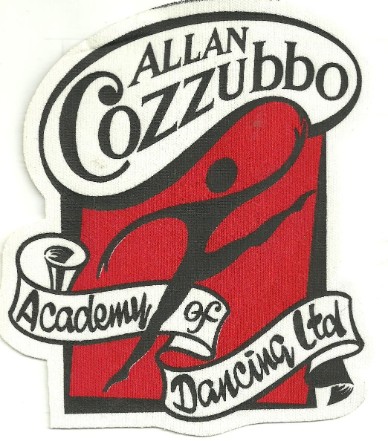 About Us...the following pictures will remind you of how progressive a school we were for the times. (not only did we do exams, and medal tests, but we did 2 festivals each year, plus Interschool-Rockettes-Ballet Evening & of course the recital/closing Ceremonies).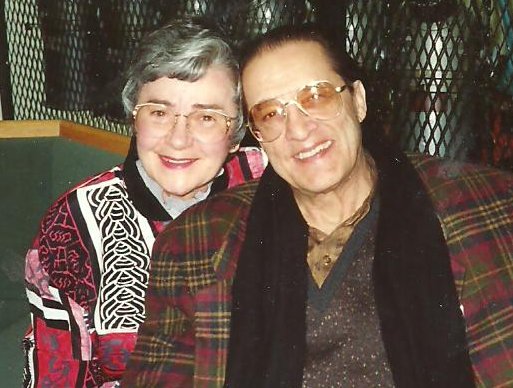 Lynette Fry Abra with Mr. Al Gilbert when he adjudicated our Interschool competition. This is taken back stage at the Dr. Betty Mitchell Theatre on the lower level of the Southern Alberta Jubilee Auditorium. The first Wild Rose Competition was held in this theatre as well. Those involved will remember us having to get contestants to go to the lobby as the seating was quite small. The twin Auditorium in Edmonton had the same theatre called the Dr. Walter Kaasa Theatre. Walter looked after the Cultural Departement in Edmonton. Both of the theatres are now gone, as they renovated the Auditoriums.
Life may not be the PARTY!-- We Hoped For....But while we are here, we should "DANCE"!
Many of our Student Alumni, took the Al GILBERT Syllabus exams (Tap & Jazz),COZZUBBO Jazz Exams, BATD Medal Tests (Ballet-Tap-Modern-Baton-Highland-Acrobatics), RAD, ISTD, and CECCHETTI Ballet exams.
Our yearly ---Ballet Evening, Interschool Competition and Year End Recitals/Closing Ceremonies were all exciting times for all students. Up and above these events, many of you took part in Lethbridge...Canadian Dance Ring---Alberta Tap Dance Association----Alberta Professional Dance Teachers Association---Alberta Dance Educators and Wild Rose Dance Arts Competitions, Festivals and Showcases.
What about the electrifying workshops with (to name a few)Joe Tremaine, Doug Caldwell, Phil Black, Gus Giordano ,Charles Kelley, Ken Prescott, Cassie Cole, Nilo Toledo and the "Pied Piper of Dance" himself, Al Gilbert. (Mr. Gilbert performed his "Leroy Brown" for us).
DO YOU REMEMBER THOSE DAYS AT THE UNIVERSTIY THEATRE BOTH IN CALGARY AND EDMONTON--EPCOR PERFORMING ARTS CENTRE--PALLISER HOTEL---AND THE JUBILEE AUDITORIUM... (and the Summer School with POWERFUL guest teachers!)
Hopefully, all STIMULATING AND LASTING memories for you!
The Parents Group also did a lot for the Academy --Fund Raising...Costume Shop...Production organization--T-Shirts-Jackets-Props- etc.)
The Vienna Ball--Mrs. Abra's Great Work!
Lynette Fry Abra and Mr. C. centre back
Hey...and Mr. C. fell on his !!!!!--at the School Ballet Night at the University Theatre. .Laugh or Cry?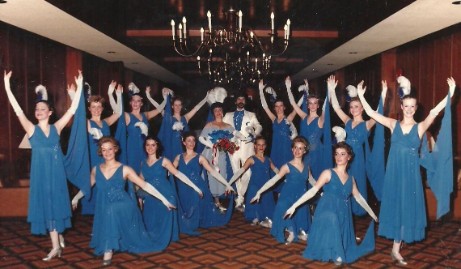 Vienna Ball...Mrs. Abra and Mr. C. centre back, performed at the annual Ball and Ballet Evening...and Mr. C. fell on his !! at the Ballet Evening...does one Laugh or Cry.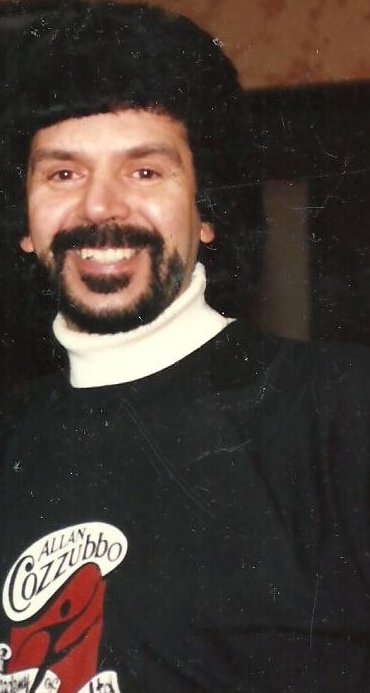 Mr. C. in the Academy's Sweat Shirt.--the only black one made.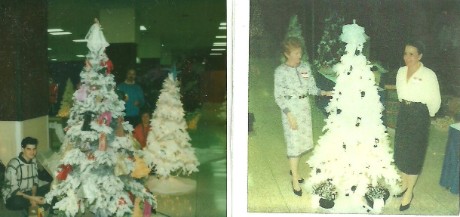 Two of the Academy's Christmas Trees, entered in the Tree Contest at the Convention Centre. The right picture has Mrs. Ellen Barlage to left of the tree and Mrs. Mal Smandych to the right.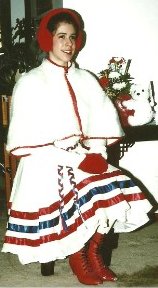 Carla Potts above in her 1988 "Opening Ceremony Olympic Attire". We will compile a list of the students from ACAD that were in the opening ceremony.
Ballet Group at the 1988 Winter Olympics...French Canadian group behind as they did their exit from the stadium. (Red not orange)

1988 Winter Olympics In Calgary Alberta
I've lots of memories, with tired and old plaques and trophies, that were donated for re-use, but the above paper weight is a special reminder of one of my favorite endeavors. As well, a number of the ACAD pupils were in the Opening Ceremonies, making it even more relevant, to be a part of this historical event. (Carla Potts's Mom, Marilyn Potts, also worked with the dancers and did an excellent job!-She was STAGE MANAGER for the Ballet Group..Jacque LeMay commented many times on how Marilyn told the dancers to "HUSTLE"...Carla and Kyla Wilde remember trying to point their toes in -30 degrees during rehearsals!) Do YOU REMEMBER?
Working with Jacque LeMay on the 1988 Opening Ceremonies of the Winter Olympics in Calgary, Alberta:
I was named "Chairman Of The Ballet Committee" and auditioned and rehearsed the dancers until the Electric Day In February 1988 when the Dancers performed in McMahon Stadium. It was like a lightning bolt had hit me!
In 1988 the "Opening Ceremonies" were held in an outdoor stadium so the attire of the performers had to be insulated. As the event grew closer. the numbers were rehearsed outdoors in the Alberta Winters with hypothermia being a major problem for the participants. But when the BIG DAY arrived, Calgary had one of its famous Chinooks, and with God's Blessing, the powerful ceremony was performed!
Kyla Wilde was a recipient of the ACAD Achievement Award in 1989-90 and 1990=91.
Melanie Malarchuk was a recipient of the ACAD Achievement Award in 1987-88.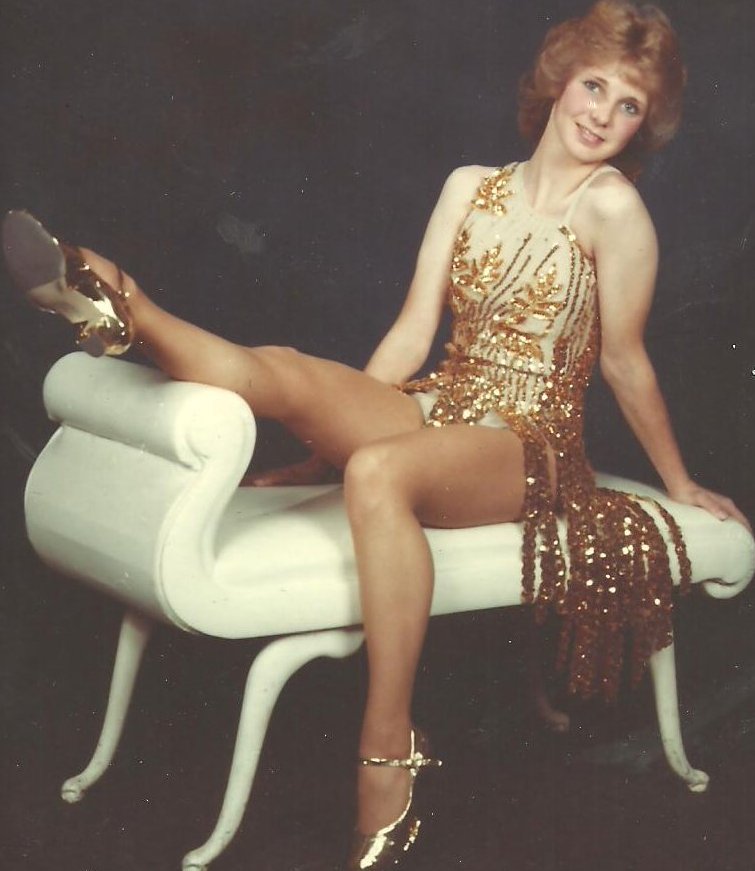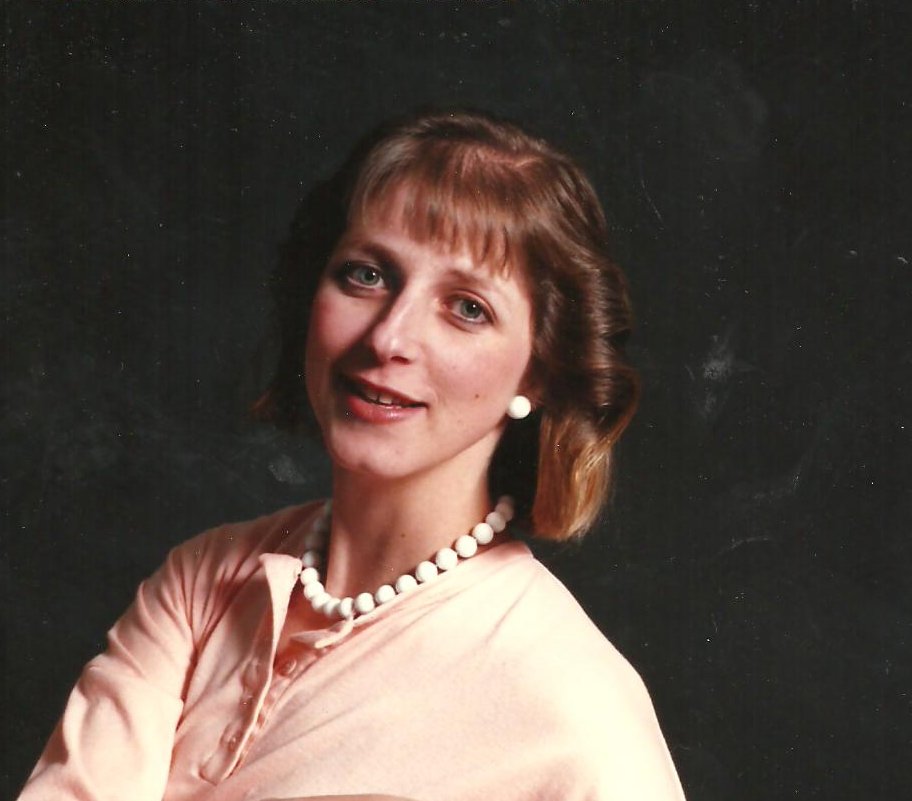 Debbie Black was a recipient of the ACAD Achievement Award more then once prior to 1973.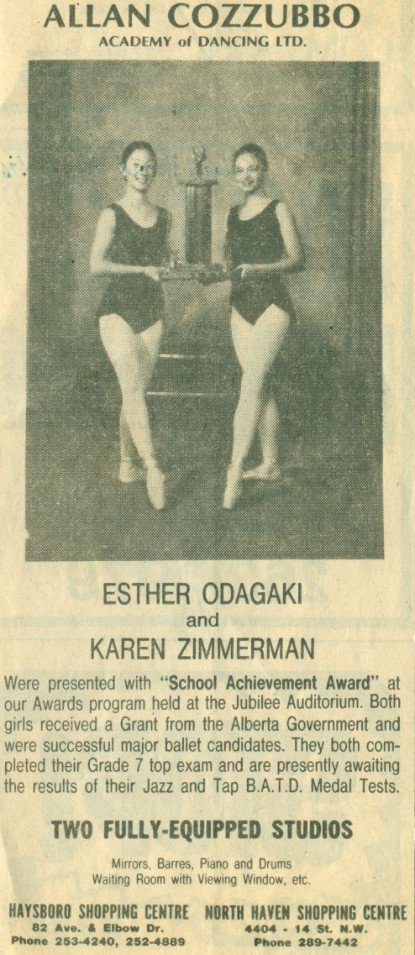 Esther Odagaki and Karen Zimmerman Evans were recipients of the ACAD Achievement Award in 1975-76. Karen also in 1974-75 and 1976-77.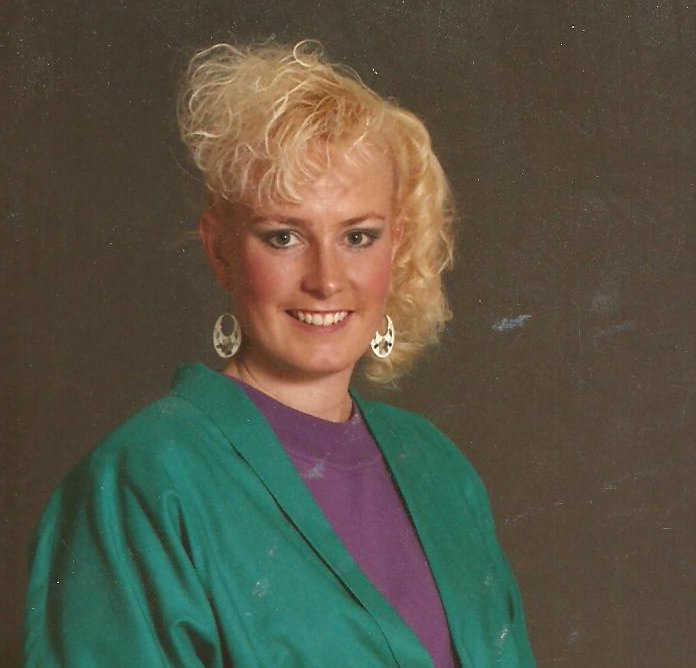 Cheryl Flewelling was a reipeient of the ACAD Achievement Award in 1981-82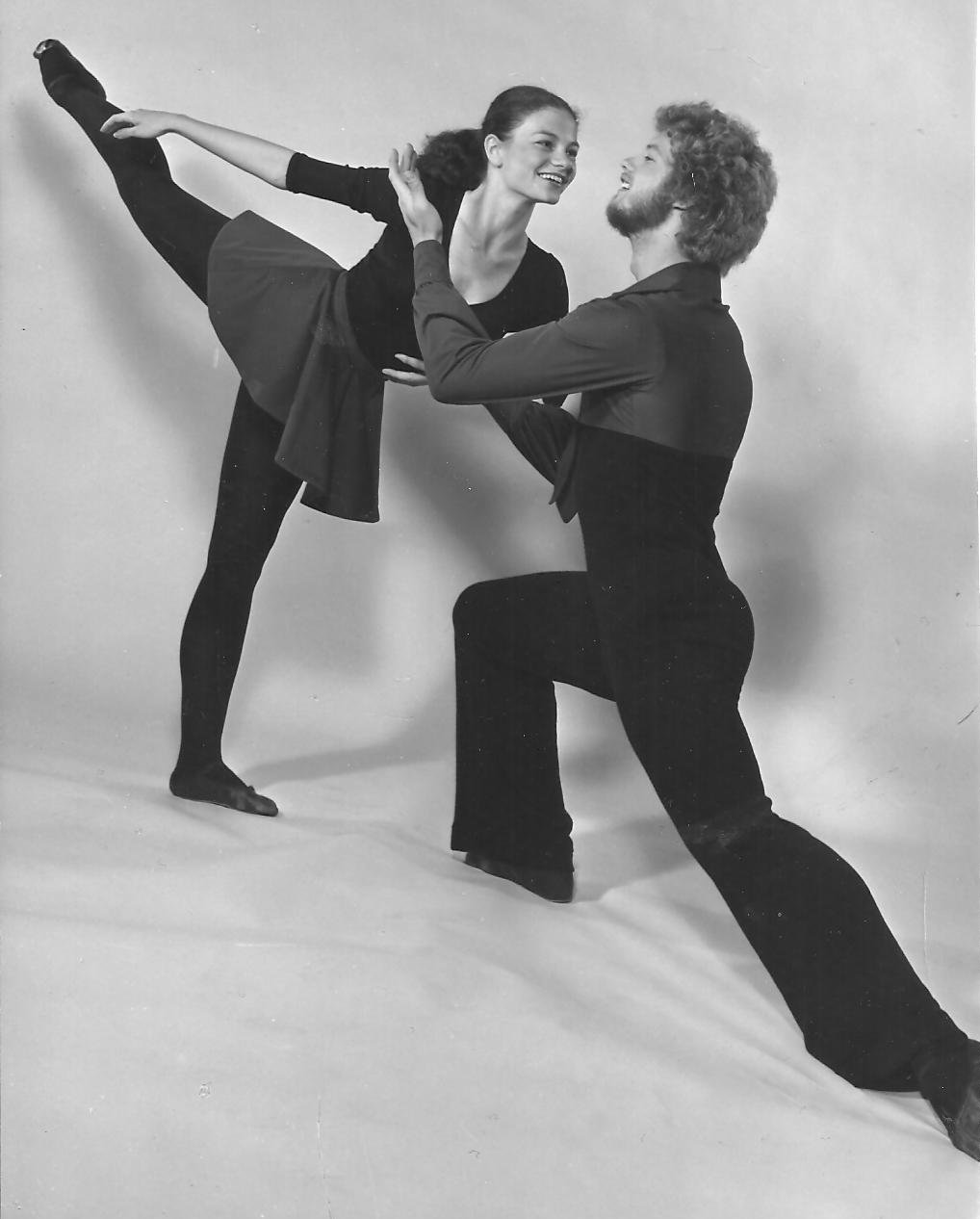 Karen Zimmerman Evans and Brian Craik were recipients of the ACAD Achievement Award in 1976-77.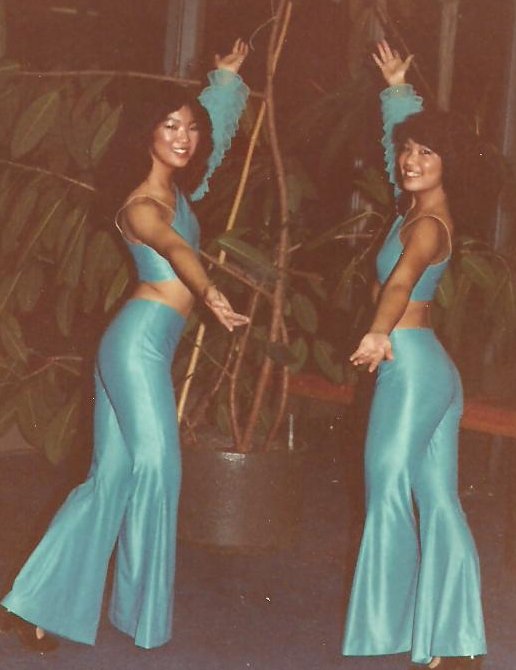 Adele Odagaki and Kari Ikeda were recipients of the ACAD Achievement Award. Adele in 1977-78 and Kari in 1980-81.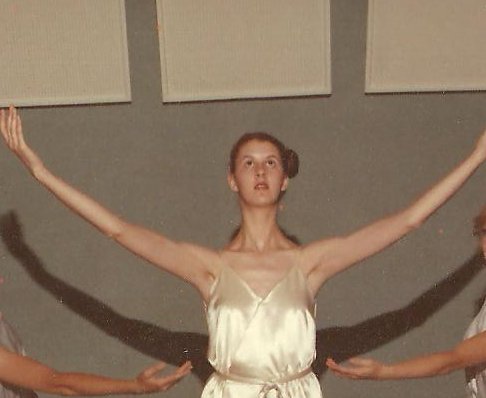 Laura Lee Cooper was the recipient of the ACAD Achievement Award in 1980-81 with Kari Ikeda.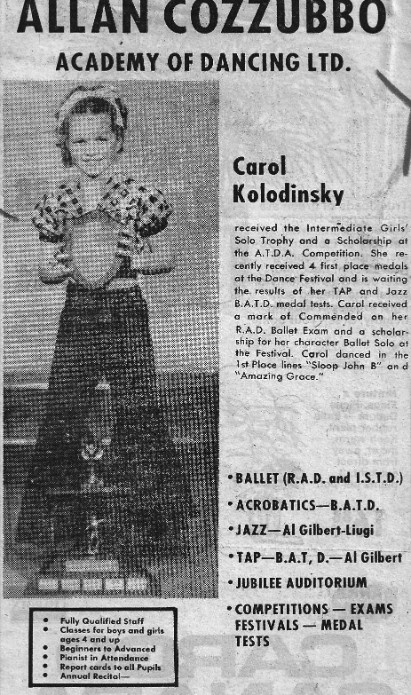 Another example of our commitment to our Motto "Let Your Talent Be Seen" Recognised and Rewarded is shown by Carol Kolodinsky Larson above...Carol in her youth received the Intermediate solo trophy and a scholarship at the ATDA competition. She is a Highly Commended Medal Test student for the BATD and a mark of Commended on her RAD Ballet exam. She also won a gold medal and scholarship for her character Ballet Solo at the Provincial Dance Festival. Carol also danced and received gold medals for the group numbers "Sloop John B" and "Amazing Grace"!
1974-75 Dance Term: Patti Westin DeCoverley above at 8 years of age accomplished so much--Honours on her grade 2 RAD exam-- She won the most entertaining trophy and the Intermediate Solo trophy at the ATDA competition. At the ADEA Festival she received 6 first place gold medals and a scholarship for her Character Ballet Solo. That same year she received 3 highly Commended medals for her work in the BATD Syllabus. At our recital/closing ceremonies held at the Southern Alberta Jubilee Auditorium she was a recipient of the ACAD Achievement Award with Karen Zimmerman. Patti now operates "Divine Dance Academy" . Patti also won the ACAD Achievement Award in 1981-82 with Karen Brookes and Cheryl Flewelling.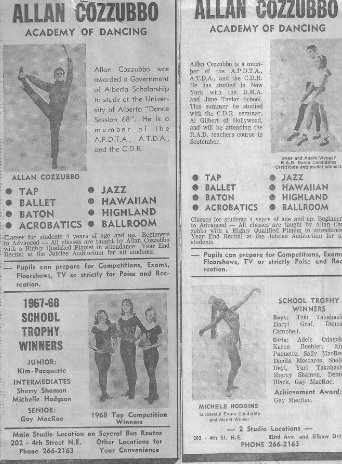 The above newspaper clippings were sent to me....The early days of the Academy showing some of the clientele at that time. Gay MacRae who won the School Acheivement Award, Michelle Hodgins in the right clipping in an outfit that Debbie Black also had. ( A Carmen Hat with the Foil coming out) and Andre and Irene Wenger who were early pupils as well.
"About Us"
"DANCE"
WAS OUR MESSAGE!
"DANCE"
WAS OUR MISSION!
Where are you now?
We are looking for Photos and Information on our Alumni, both Student and Staff.
Send any data or pictures you wish to have posted to the following email address.
allanjcozzubbo@gmail.com
"Dance Always"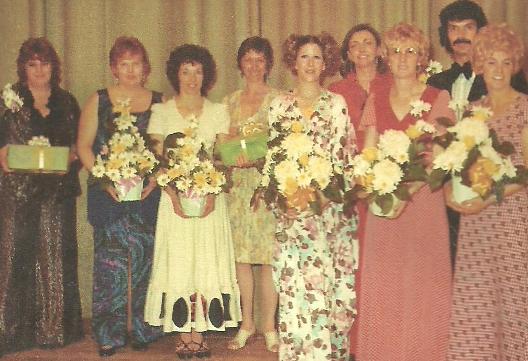 ADEA Festival in Edmonton..left to right..Adjudicator Beverly Fletcher from Buffalo New York, Teachers, Eileen Dodds (Edmonton), Catherinine Maunder (Calgary) Not sure, Nancy Hays Dickie (Edmonton) Not Sure, Alma Hughes(St. Albert) Gladys Smith (St Albert) and Mr. C. behind.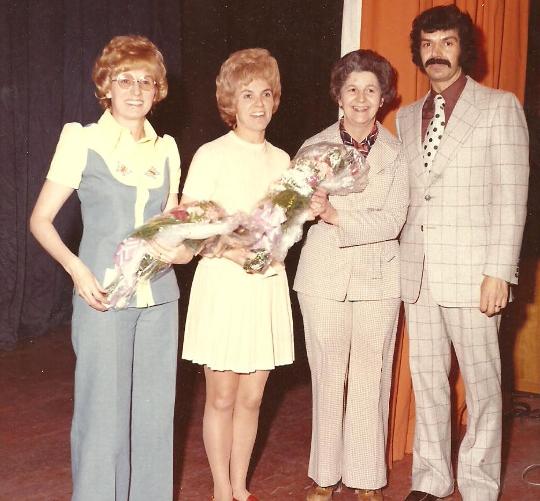 ADEA Festival...Alma Hughes, Gladys Smith, Barbara Hays (Barbara Hays sadly passed on July 28th 2012--Our thoughts go out to her family), Mr. C.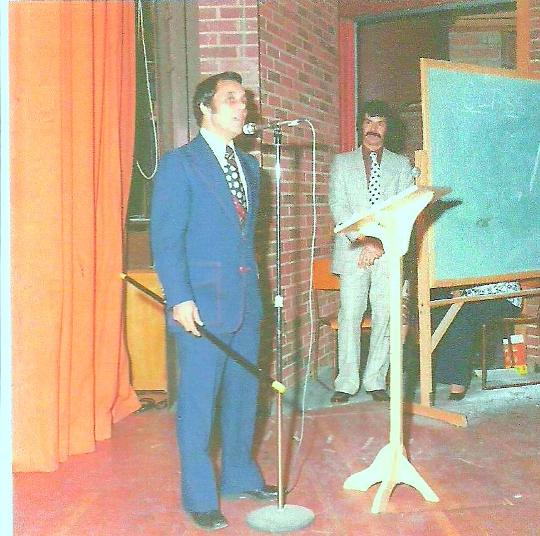 Al Gilbert's Brother Pat Rico adjudicating at the ADEA Festival and Mr. C. looking on...Mr. Rico had just finished his tap dance with his magic cane.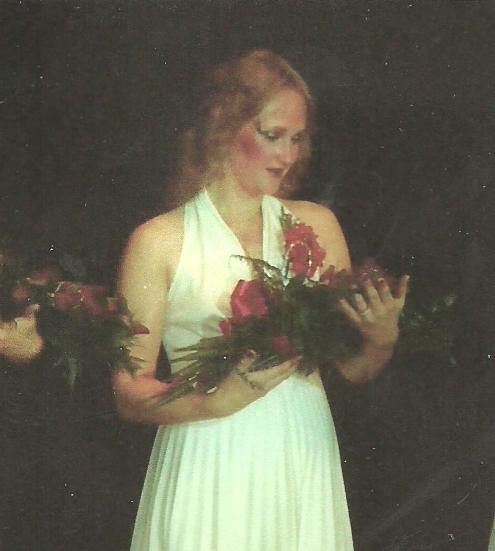 Carol Nielsen above (see "in Memory Of") not only loved the ballet, but she was a good tap dancer. She received a 1st place gold medal at the Edmonton festival for her Tap solo from Pat Rico. I always said to her that she got 1st place because she did Mr. Gilbert's Big Turn. Step brush step step , stop toe step step etc.).
"The Cozzubbo Dream"
"When I first started dancing my goal was strictly to be good at it, but as I grew from a teenager into an adult other goals were more prevalent. Teaching and trying to create pictures from my imagination into dance, were stimulating and definitely took priority over my own craft towards it"s artistry. In the beginning of my tutelage to the Academy's students, I took every opportunity to have them perform...Flare Square at the Stampede...TV spots on talk shows..floor shows for banquets and parties..Nursing Homes..Care Centres..Fund Raisers.. etc....these became the outlet for the students to gain confidence and to a certain extent, prestige in their performance. Women Shows at the Big Four Building and Nancy Green Raine presenting the Academy with a plaque was a big boost for for me personally...a Canadian Olympic Champion! The list goes on and on, but through it all, the thought of performance and presentation for the students, remained a high priority! Thus the organization of "Calgary Rockettes" "Interschool Competiton" and the "Ballet Performing Group".
The Festivals and Competitions became a challenge for the imagination, to seek out clever ways to express dance and movements to music that inspired! The Productions, were a Hugh part of the Academy as we started to increase our numbers. Usually the Idea-thought-expression of movement was a well motivated plan over the span of the Summer Months. Even though we were closed during July and August the ads in the newspapers..the new term's forms and pricing..this was my Summer. Opening in the middle of August for registration and Summer School we had to have more then a concept or intention in the works. A significant and strong agenda was in order and expected.
After the 1988 Olympics the School thrived. In 1995 I was named "Great Albertan" by the Alberta Treasury Branch, and later won a "White Hat" from the tourist Association in Calgary...and a Volunteer in Profile by CFCN.
With the teaching and passing on of one's love for Dance, came the responsibility of ensuring the students were not only technically correct, but that they had credible documentation for their work. That's when Mr. Al Gilbert became a strong force with his documented and certified exams. His energy and intuitive dedication, became a reality for the Tap and Jazz Students. The Royal Academy Ballet, Imperial Society and the Cecchetti Methods were already in place, as my teaching predecessors had accomplished this. The British Association of Teachers of Dance enabled students to claim other accolades for their wonderful talent, and execution of the BATD syllabus.
For those that follow me in the art of teaching their craft, remember to follow your dream for your students. Keeping that in mind, you'll navigate your own motivation and dreams, for your students into a reality, without going astray! The Academy's MOTTO became:
"Let Your Talent Be Seen" Recognised and Rewarded.
I wanted every student. who came through our doors to have and experience this opportunity.
Written June 6th 2010 by Allan Jerry Cozzubbo B.Sc.
"ACAD Achievement Award"
This was a "Travelling Trophy" that was presented at the Year End/ Closing Ceremonies, to an individual and in many cases individuals, who showed an abundance of skillfulness in their accomplishments, during the Dance Term. The following names were presented with this trophy, for their creativity, picture perfect, and musical presentation in their art : "DANCING"-A grand bravo to them for their artistic ability, and the splendid and flawless inventiveness, that they possessed. We all thank you for the vision and compelling "DANCE ETHICS" you displayed to the STAFF & STUDENTS of the Cozzubbo Academy!
The recipients for the earlier years have been lost over the span of time. but if you can help with the data please let us know. (prior to 1973)
Debbie Black (Year ?)
Gay MacRae (Year ?)
Sherry Shamon (Year ?)
1973-74-Joy Westin
1974-75- Patti Westin-Karen Zimmerman
1975-76 -Esther Odagki-Karen Zimmerman
1976-77 -Dianne Ranshaw Richards-Karen Zimmerman Evans-Brian Craik
1977-78-Adele Odagaki Hammer-Rachel Hershfield
1978-79-Joy Westin-Sean Cheeseman
1979-80 -Joy Westin--Rachel Hershfield
1980-81 -Laura Lee Cooper-Kari Ikeda
1981-82 -Karen Brooks-Patti Westin-Cheryl Flewelling
1982-83-Kelly MacMillan-Karen Brooks-Deanne Schmierer
1983-84 Lisa Allison-Tara Young
1984-85 Lorena Apuzzo Dohan & ?
1985-86 Lorena Apuzzo Dohan & ?
1986-87 --Cindy Dotzler, Erin Boss, Alanna Abrahamson, Lorena Apuzzo Dohan
1987-88 --Trudy Sorensen, Yayoi Ito, Melanie Malarchuk, Jodi Aasen
1988-89 -- Trudy Sorensen, Carla Potts, Kira Greasley
1989-90 --Carla Potts, Kyla Wilde
1990-91 --Carla Potts, Kyla Wilde, Jody Cumberbatch
As the years ticked away we had more and more students who had been with us for many years and in February 2011, I was reminded that we gave special awards to students and staff who had been with the ACAD Academy special recognition by way of a 10 year, 15 year and 20 year award. We had some that did receive their 25th as well.
Debbie Black 25 years
Carol Nielsen 25 years
Kathy Helms Wood 25 years (92 - 93)
The Above list is just being started. If you can help with names for the 10-15-20 and 25 years please let us know.
Sherry Shamon (1955-2006--see "In Memory Of") Sherry was born a performer and took dance the same time as Debbie Black and Shanda Comben Aalbers. She was awarded the Achievement Trophy probably in the late 60's .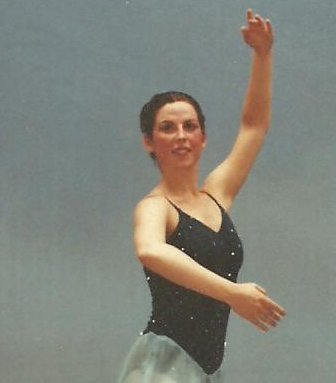 Dianne Ranshaw Richards was a recipient of the ACAD Achievement Award in 1976-77 --Dianne has sent some interesting current photos which are on the Staff Alumni page.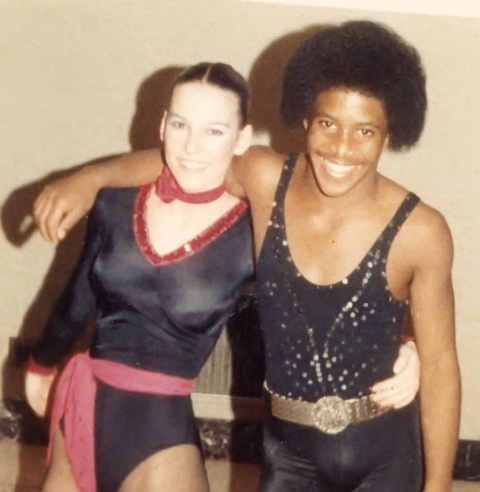 Rachel Hershfield and Sean Cheeseman --Rachel was a recipient of the ACAD Achievement Award in 1977-78 & 1978-79 and Sean in 1978-79. Rachel had the intense passion to be beyond incredible and always gave 100% even in a studio situation. Sean exemplified this as well feeding off of each others energy and smarts even in a studio atmosphere. (Mr. C. off of both their strenth and Passion).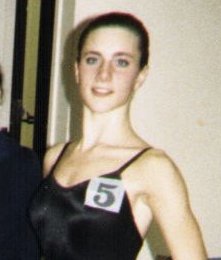 Lorena Apuzzo Dohan was the recipient of the ACAD Achievement Award in 1984-85, 1985-86 & 1986-87. She is pictured here in RAD Solo Seal attire for her exam performance.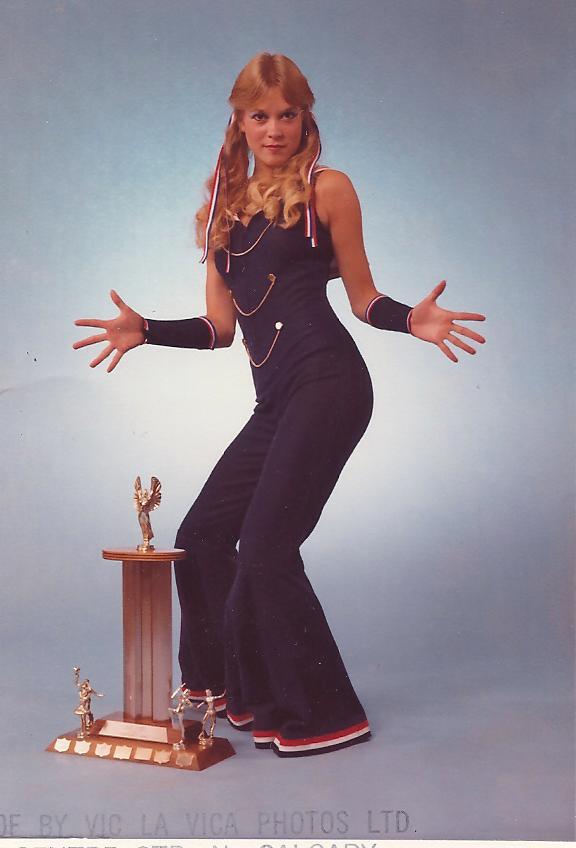 Joy Westin Mcllwain was the recipient of the ACAD Achievement Award in 1973-74--1978-79 & 1979-80.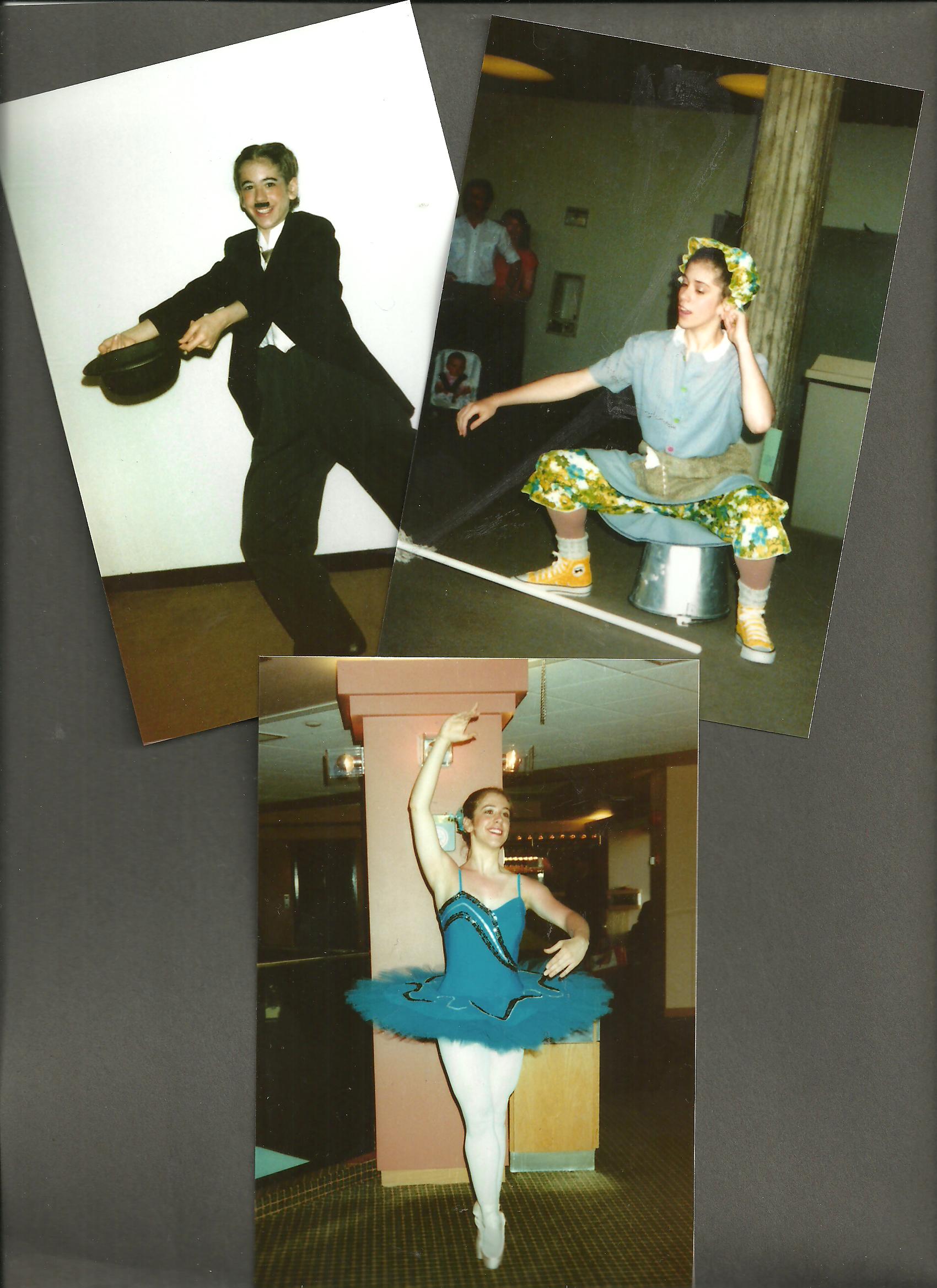 Carla Potts McIvor won the ACAD Achievement Award in 1988-89---1989-90 & 1990-91
Trudy Sorensen Diaz was the recipient of the ACAD Achievement award in 1987-88 & 1988-89 (see "In Memory Of").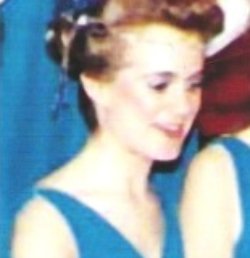 Alana Abrahamson was a recipient of the ACAD Achievement Award in 1986-87
Yayoi Ito Picture above is removeda--- a recipient of the ACAD Achievement Award in 1987-88.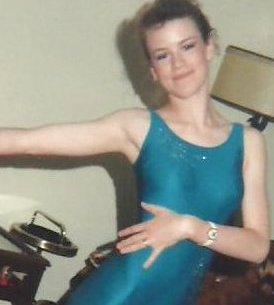 Kira Greasley was a recipient of the ACAD Achievement Award in 1988-89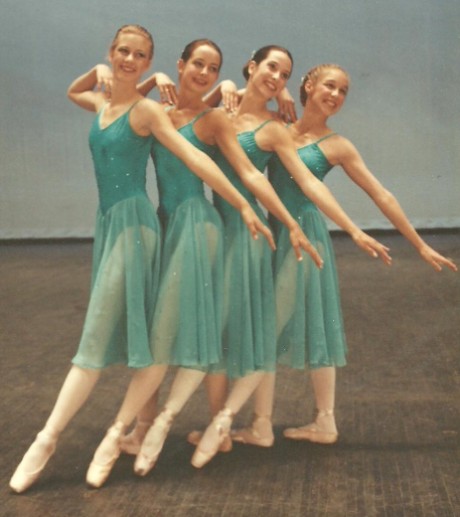 Deanne Schmierer and Kelly MacMillan were recipients of the ACAD Achievement Award in 1982-83 (left to right..Sherri Carr, Deanne Schmierer, Kelly MacMillan, Kim Hall)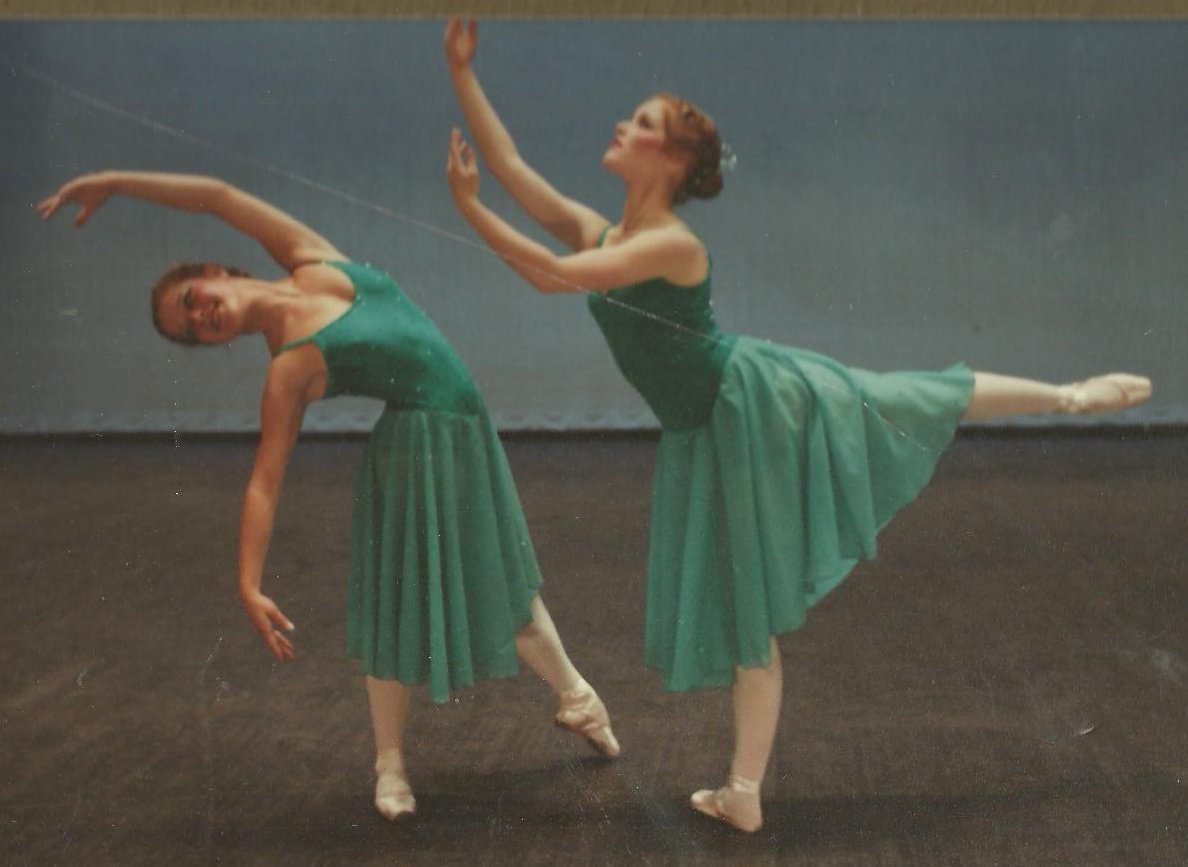 Patti Westin DeCoverley and Karen Brookes were recipients of the ACAD Achievement Award. Trish left in 1977-75 & 1981-82 ..Karen right in 1981-82 & 1982-83.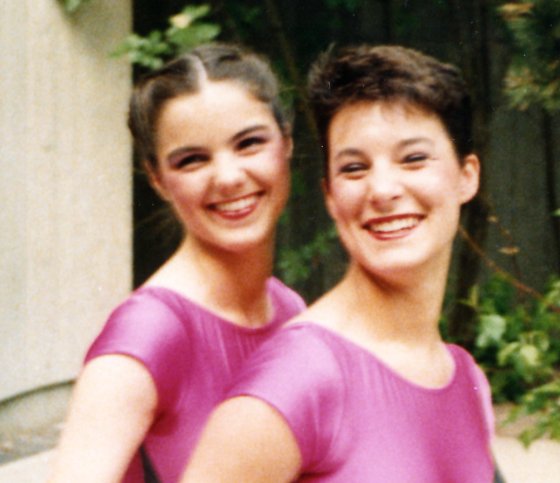 Lisa Allison Kingston and Tara Young were recipients of the ACAD Achievement Award in 1983-84. (Lisa left & Tara right)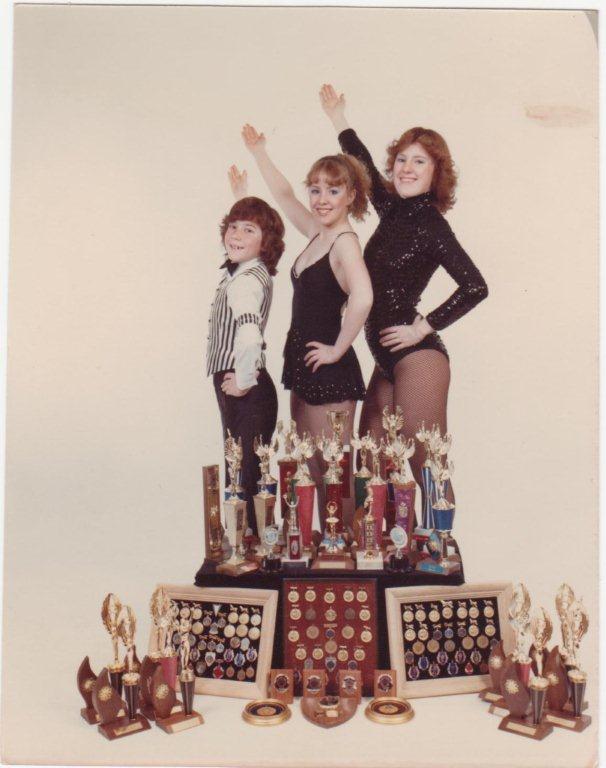 J.P. (Jake)- Dawn-Leslae Ewonus above---three members of a dance family. Up and above the trophies, plaques and medals they would also have precious certificates for their jazz, tap, and ballet exams and medal tests and certificates from festivals and competitions. All three of the Ewonus children were very involved in the Academy's motto "Let Your Talent Be Seen" Recognised and Rewarded.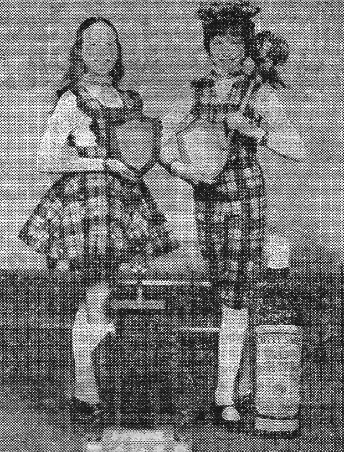 An example of our commitment to perform is shown above by twins, Diane and Denise Johnston ..In their youth they won the Variety duet Trophy at the ATDA competition. They both received 4 first place medals at the Alberta Dance Festival and received Highly Commended on their BATD medal tests. Denise received "Honours" and Diane "Commended" on their Grade 4 RAD ballet exams. The twins danced in the 1st place lines "Russian Medley" and the production "Amazing Grace".