Pamela Wood Drummond's Granddaughter Elaine, pictured with Pamela after her 1st ballet recital (Picture Below)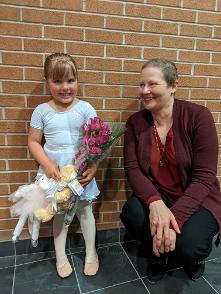 Pamela Wood Drummond's eldest granddaughter's first ballet recital. Elaine is now 4 years old, and she started ballet at North London Dance Centre last September. She did great at the recital, and had a very nice first position turn out.
Pamela has been having cancer treatments, thus the short hair. Our best wishes sent out to her.
Cindy Dotzler Stanfield below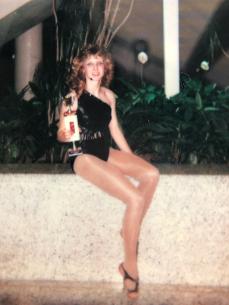 Cindy Dotzler Stanfield sent in the picture above and the one below. Looking good for sure!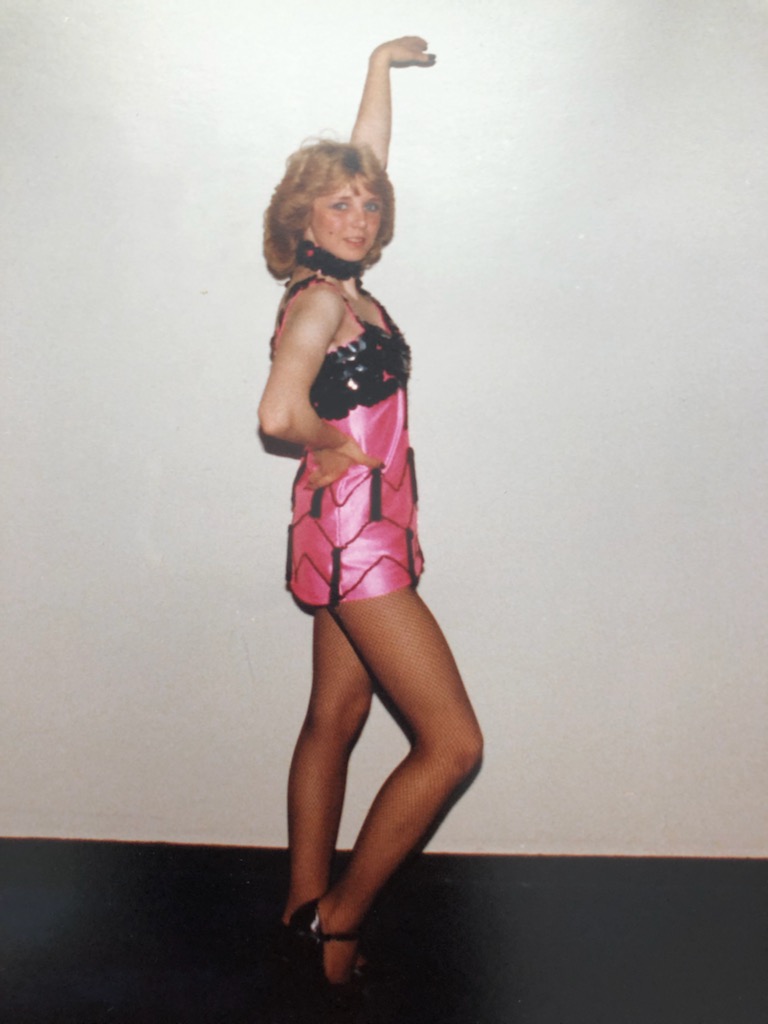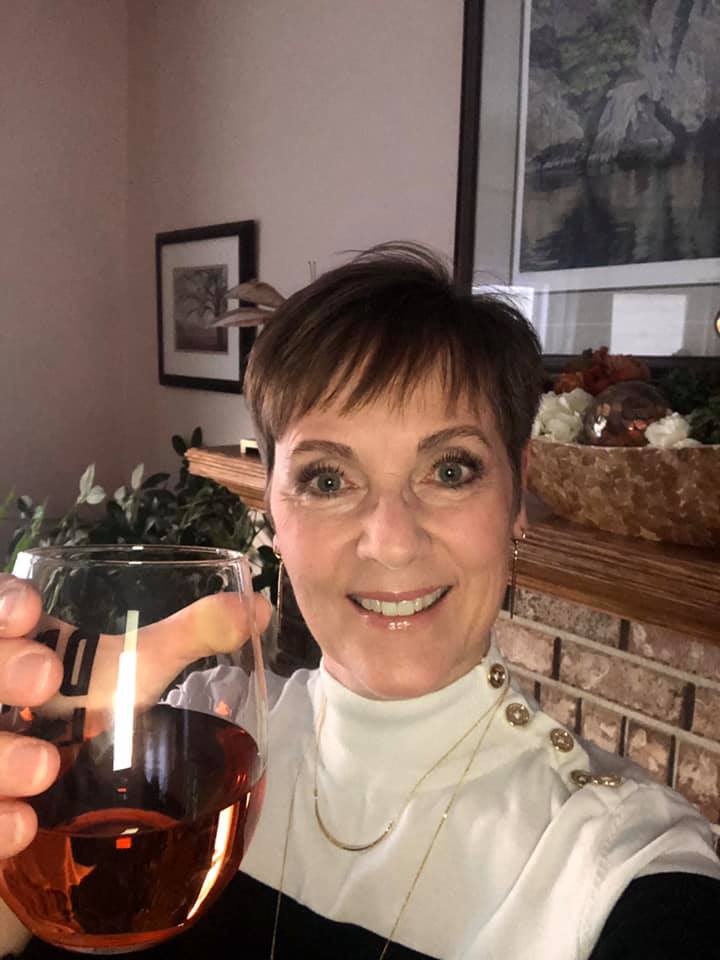 Shirley Nielsen Wayte, Celebrating her Birthday November 2020.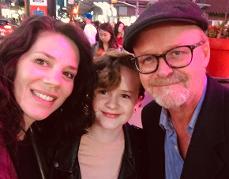 Allan's son Graham with his wife Allyson McHardy, and daughter Avalyn Kate.
November 2020
Logan and Cindy (Dotzler) Stanfield
got married on June 20th 2020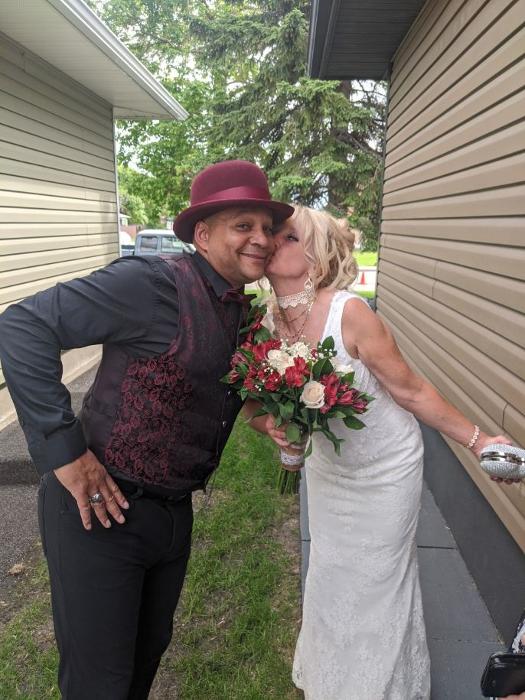 Mr. & Mrs. Logan Stanfield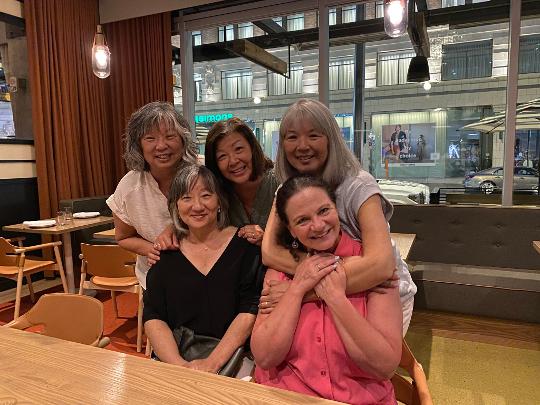 Picture above was sent in by Dawn Odagaki Robertson...July 31 2023....Back Row we have Dawn...Kari Ikeda Grier...Adele Odagaki Hammer...front row is Esther Odagaki and Karen Zimmerman Sim.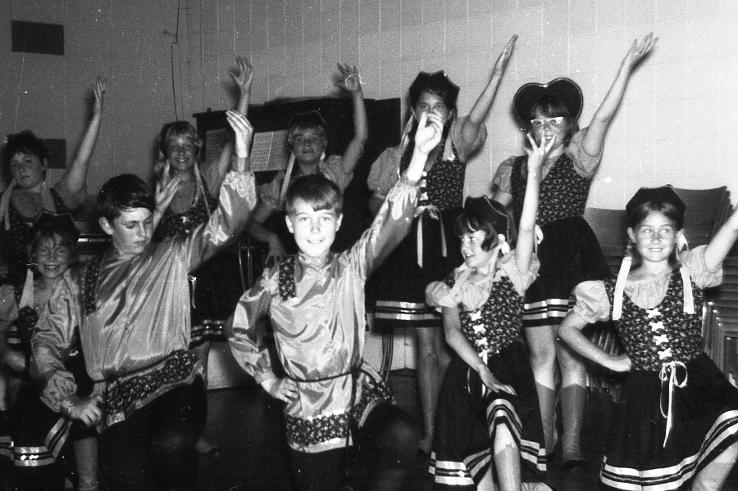 Andrea Petty Bates sent in the above and below pictures...Two of the early Male Danseurs pictured above, Duncan Campbell to the left and Daryl Graf centre. Andrea is 2nd from the left in the back row. Picture Below is from the routine "Varsity Drag". Probably from the later sixties. Andrea's letter is on the testimonial navigation page.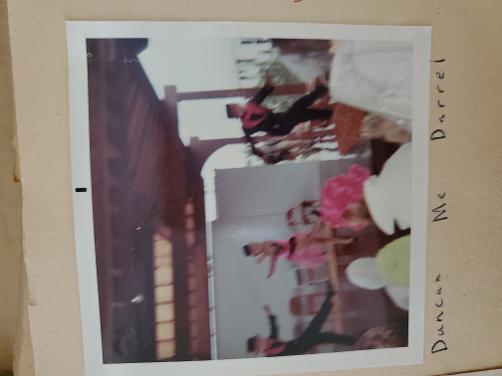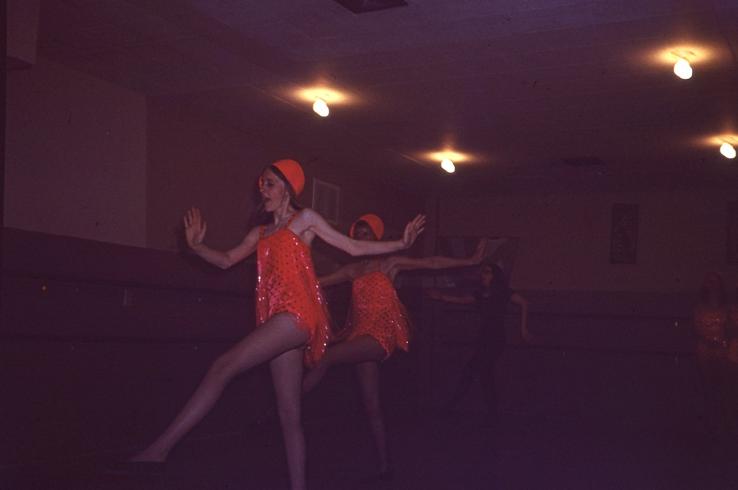 Picture of Varsity Drag, on the Southern Alberta Jubille Auditorium Starge. Thank you Andrea Petty Bates.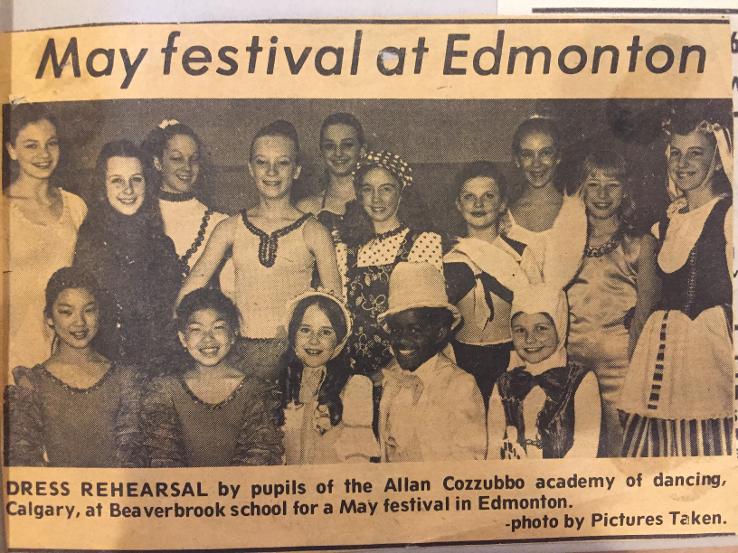 The above picture was sent to me by Carol Kolodinsky Larsen.....A golden Oldie...probably taken in the 1980's
Back row..left to right...Karen Zimmerman Evans..Kim Dowhaniuk..Jayedee Bradshaw..Sheri Hryciw Oberholtzer..Jacqueline Orritt..Vicki Bradshaw..Dawn Marie Fox..Joy Westin Mcllwain..Shelley Gillett..Pam Brown Mckinnon..Front Row Adele Odagaki Hammer..Kari Ikeda Grier..Dawn Ewonus..Sean Cheesman..Carol Kolodinsky Larsen..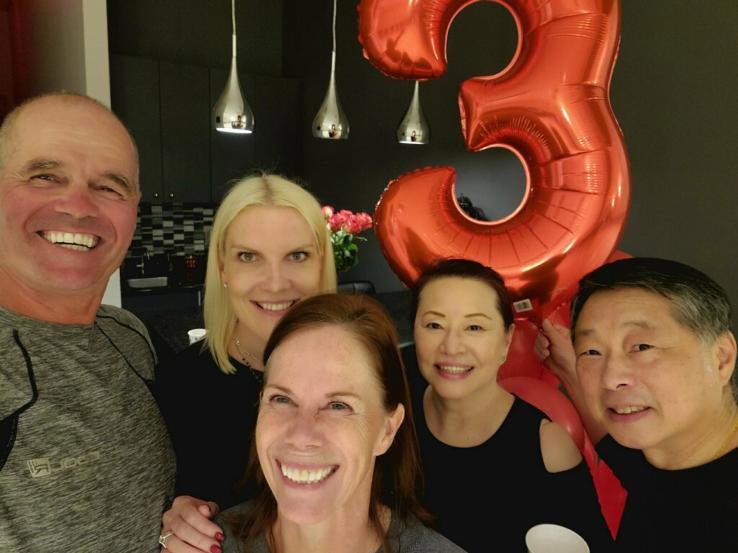 Dear Family and friends: October 2020
Hope this email finds you safe and well.
Time flies and we've moved to Atlanta for over a year.
We took the strong dose of flu shots for seniors on Wednsday. Where did all the time go?
We are happy here in Atlanta, striving to delay the aging process by working hard and keeping up with the extra curriculum. William is working for a "data center/Cloud Soultion" company and I am working for United Health Care.
Attached is a Photo taken after a semi private lesson last Wednesday. The blonde lady is our Standard ballroom dance teacher from Latvia and she moved to Atlanta with her husband 11 years ago. They opened their own studio 3 years ago and they now have a 2.5 years old little girl. We are invited to their house to celebrate the 3rd anniversary of their dance school this Saturday. Our classmates Sandy and Clayton in the photo were from Edmonton, Alberta, Canada (3 hours drive from our town in Canada). What a small world! They have lived in Atlanta for over15 years.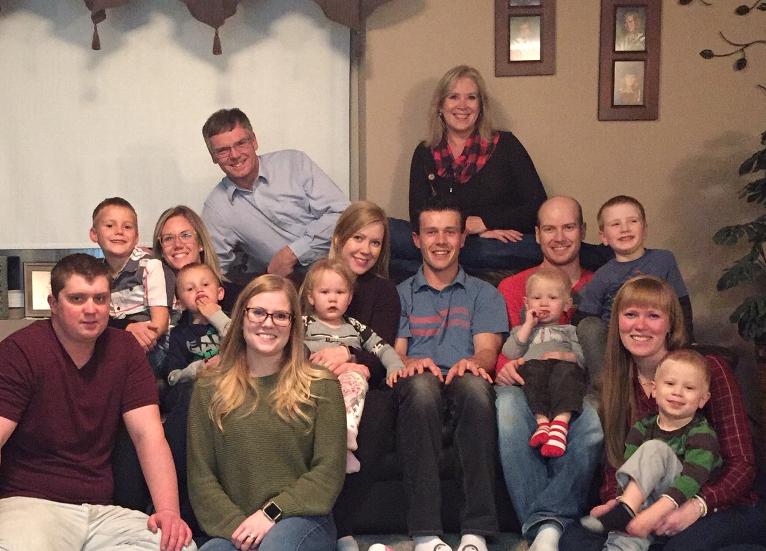 Joy Westin McIIwain--Family Photo
left to right...Jessica & Logan with McKenzie---Jorden & Jenn with Nolan, Korban & Lincoln....Joy with husband Don...Danielle & Steve with Kohen, Easton & Chase...Darlene & Morgan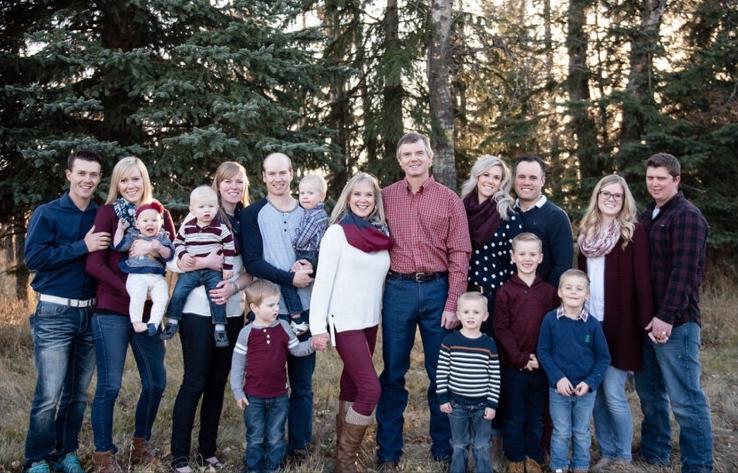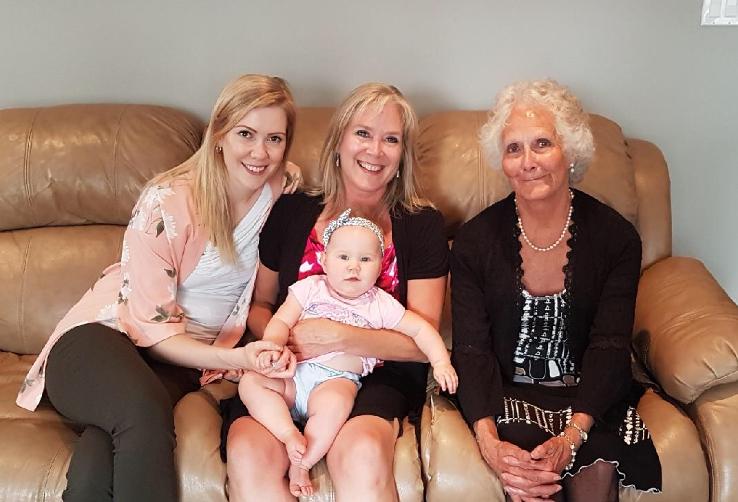 Joy Westin Mcllwain with her mom Pat Westin to her picture right and her daughter Jessica to picture left...4th generation on her lap.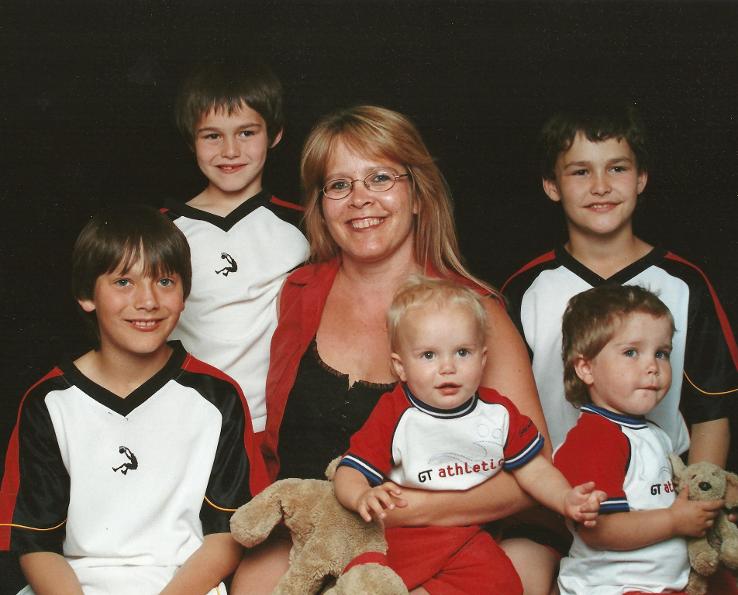 Tyson, Jayden, Joel, Kyle, and Kevin above with Patti See "In Memory of" navigation page.