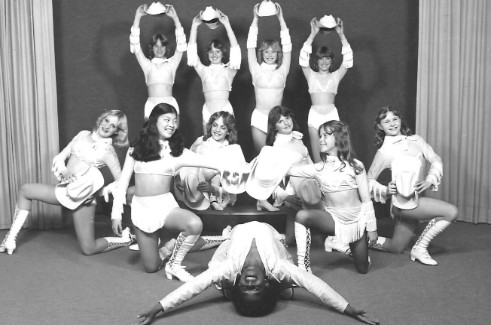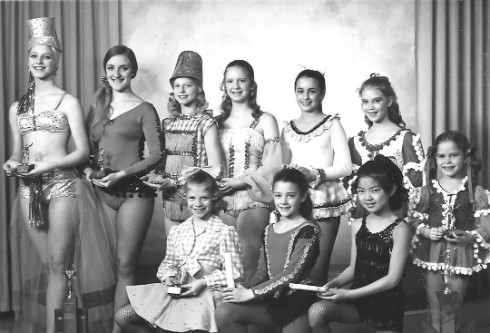 Top Picture is the Dance "Too Darn Hot" ..Sean Cheeseman front..Kari Ikeda and Patti Westin DeCoverley..Jodi Carter..Sherri Carter..Dawn Marie Fox..Carol Kolodinski...Pam Brown..Shelley Gillett..Lianne Smith --lower picture ATDA Winners left to right...Debbie Black..Shanda Comben Aalbers..Debbie Fish..Judy Milne..Janet Currie..Joy Westin McIIawain..front Donna Fish..Jill Currie..Adele Odagaki..Patti Westin DeCoverley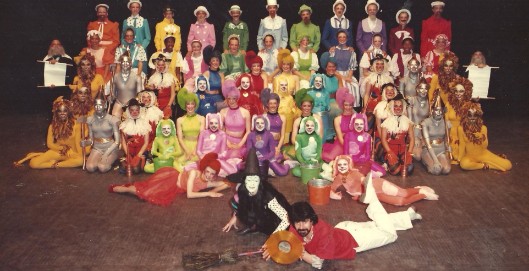 Production Class
"MECO" a tribute to the Wizard Of Oz"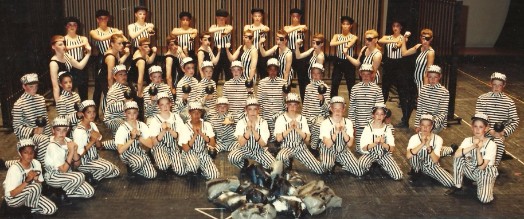 Production Class
"STRIPES" Criminal Behavior

Production Class
"THE KING"-To the King of Rock and Roll (Elvis Presley)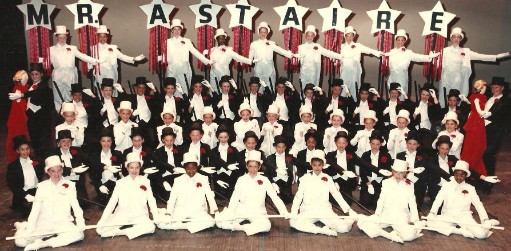 Production Class
"MR ELEGANT" A Tribute to Mr. Fred Astaire

Production Class
"GRACE" a tribute to Gospel Type Music

Production Class
"HOEDOWN" A Western Theme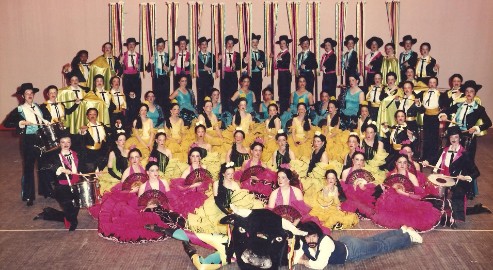 Production Class
'RAVEL"-.1st place at the ADEA AND WRDAA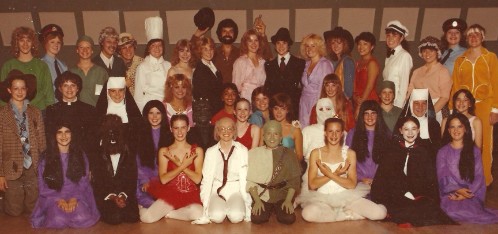 Production Class
"PEOPLE" a theme of using various Characters.

Production Class
"VIBES" a tribute to colour.

A Ballet for Closing Ceremonies/ Recital --Amongst all those "Romantic Tutu's" are Russell (left) and Aerial (right) in the back row in the blue danseur shirts.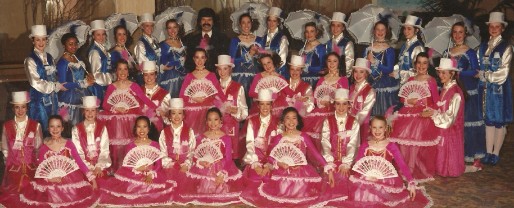 Vienna Ball at the Westin inn... Mr C. in back row.
Some of the Information on Productions, the year performed and placement has been lost in the span of time. If you can help with any data, please forward it on.
The Meco (Oz) 2nd ADEA 1st WRDAA...our Show Business Production done in 1979 got a 1st place with a mark of 99%..Our 1980 (Alberta Salute) got a 2nd place with a mark of 96%..Our 1977 Up Up With People got a 2nd place with a mark of 96%..Our 1978 Elvis received a 2nd Place..our 1976 Amazing Grace got 1st place with a mark of 93%..Our Happy Birthday Calgary got 100%& 1st place--Bolero (Ravel) got a 1st place at the ADE and WRDA competition..Criminal Mind 1st place..Colour Purple 1st and 2nd. The Big Apple Production was done in 1983(Placing?)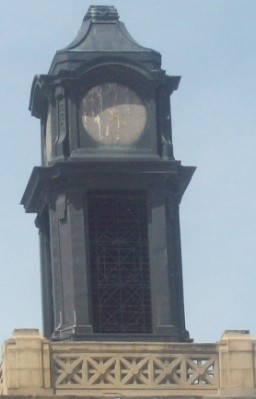 The face and workings for the clock on Balmoral School, Calgary Alberta are still empty .went down with the Ship Titanic in 1912. The same year the school was built. (located on 16th Ave. N.W. between 2nd and 1st street)
The first Recital: It was held at Balmoral School on 16th Ave North West between 2nd and 3rd Street. The clock tower on top, as pictured above the program, is faceless as the school, built in 1912, had ordered the face and workings from England. 1912 is the year of the terrible disaster "Titanic" and the shipment sank. (As of June 2010 the school still stands without a face on the tower). Note the Master of Ceremonies is Mr.Ed Hunter from the Head Hunter, CTV's television show.
When the Academy first opened, and for a few subsequent years, numerous bolts of fabric were ordered and put away with pattern numbers. Swatches of the fabric were stapled on the costume sheets, handed out, and put together by the entire Cozzubbo Family. In many cases the instructions were even coloured to show the final look and design. I can remember one year the store where the fabric was being held, gave Mrs. Odagaki the wrong cloth, and even with three children dancing she readily made the substitution to the right fabric. THE PARENTS WERE A MARVEL!
Margaret Cozzubbo McTighe was the only pianist our first year, and we had stacks of music put into an order for the hired band to play at the recital. In future years we still continued with a live band, using Marg Berry on Piano, and Jack Hurrel on the drums. About 1975 we stopped using a band and used taped music.
My sister Hazel Cozzubbo Measor worked behind the scenes at the first recital, bringing dancers from where they were housed, in the halls, cafetertia etc. to the stage area. The 2nd recital and future closing ceremonies were at the Southern Alberta Jubilee Auditorium and Epcor Performing Centre. What great venues to use and have dressing rooms with the remarkable stage area.

The newspaper clipping above is from our first Dance Recital, in 1964. The term "Dance Review" was often a term used for recitals, meaning the year in review. It's not a term we used. Susan Seaborn did a Russian dance solo at the recital and Vicki Fulton did an Irish Jig. (both girls in the above photo).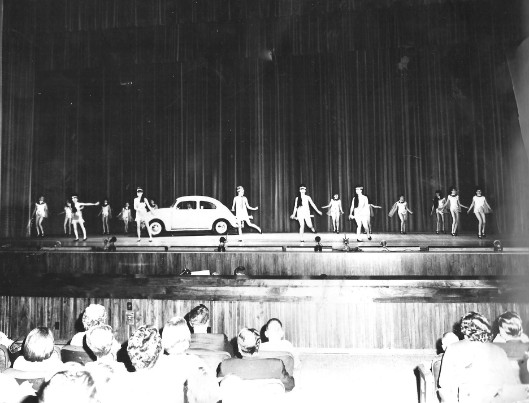 The wonderful and remarkable stage of the Jubilee Auditorium picture above. We loved using the strobe lighting effect, and above was a flourescent Pink Volkswagon. The Charleston Girls rode on the car driven by Ed Hunter, who left the head lights on, and so the PINK GLOW was fairly weak. The girls with extentions on, a sight quite familiar today (2010). It's all part of a Showbiz life.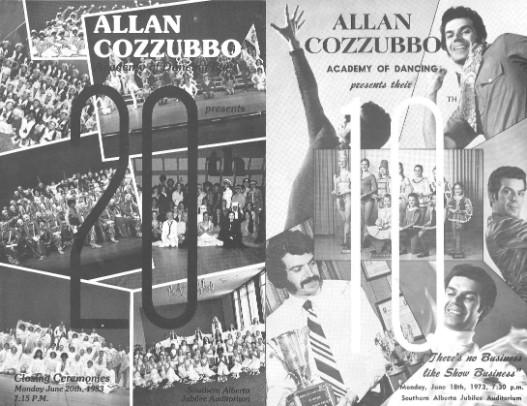 Program Covers from our 10th and 20th recitals.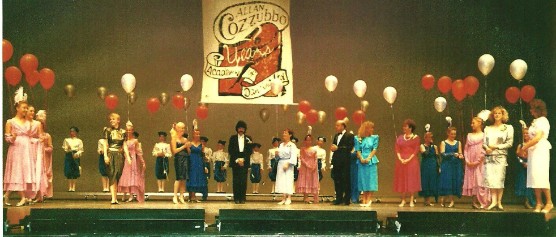 The stage at the Jubilee Auditorium for our 25th recital with a prop of the Academy Crest lowered. Members of the ACAD Staff on stage with the final dancers that year. 1989.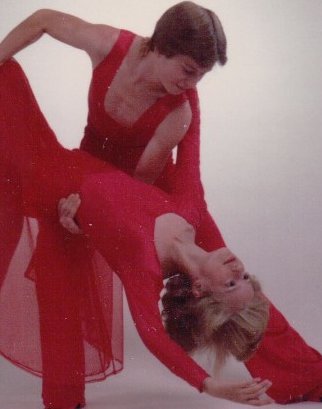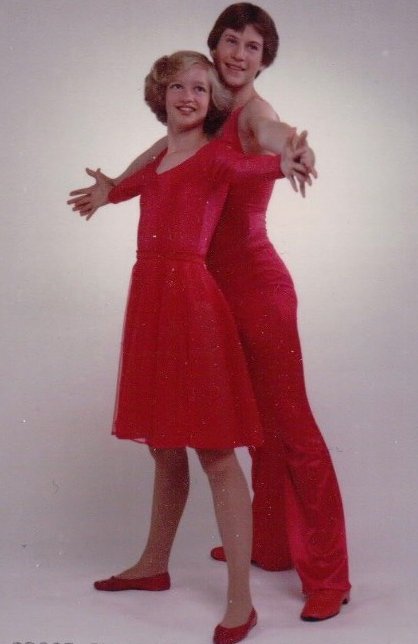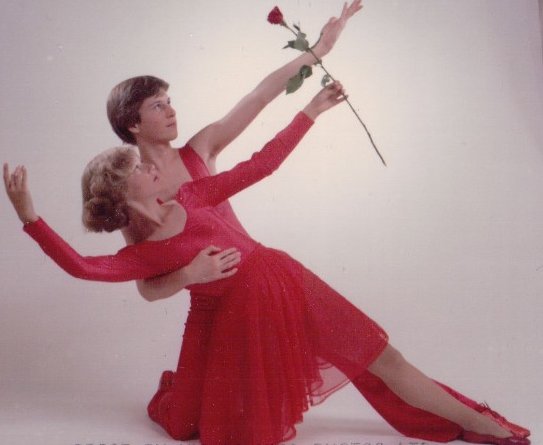 Mardyne Davey and Lori Jenson above...Lyrical Duet "You Don't Bring Me Flowers Anymore" Streisand and Diamond Vocal. Both Mardyne and Lori had wonderful "Dance Spirits" with an intense feeling for technique and showmanship.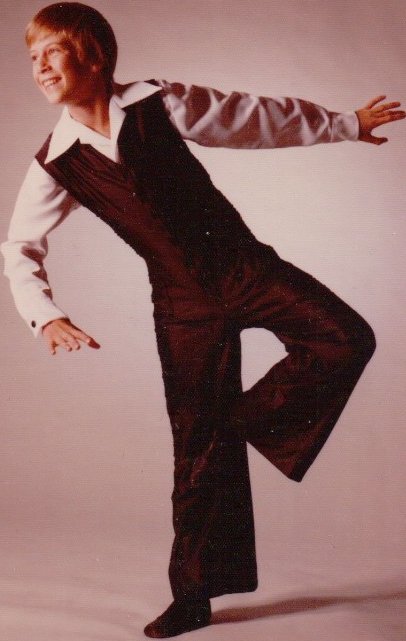 Mardyne Davey above...in one of his many solos. As stated above Mardyne had a wonderful Dance Spirit that carried him to the RWB--his frame and platform for technique were a bonus for his journey to become the danseur he did.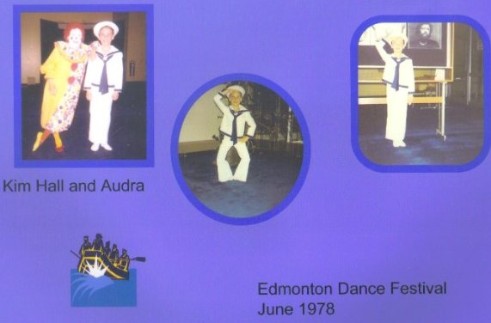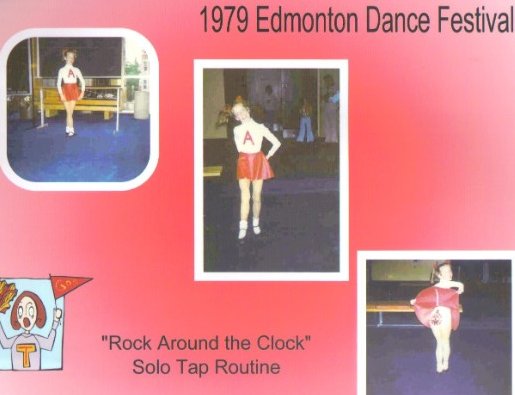 1978 and 1979 ADEA Edmonton Dance Festivals. Kim Hall (Clown)..Audra Cox Saior and "Rock Around the Clock" (Choreographer Debbie Black)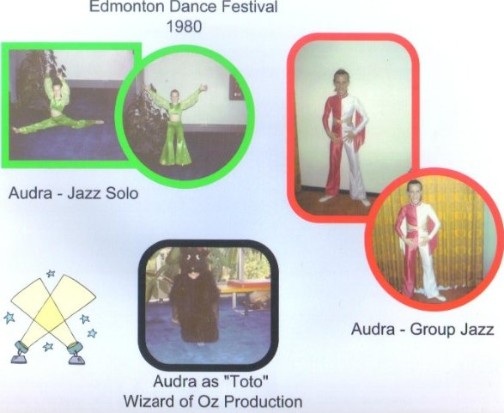 Audra Cox Above in the ADEA Dance Festival ---Edmonton....The Toto Picture is the group number where Jake Ewonus and Paul Coldrick are the mayors...group photo on Services Page.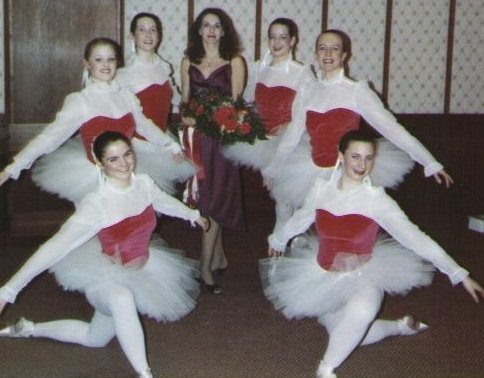 Miss Helene Skakoon centtre back with part of her Vienna Ball Number... left to right..Lisa Allison Kingston--Karen Brooks--Kelly MacMillan--Deanne Schmierer Comessotti--T. Rasmussen--Lorena Apuzzo Dohan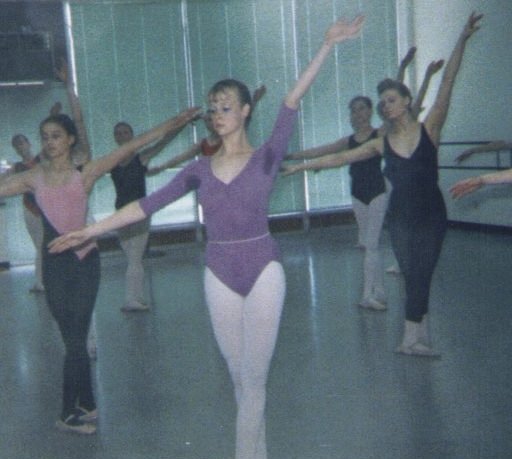 Ballet Class below at the Haysboro Location....Main floor Studio. Nicole Hebein-Mapatac (Pink) Sharon Edwards Lozinski (purple) -- Tamiko Lagerwaard to the right of Sharon. Does anyone see others.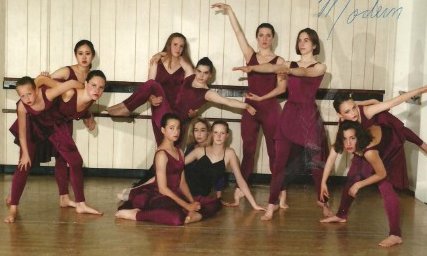 Modern Group..I see Jordana Fraser--Lisa Richardson--Kayt Lucas--Kim Hall peaking out from below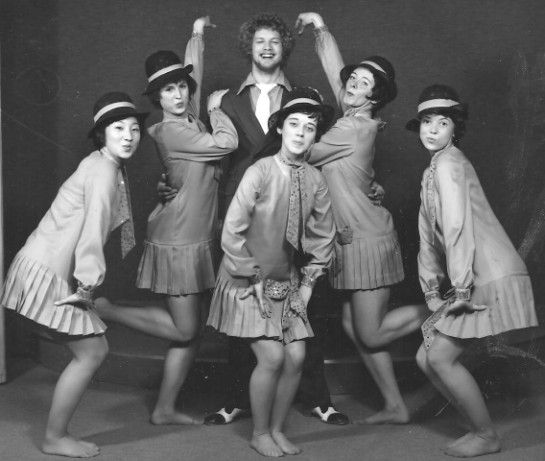 "Modern Millie"..left to right..Esther Odagaki, Dianne Ranshaw Richards, Brian Craik..Edith Bruce--Theresa Dunnigan and Catherine Maunder in centre front ..Edith Bruce's family had a house fire when costumes were being sewed...and Mrs. Odagaki stepped up to the plate so to speak and sewed in time...thank you-(Mrs. Odagaki sadly passed October 2010)!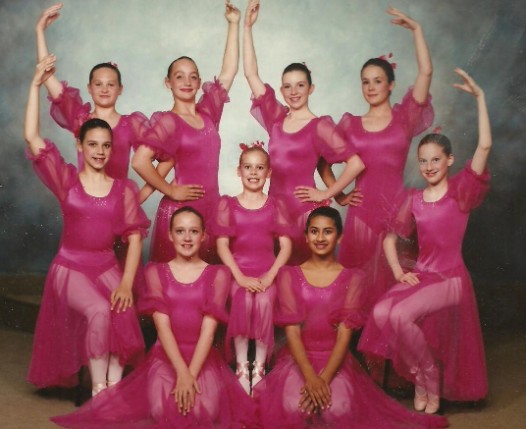 Ballet Group above..who do you remember? Kim Dick centre
"Baby Bumble Bea"..Dawn Odagaki Robertson and Esther Odagaki in the early days---- this is a treasure. Taken in 1965...Dawn Left 4 years and Esther Rt. 5 years.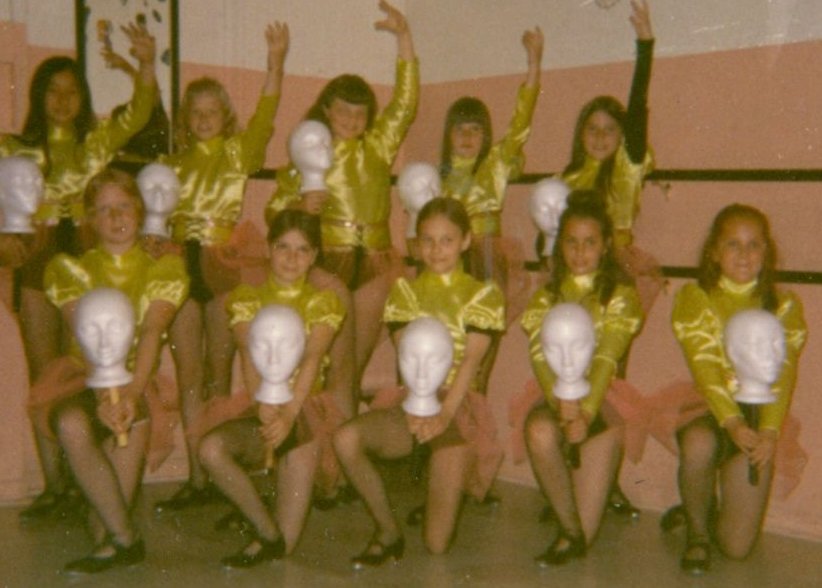 "Head Tucked Underneath Your Arm"...this is a find from the "Odagaki's"...taken at the studio on Edmonton Trail in Bridgeland. (202-4th Street N.E.)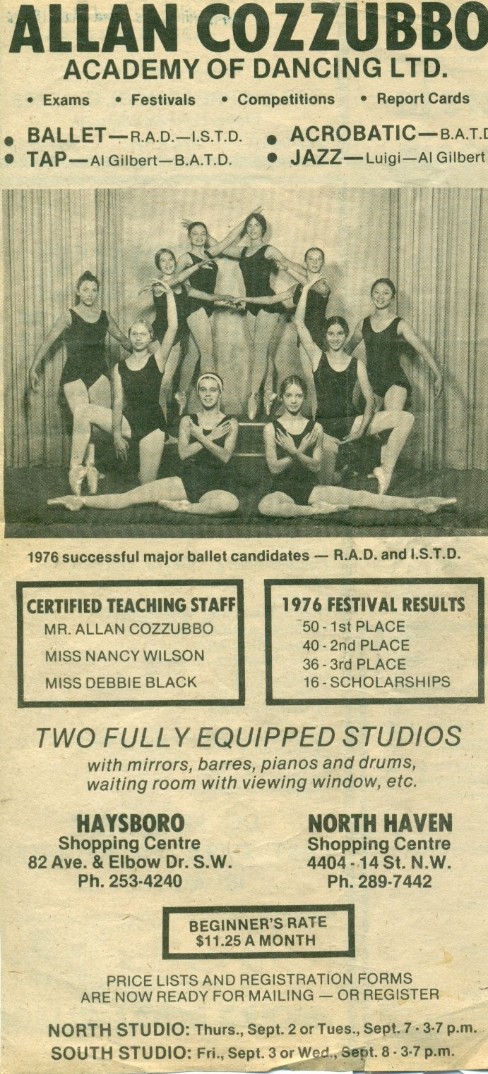 A newspaper Ad- September of 1976---have a look at the Medals won at the festival and the beginner's rate of $11.25 per month.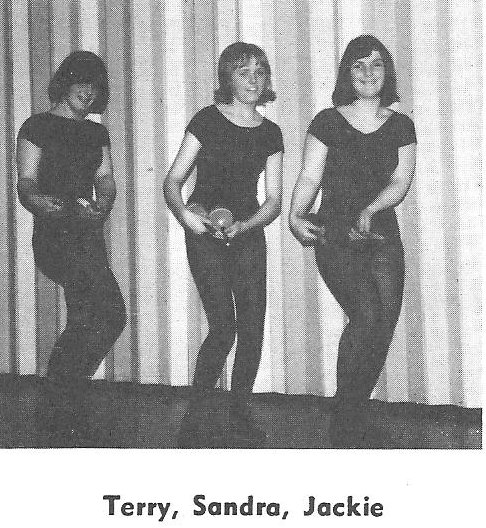 This is a really "Picture From The Past"...taken in the garage in Bridgeland with the Sliding Pella Doors from the ballroom School "Delmar Dance Studios". the Twins "Buckley" (Terry & Jackie) and the centre girl is Sandra.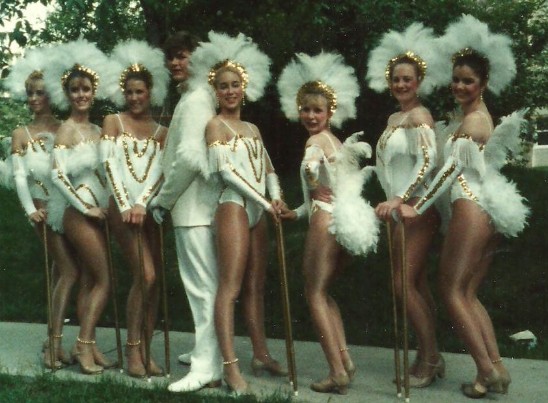 Russell Doig with the gals below- Right to left--Lisa Allison, Amanda Patrick, Cindy Dotzler, Kim Hall, Russel, Roxanne Pogson, Kristine Richmond, Lisa Martin Fried.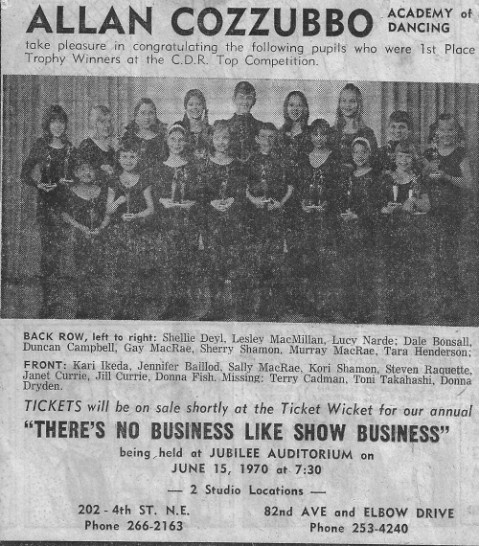 An Ad from the Calgary Herald ...Not too clear but lots of familiar names--If anyone has the original please forward it.--Shellie Deyl, Lesley MacMillan, Lucy Nardei, Dale Bonsall, Duncan Campbell (see "In Memory Of"), Gay MacRae, Sherry Shamon (see "In Memory Of", Murray MacRae, Tara Henderson, Kari Ikeda, Jennifer Baillod, Sally MacRae, Kori Shamon, Steven Paquette, Janet Currie, Jill Currie, Danna Fish, missing..Terry Cadman, Toni Takahashi, Donna Dryden.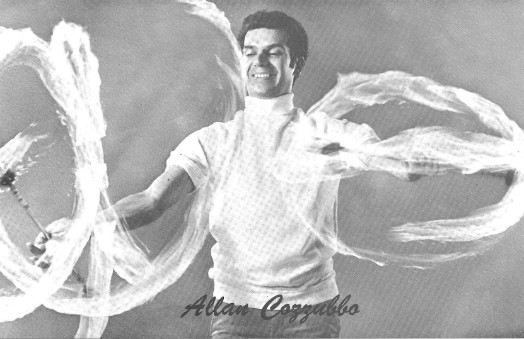 Allan Jerry Cozzubbo above from the early days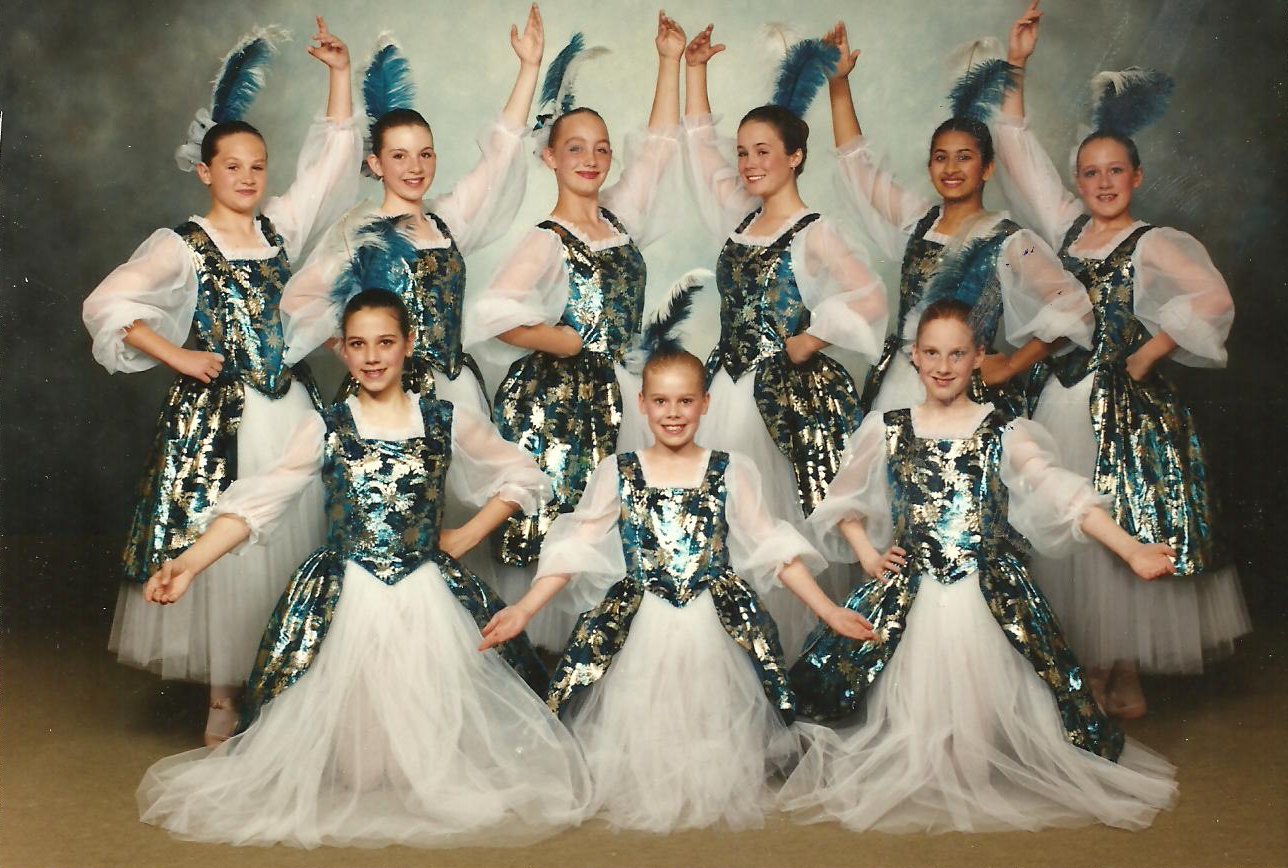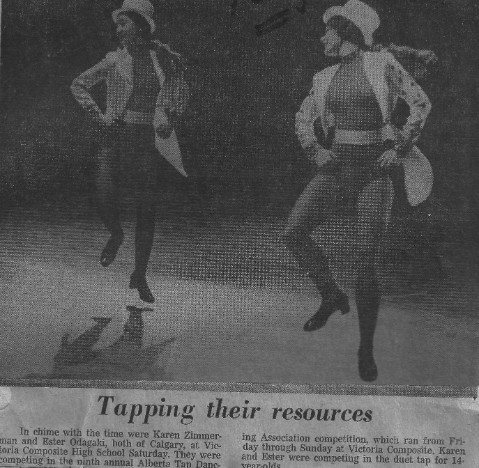 Picture from the Edmonton Journal --The ATDA Competition at Victoria Composite School ...Esther Odagaki and Karen Zimmerman Evans. (1974-75)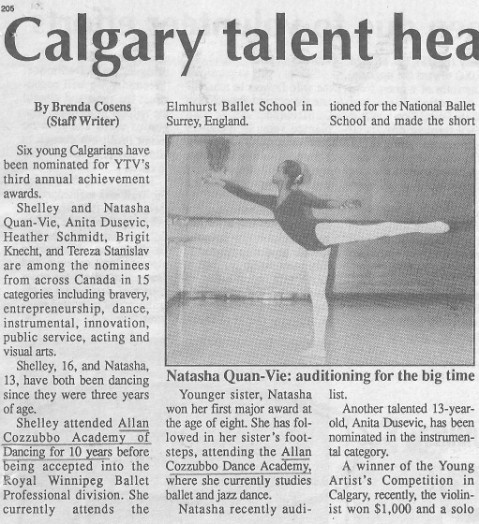 Natasha Quan-Vie --her sister Shelley also studied at the Academy
Kira Greasley and Michael Tharin--a picture taken in 1986. They did a very good duet and had quite the moves. A lot of interesting poses they had, as they performed.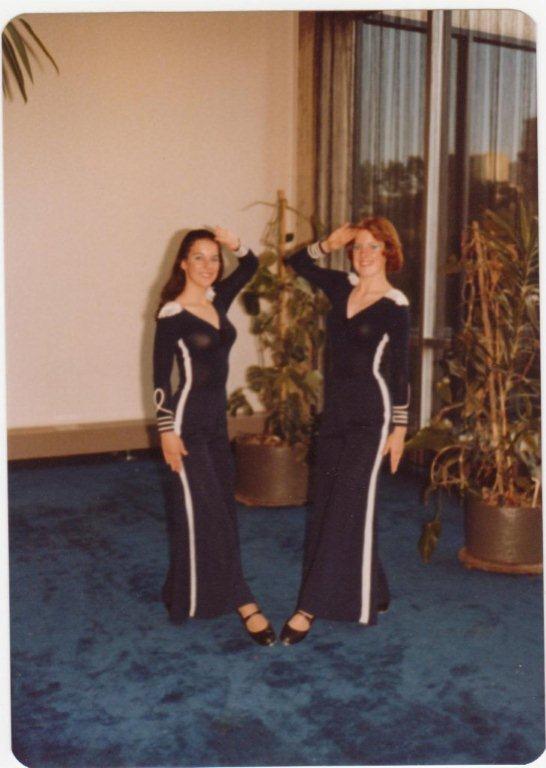 Rachel Hershfield and Leslae Ewonus above doing a Tap Duet...probably in the late 1970's.
J.P. (Jake) Ewonus in his first Tap Solo...."Batman"--1975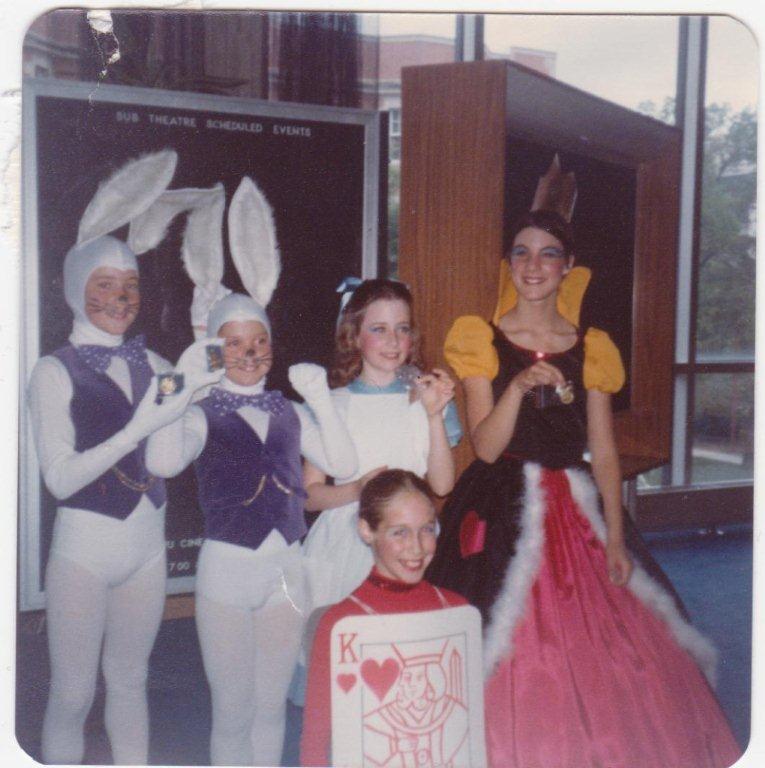 Alice in Wonderland--1970's..Jake Ewonus left rabbit & Paul Coldrick beside him...Tara Young Queen of Hearts... ...Tammy Fairburn Card in front row....Alice is Alanna Hildt.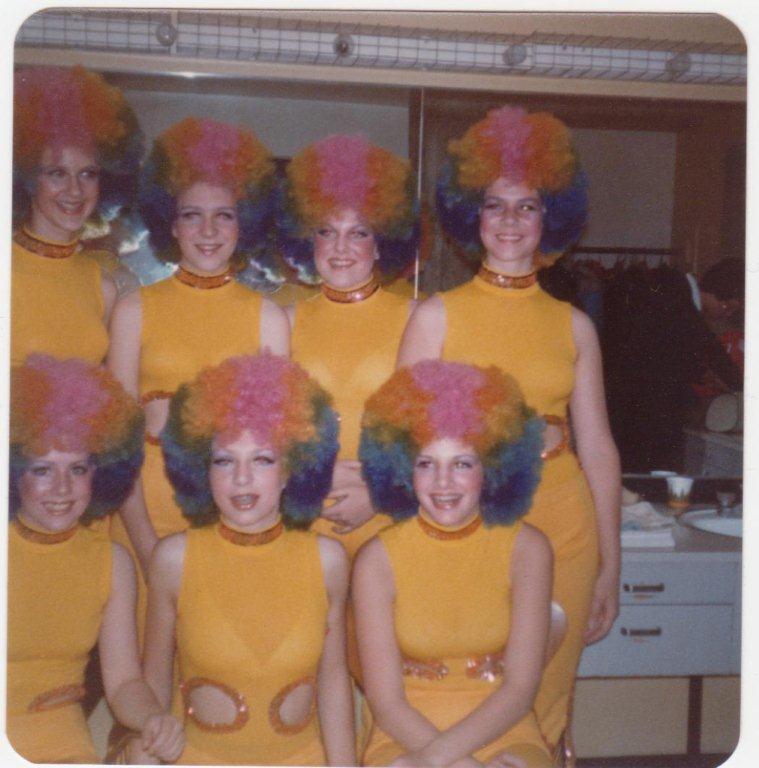 Jazz number 1970's...Dawn Ewonus front left...Jane Ravvin front right & Denise Johnson in the middle.. bk row..right end Pam Evans...beside Pam is Gail Ough & behind Denise is her twin Dianne Johnson
Picture from Jenny Repond's facebook profile. A Cheryl Flewelling group...Whitney Lawson in white, and Trevor Smandych in the tuxedo..Trista Smandych Bailey lower right end and Jenny Repond upper right end. If you know the missing names please let s know!!!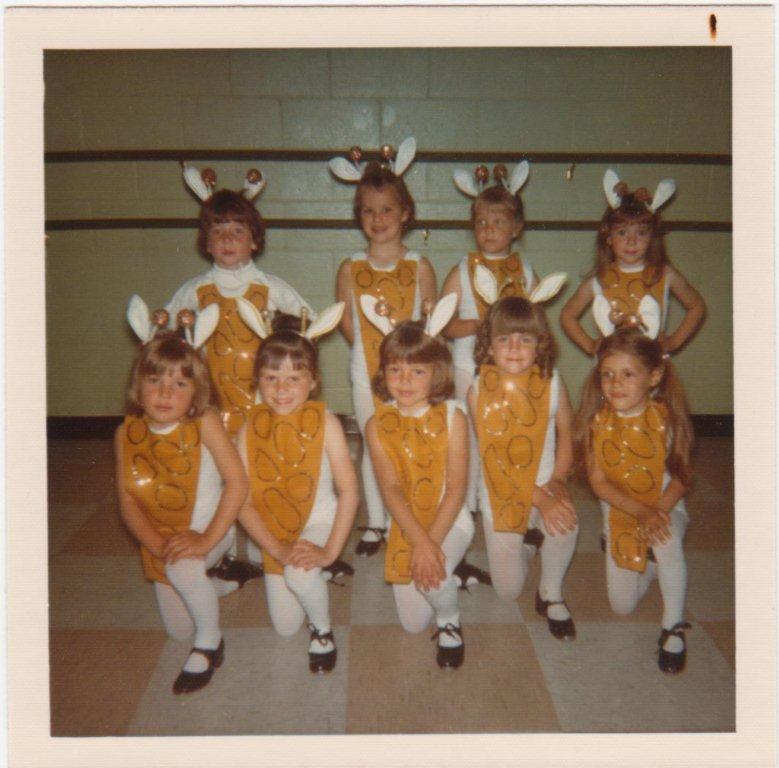 Baby Bumble Bee--1970's...Jake Ewonus bk left --taken in the Haysboro Studio before the wood floor.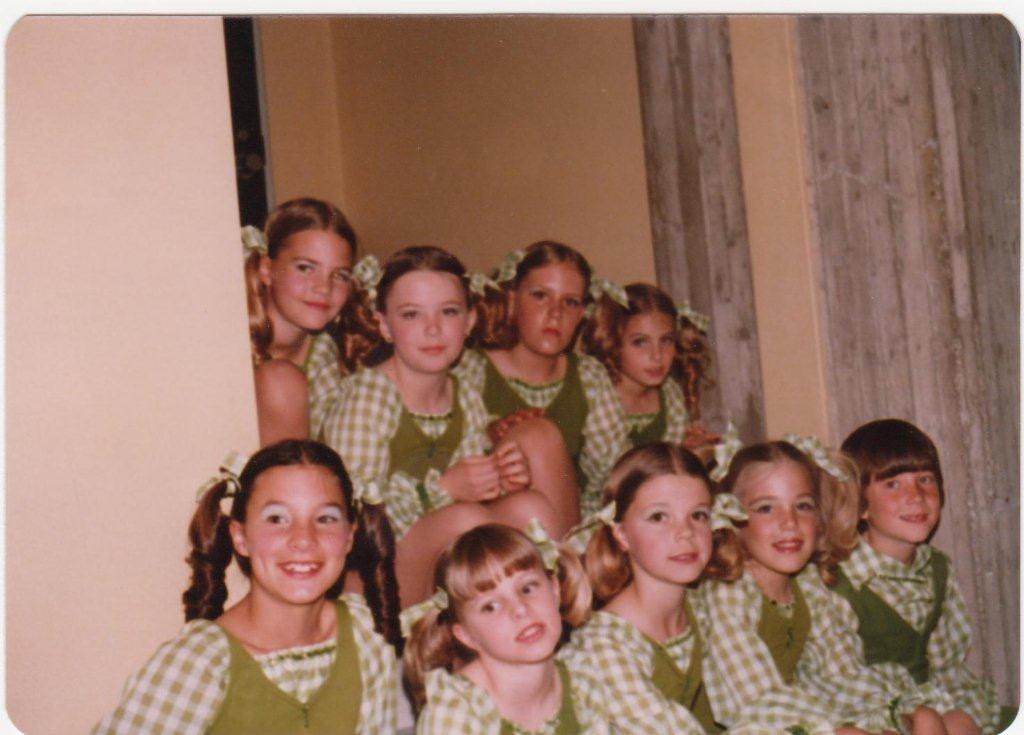 1970's...Tara Young front left...Cory Drew.....Deborah L. Coldrick-Cobb....Jake Ewonus far right --Nadene Henderson bk far picture right.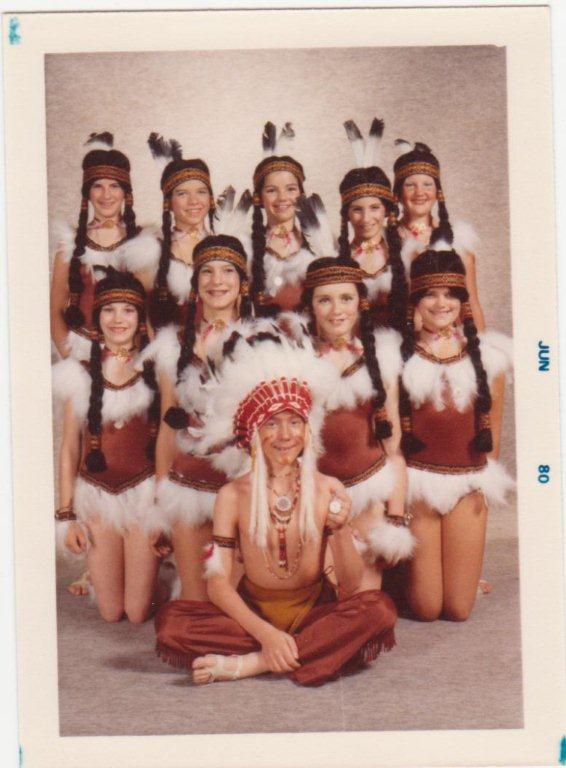 Tom Tom Line...bk row..Michelle Palmer Spring ...Lisa Allison Kingston..Nadene Henderson ....Front row..Cindy Greasley...Tara Young ...Joanne Keegan...Cheryl Knudson Jasmine...Jake Ewonus in front....1970's Festival Line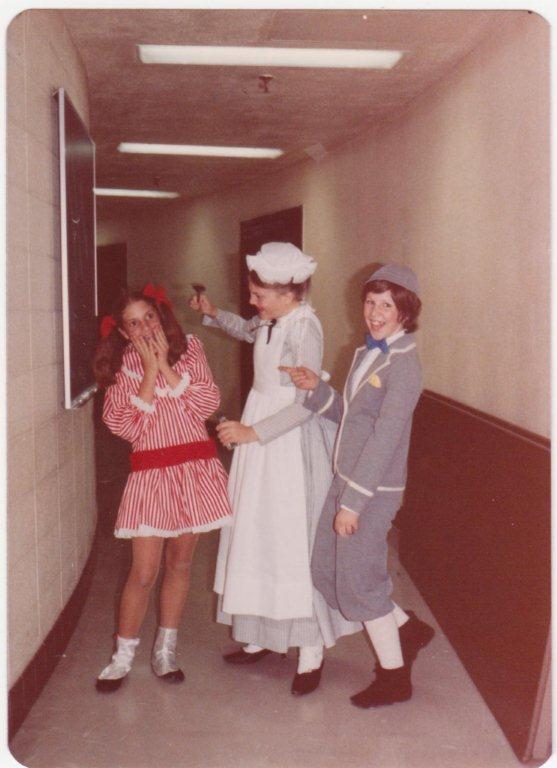 Mary Popins Characters...Jane Ravvin...Gail Ough...Dawn Ewonus ..late 1970's
PHOTOS FROM THE PAST
WHO DO YOU REMEMBER?
THESE WERE ALL FUN NUMBERS-- A Generous Bravo to all of you!!!!--I would certainly give you a
STANDING OVATION!
Scroll down & view the pictures!
For larger pictures of the Production Class Entries see ACAD Production Entries Navigation Page.

Production Class
"ELVIS PRESLEY"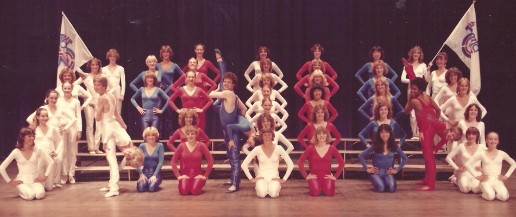 Production Class A Tribute to Alberta....Happy Birthday 75 years.."ALBERTA" done in 1980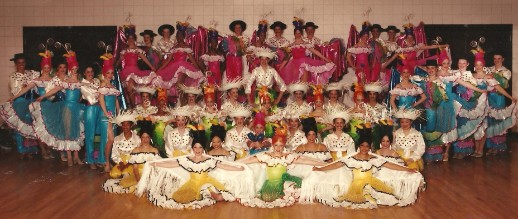 Production Class
"TROPICANA DISCO SHOW"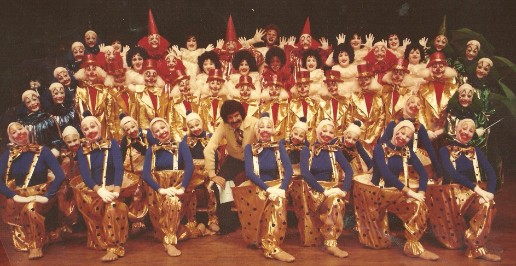 Production Class
"SHOWBIZ" (A Tribute to Clowns)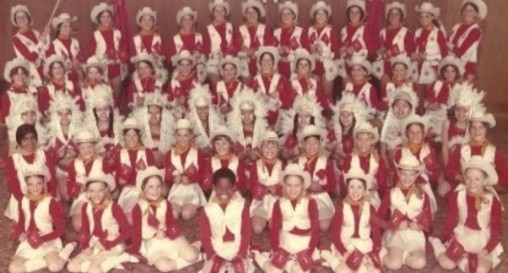 Production Class
"HAPPY BIRTHDAY CALGARY" celebrating Calgary's 100th Birthday in 1975 recieved a mark of 100%!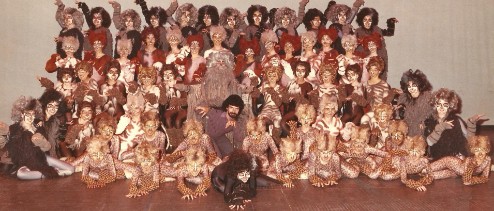 Production Class
"ELIOTS" (a tribute to T.S. Eliot and Andrew Lloyd Weber's CATS) --2nd place

Production Class
"THE BIG APPLE" a tribute to New York Showgirls!

Production Class
"A MINSTREL SHOW" complete with
Mr. Interlocutor--(Allan Craik)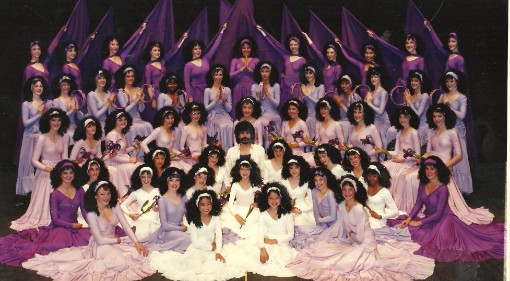 Production Class
"WHOOPI"...a tribute to Ms. Goldberg's "Colour Purple"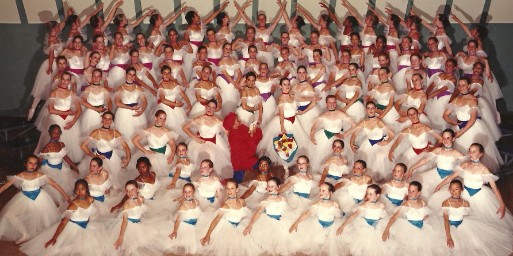 A Ballet for Closing Ceremonies..."DEGAS"...A stunning ballet ...picture taken in the rehearsal room at the Jubilee Auditorium...Mrs Abra's work. The RED seats in the main theatre were to be placed in the "Loose Moose" theatre at the Farmers Market...2nd Floor with "Artspace".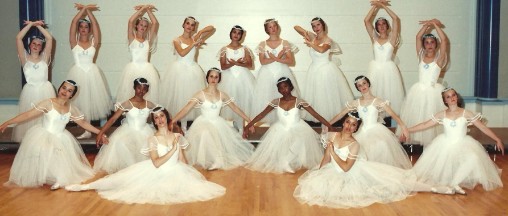 Swan Lake...Romantic Length....taken in the Jubilee Auditorium Rehearsal Room.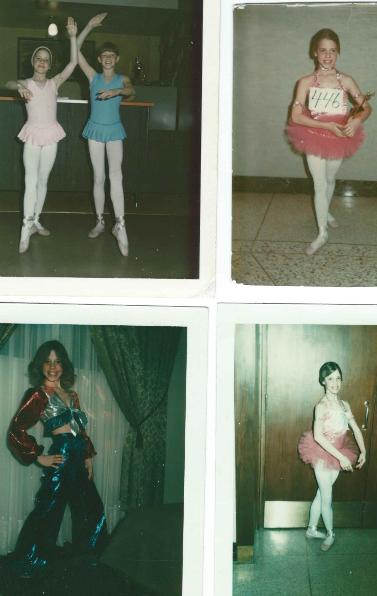 Pictures above sent in from Shauna Sulzle Kvellestad .copy of our email below..When I saw the pictures, they brought back very pleasant memories...Thanks Sharna (the girl in blue in the upper left picture is Kathy Dodd)
Hi Allan, What a delight to reconnect with you! I have the fondest memories of when I first began dance. I also went to high school with Graham (Dr. E.P. Scarlett) – I haven't kept up with people or reunions throughout the years. I hope Graham is doing well. I would love to attend an ACAD reunion if you have one again. I was so fortunate as a child to experience dance… I am currently setting up a small ballet area in my home – for fun and for my own self- discipline (to stretch and strengthen and feel the music through my body again). Thank you, with tremendous gratitude and appreciation for what you taught me and for what I am still learning Shauna
Carla Potts above in her solos choreographed by Debbie Black. "Charlie Chaplin" upper left--"Washer Woman" upper right....and Carla's last ballet solo with us in 1990.
Dance Pals....Chandra McRae and Laurel Burnett...Jubilee Auditorium Rehearsal Room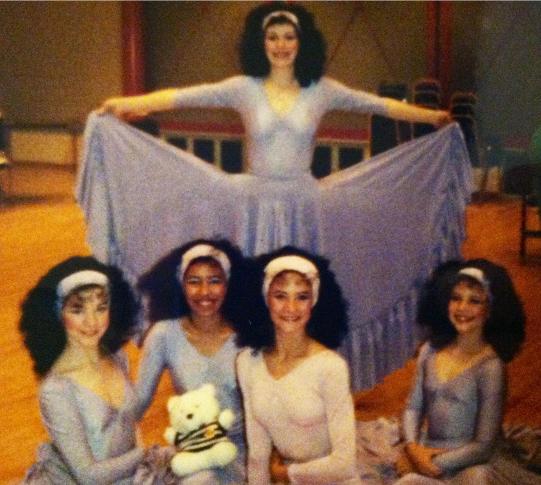 Production " Colour Purple"....Kyla Wilde sitting and Laurel Burnett in the lighter lilac..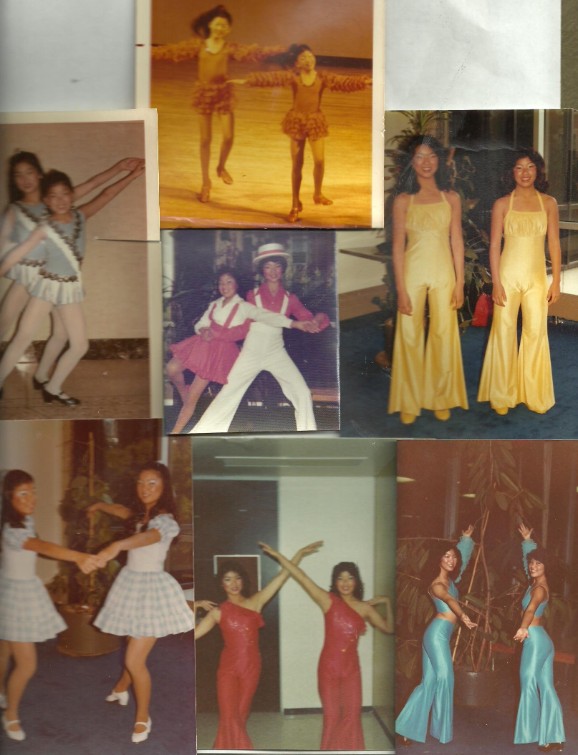 Adele Odagaki Hammer and Kari Ikeda Tap duets -They did a tap duet each year for the festival and placed very well in them....I'll see if we can get years from them.--One was "Strawberry Patch"...centre--- Adele received the ACAD Achievement Award in 1977-78 and Kari in 1980-81.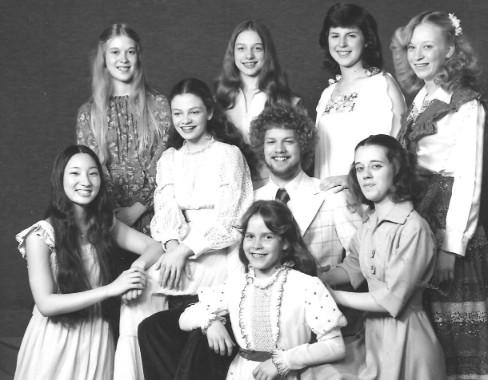 The pupils above all received "Scholarship Grants" in 1978 from the Alberta Culture Department-- Back Row from left to right..Joy Westin Mcllwain, Denise Johnson, Dianne Ranshaw Richards, Sherri Hyrciw Oberholtzer, Front Row, Esther Odagaki, Karen Zimmerman Evans, Brian Craik, Catherine Maunder, and Patti (Trish) Westin DeCoverley in front.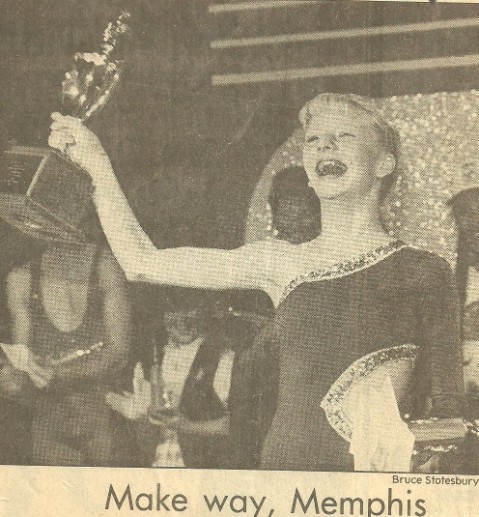 Christine Sunderland above when she won the Stampede Talent show and made her way to Memphis to compete. It was quite a thrill for all of us when the winner was announced. Her male Duet Partner Russell Doig and her came in forth with an excellent duet. Christine now has a daughter taking at Lisa Horath Svecla's studio Premiere Dance Academy, and Russell ia an Optometrist practicing at the Chinook Clinic in Calgary Alberta, and also in Strathmore Vision Clinic in Strathmore, Alberta.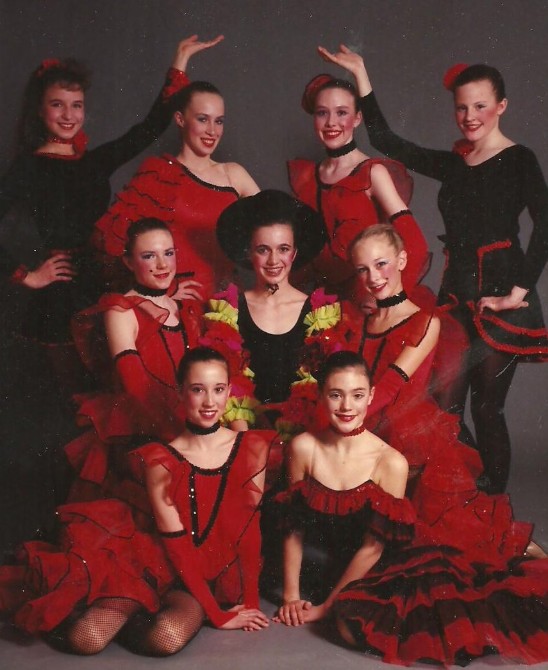 Interschool....ready to do the Spanish or the Spanish Flea--back row..Trista Smandych Bailey--Michelle Anderson Harcus--Kristyn Scott--Kristell Haberle Court--Middle row..Larissa Duncan--Gillian Holowisky--Erinn King--Front row Torrie Paul Turner--Deanne Hunt.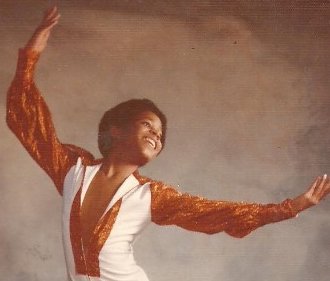 Sean Cheesman taken in 1975---Sean was a Mr. Charisma Danseur and when he took his pose on stage at the festivals the girls would scream with excitement. He not only had great class but he had the "Gift to Entertain". We now see him on "So You Think You Can Dance" as a judge and choreographer. Congratualations to Sean. We are proud of you!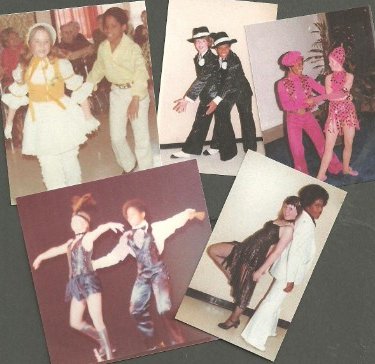 Dawn Ewonus and Sean Cheesman doing their Duets. Tunes were "My Wife the Dancer" (Pink).."Bugsy Malone" (Black Suits) ..."Money" (lower left)--They always made an icredible pair on stage and fed off of each others energy! 1975 to 1980 approximately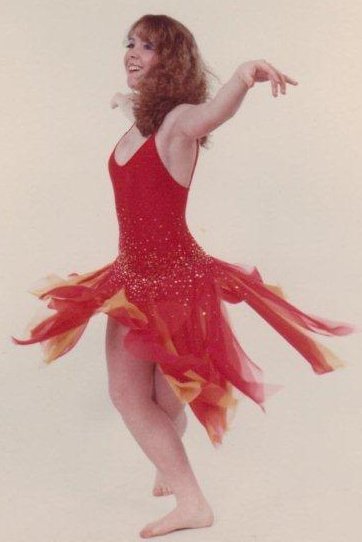 Dawn Ewonus above doing one of her many solos. Always a pleasure to watch--she did duets with Sean Cheesman above and more then carried her end of the duo. Dawn had a unique style and also did a song and dance solo that won her fond acclaim at the festival-"Anything Goes". (She even did an English Accent). Dawn took Dance in the 1970's. Dawn and her husband live in Calgary.----Dawn Ewonus below in a Tap solo.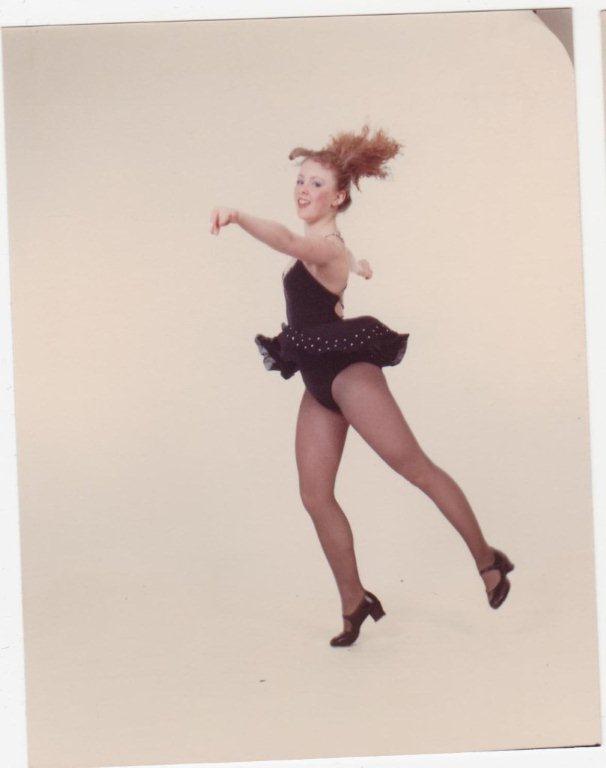 Dawn Ewonus above in a tap solo...see above text for further info.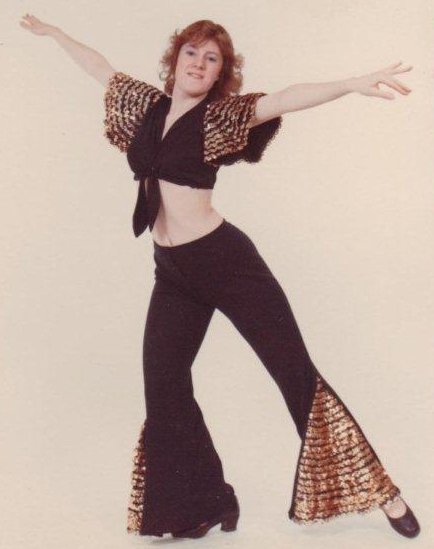 Leslae Ewonus above in one of her tap solos. Leslae was a true technician and always gave her best to her performances. Leslae and Rachel Hershfield did duets that were very entertaining---Leslae's execution of her numbers was very precise and her journey in DANCE was quite remarkable. Leslae is now married, and is a lawyer and has two children. Her Daughter is 22 years old and graduating from University. (Jan 2011) Leslae took Dance in the 1970's. Leslae and her family live in Misssoula , Montana.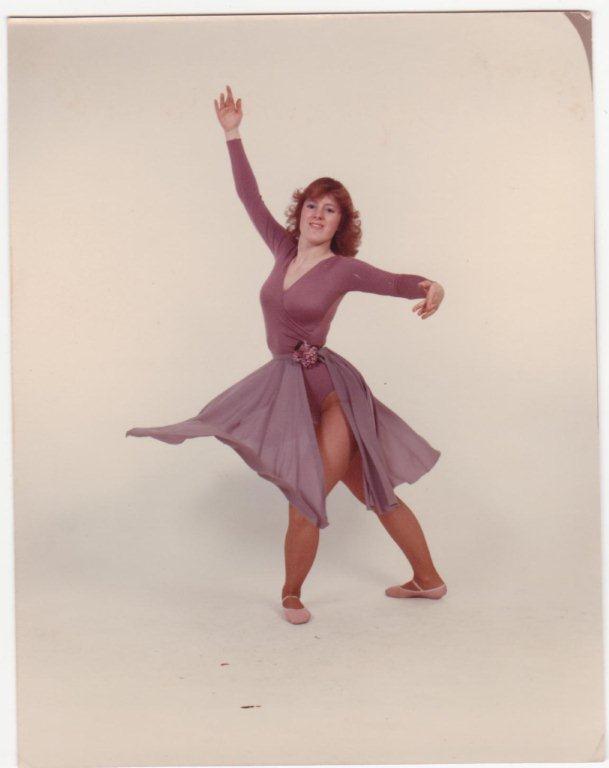 Leslae Ewonus above ...see the above for further text.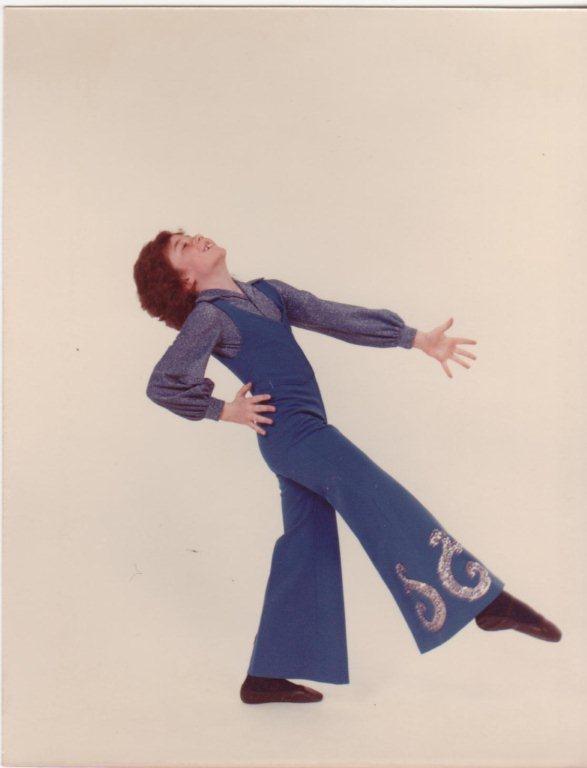 J.P. Ewonus (Jake) doing a jazz solo. Jake had a very masculine style and knew how to entertain. He, like his sisters had a very clean presentation and was able to develop his own "Spirit of Dance". Jake took Dance in the 1970's. Jake and his partner Linda, live in Calgary. Jake below as well doing a Spanish Tap.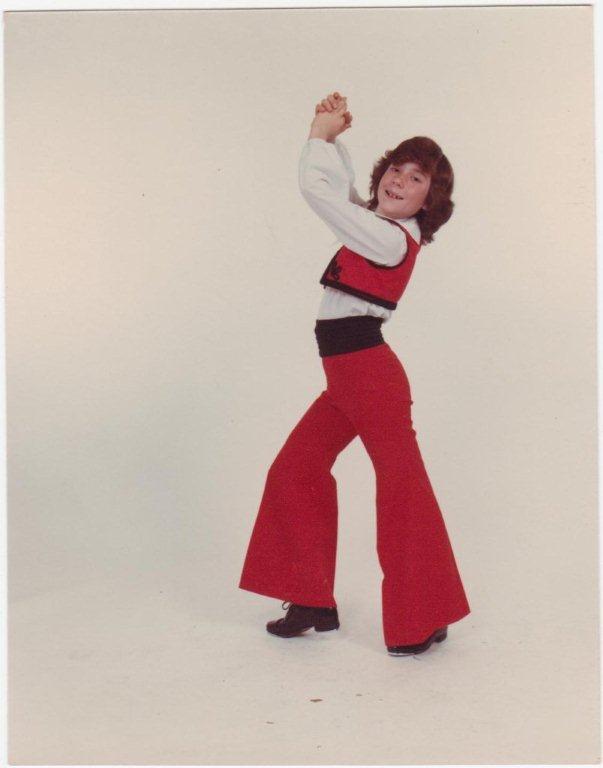 J.P. (Jake) Ewonus above..see above for futher data.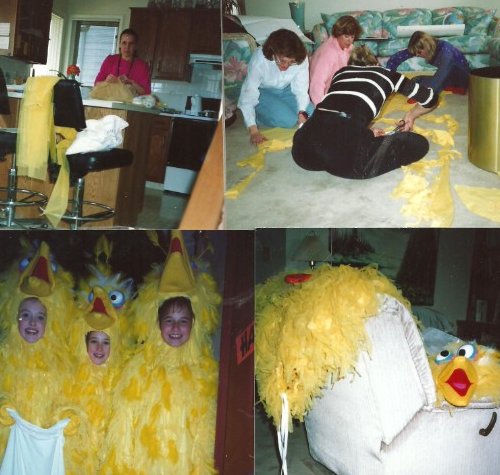 The pictures will bring back memories for your Mom's....sewing the elaborate costumes for the festivals and competitions. A Lot Of WORK. --Big Bird in construction--Top Left..Mrs Mal Smandych and to the right....Help me with the names ??-- "The Finsihed Product "--Kristen Scott--Torrie Doctor Turner--Trista Smandych Bailey...and Big Bird resting!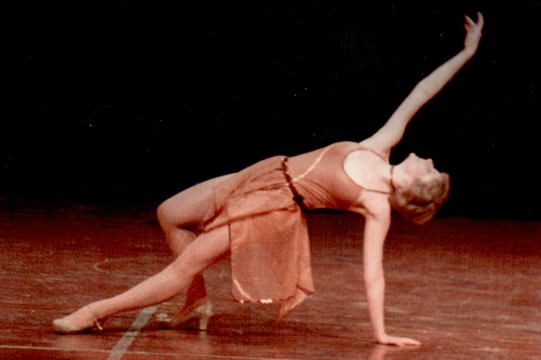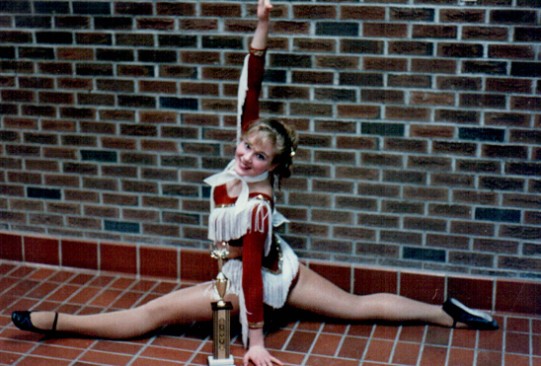 Pamela Wood Drummond above...lower photo is from ACAD I982 Interschool and the upper is from her lyrical Jazz solo in 1983.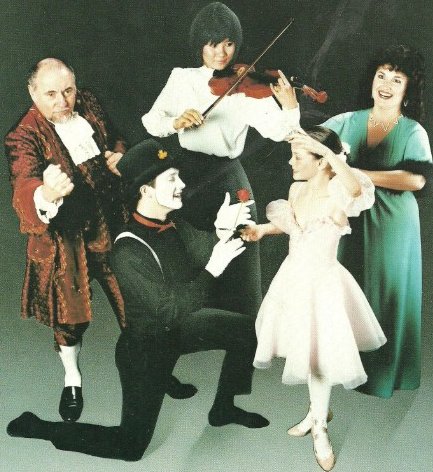 RWB program back cover picture--about 1982 The Mime artist is Sean Kinley who taught at our Summer School --Opera Singer is Patrice Barnes, Edwinda Borgford's Mom. The ballerina is --My mind is still trying to click in.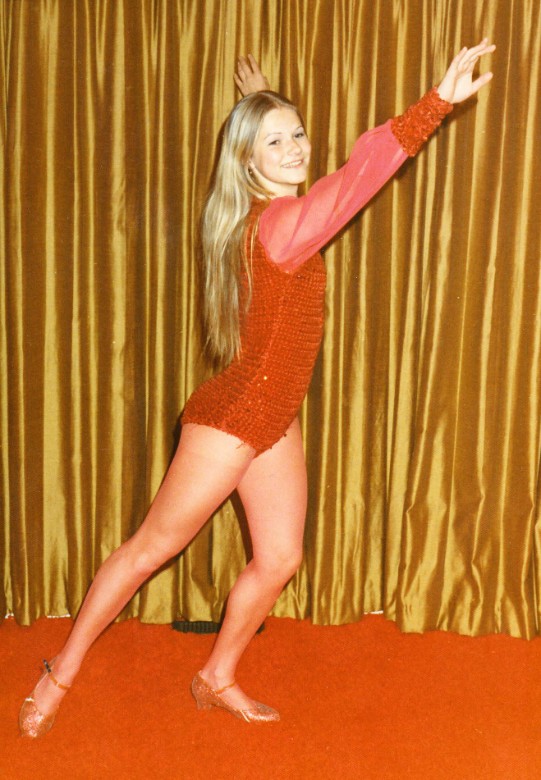 SHERRY SHAMON (about 1971)see"In Memory OF Page" --Sherry was all SHOWBIZ...and went on to teach as well....I'm sure a good choreographer! Sherry and her sister Kori were very clean technicians as well and a joy to watch. Sherry was taken f rom us far to soon. ( When I became "Special Event coordiantor" for the Hudson's Bay Company, Sherry was also working for them, in the Marketing Department....Also when Sherry first taught she worked with the CDR and Judy Kuggler around the same time Shanda Comben Aalbers and Debbie Black did the CDR membership Exam).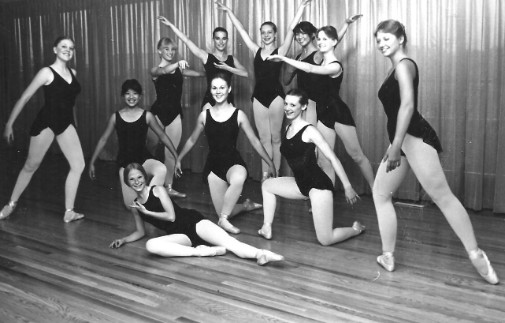 Ballet Group above...Gail Ough--Kari Ikeda--T. Twerdon--D. Johnson -Shelley Gillett--Rachel Hershfield--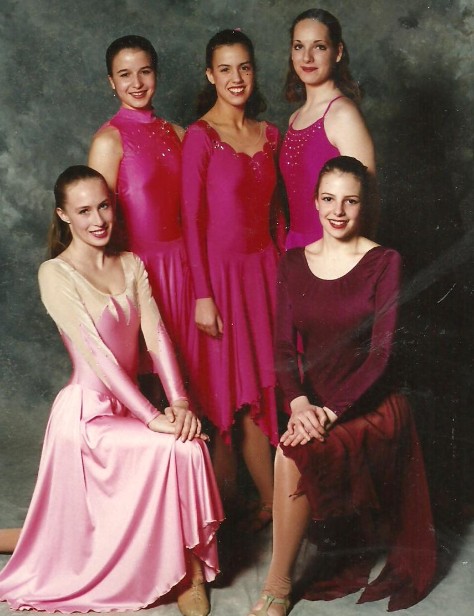 The girls above ready to perform "The Rose" at Interschool...back row. Trista Smandych Bailey, Lisa Richardson-Harcus, Katherine Cherewko, front Michele Anderson, and Dawna Rose Crooks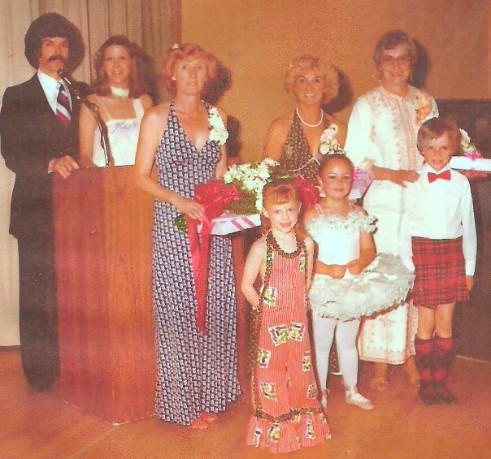 University Theatre in Edmonton Festival..Left to right..Mr. C.-Nancy Hays-Alma Hughes-Gladys Smith-Shirley Shroffel...Children-girls unknown at this time..they young man is Arlene Bain's son Troy. Arlene Bain is an instructor in RED DEER.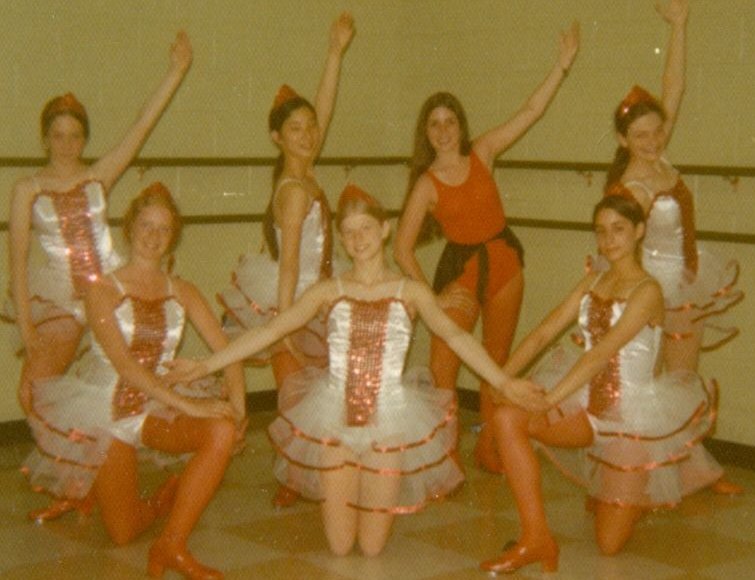 Someone forgot their Costume -Esther Odagaki, Kim Paquette, Karen Zimmerman Evans, Janet Currie, Judy Milne, Debbie Fish, Jayedee Bradshaw, ...and is taken in the Bridgeland Studio on the corner of Edmonton Trail. 202-4th St. N.E. (now demolished--but the floor was great to dance on...the piano shook when a tap class was in action--Spooky Basement for dressing room & only one toilet in a small closet and very cold in the Winter)!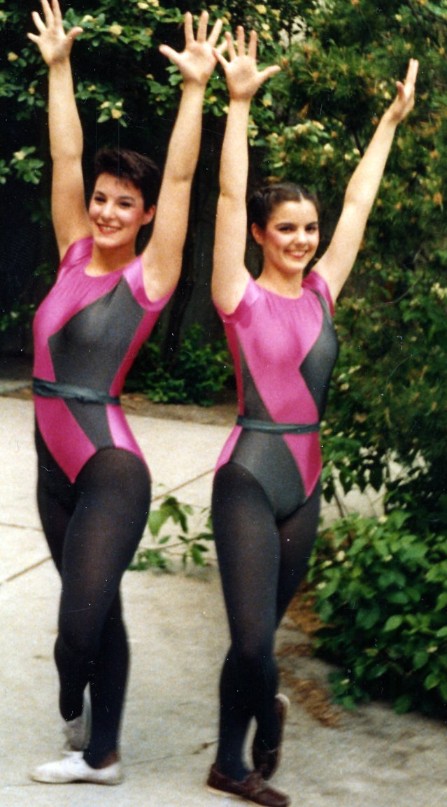 Tara Young (left) and Lisa Allison Kingston (right) they are both on facebook and were both very irresistible dancers who had great attack and the "IT FACTOR". A pleasure to watch perform! Tara went on to Broadway and is still there in New York City and Lisa taught for the Academy and now is with Heaven's Fitness in Calgary. (Lisa is also the mom of a 7 year old son Griffin--2010).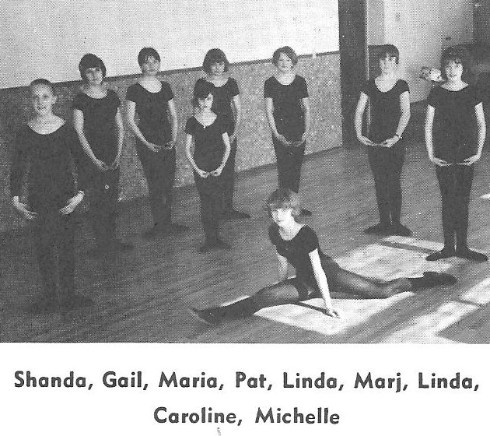 This is also from the EARLY EARLY Years....Shanda Comben Aalbers far left..Linda Marie McTighe Pap is far right. At the moment I don't know where it's taken.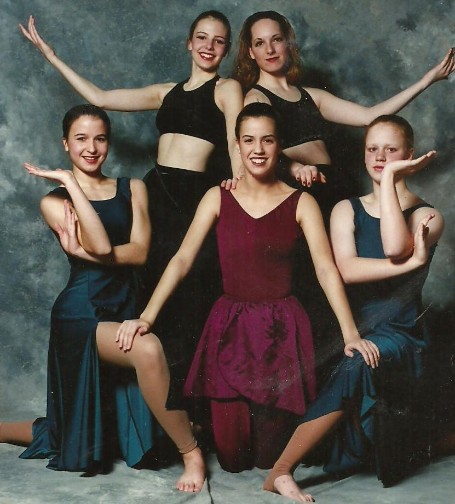 Modern Group --Back--Dawna Rose Crooks Wetherell--Katherine Cherewko--lower Trista Smandych Bailey--Lisa Richardson Senn.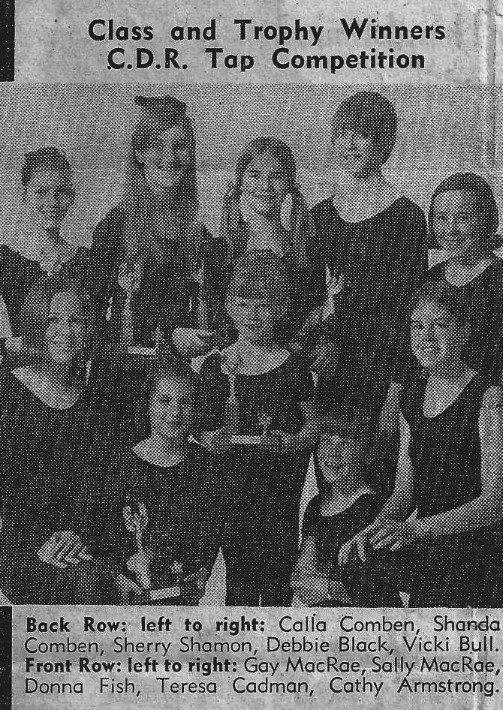 Some familiar names in the picture ...back row-Calla Comben Shaw, Shanda Comben Aalbers, Sherry Shamon, Debbie Black, Vicki Bull, front row..Gay MacRae, Sally MacRae, Donna Fish, Theres Cadman, Cathy Armstrong.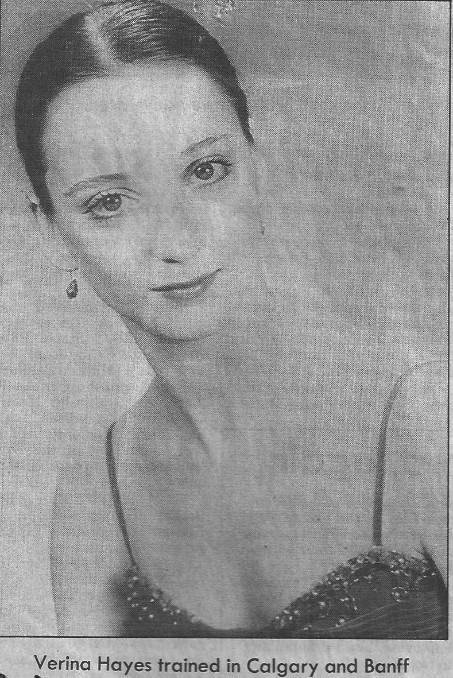 Verina Hayes did the Imperial Society Ballet Syllabus with Ms. Nancy Wilson. She danced and did choreography with the Deutsche Operam Rhein. Taking class at the same time as Esther Odagaki who also did the Imperial Exams. Verina did wonderful solos that were rewarded generously at the competitions.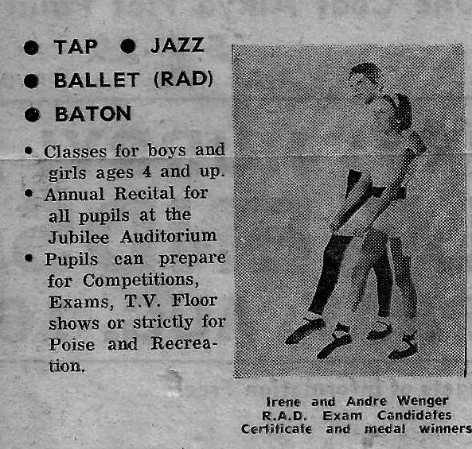 Picture below is Andre and Irene Wenger--their brother Martin also took dance.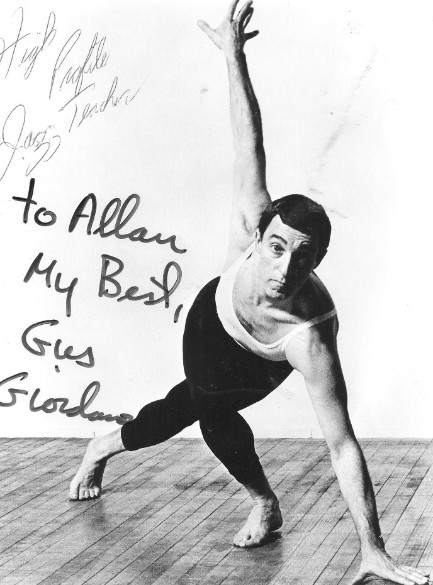 Remember Gus Giordano and his exciting workshop!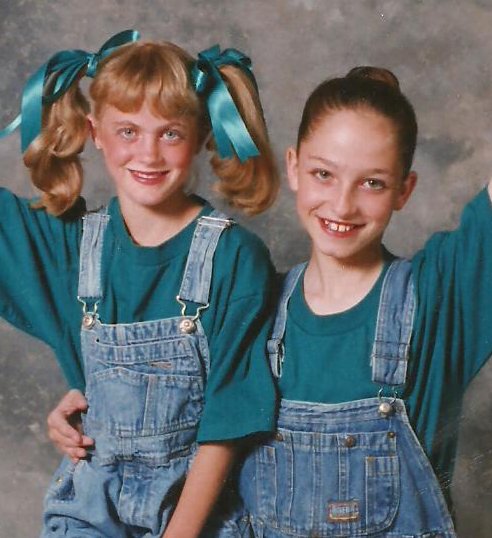 Crystal Thomson Dick right and Jacque Davies doing Jack and Jill...Crystal is Debbie Black's daughter and had a baby August of 2010...YES Miss Black is a Grandmother.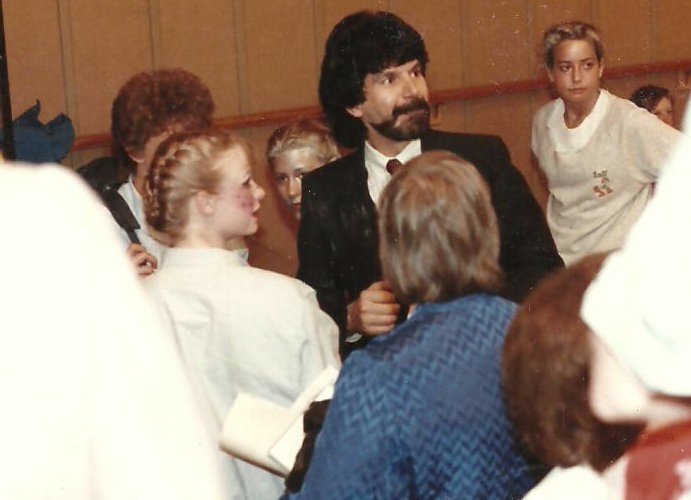 Taken at the Haysboro Location-a dress rehearsal for "Mecco" our Oz Production-Deanne Schmierer-Comessotti to Mr. C's right, Sherri Carr over his left shoulder, and Sharon Edwards-Lozinski to picture left in french braids.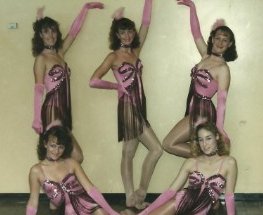 Jazz routine..bk row..Kristine Richmond--Lisa Martin Fried--Amanda Patrick--Kim Hall front right on the floor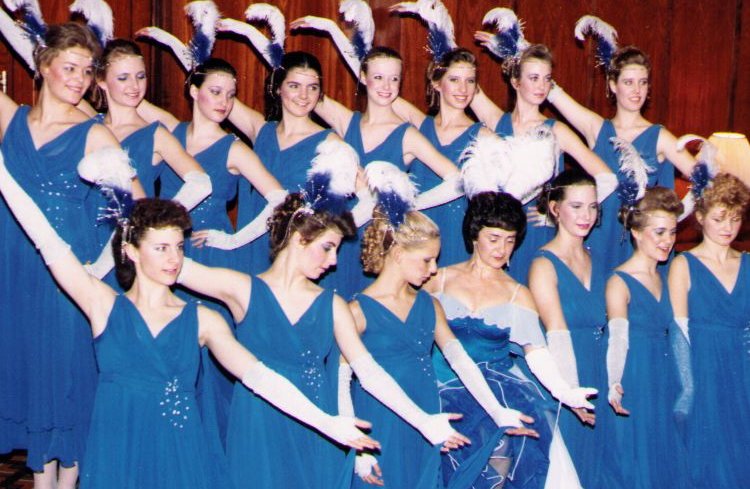 Vienna Ball-back row..Tamiko Lagerwaard--Anne Mowat--Edwina Borgford--Lisa Allison Kingston--Sharon Edwards Lozinski--Angela Jones--Lisa Martin--Kristine Richmond--front row Lorena Apuzzo Dohan--Nadene Henderson--Christine Sunderland--Mrs Abra--Trudy Sorensen--Alana Abrahamson--Carol Kolodinsky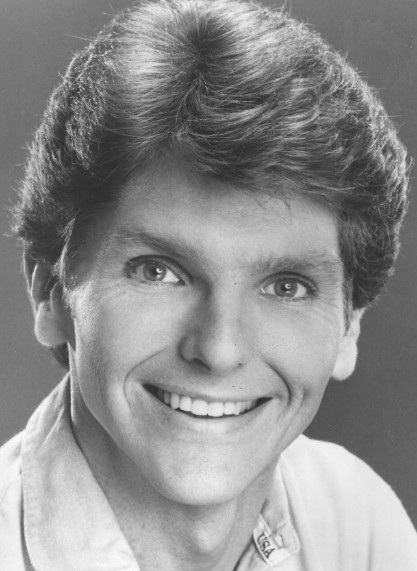 Remember Mr. Ken Prescott and his fantastic Workshop..Ken was in "The Tap Dance Kid on Broadway"!

Meco Production...Cindy Dotzler (Dorothy)--Lorena Apuzzo Dohan (Witch with her broom)--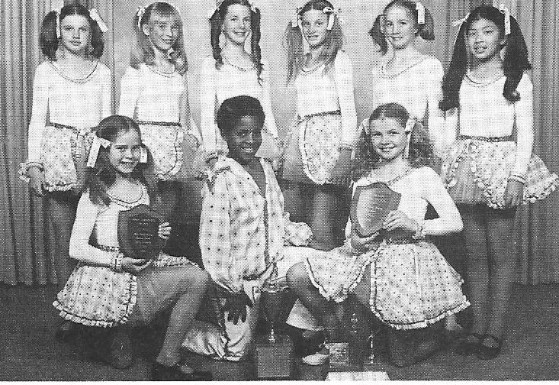 Sloop John B-1st place at the ATDA and at the APDTA May Festival... Back row-Dawn Marie Fox, Shelley Gillett, Deanie McPhail, Sandra Newstater, Vicki Bradshaw, Kari Ikeda-front row-Patti Westin DeCoverley, Sean Cheesman, Carol Kolodinsky. This group also won the trophy for "Most Entertaining Variety Group". --this number also had the girls wrapping a rope around Sean's waist and with the momentum that was picked up we had Mr. Ikeda in front of the stage in case anyone went flying.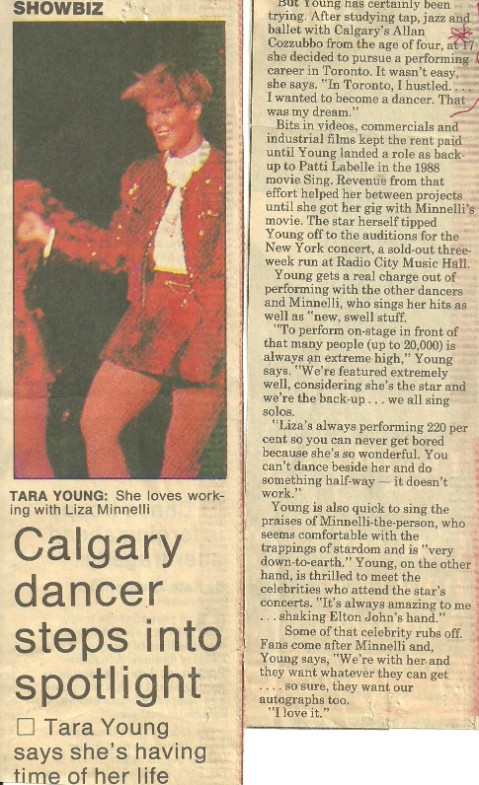 Tara Young studied with us from the age of 4 years to 17 years.--She works on Broadway in New York City still and has for 20 years. She is on facebook. Tara and Lisa Allison did some great duets and she also was a recipient of the ACAD Achievement Award in 1983-84.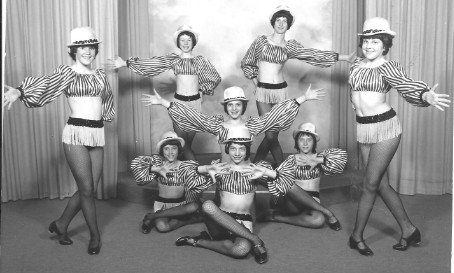 Keep On Dancing--1st place gold medal tap group. left to right Dawn Ewonus, Lynn Simpson, Gail Ough, Jane Ravvin centre---Dianne and Denise Johnson.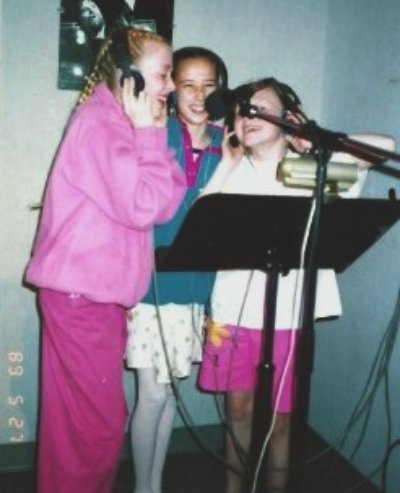 Waiting Backstage...Michel Anderson Farcus and Trista Smandych Bailey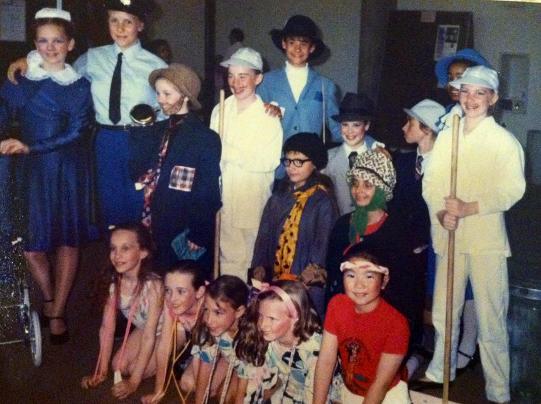 Ballet Character Line....Nanny is Lisa Barlage...Policeman is Laura Sorensen..The gal in the black hat and blue jacket is Laurel Burnett..Tammy and Cheryl Fairburn are kneeling with the flowered costurme.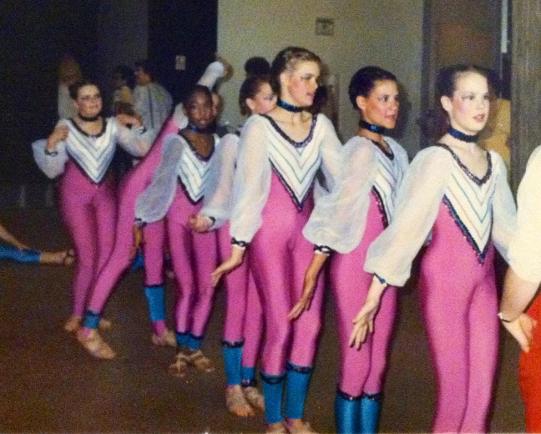 Jazz Line above....Chandra McRae in front..